WHO IS IT VERSUS?: Hong Kong Noodle vs. Village Wok (Minneapolis)
So I'm back in the metropolitan New York area from my travels in the Midwest, where I had a little too much time to nosh. Along the street I lived on were several Chinese food joints which tempted me in the times I'm not already eating
banh mi
. I decided to visit, er, frequent some of these establishments and quickly found a favorite.


The beauty of the Chinese joint is the LUNCH SPECIAL. You know, the kind where you get a generic main course, rice, and an egg roll/soup/etc. (choose one or some places get all the add-ons) all for one low price.

I particularly like it when the term "lunch" is taken loosely from the time from 11am to 4pm or so. BUT, one of the joints I found, Hong Kong Noodle (HKN), had not only a lunch special, but a "DINNER SPECIAL" which ran from 3pm on weekdays til closing, and ALL DAY on Saturday and Sundays! Granted, it's the same menu from lunch sans the free soup, and it's a buck or two more, but STILL! Chinese food = bargain bonanza! (Did I really just use the term bonanza? Wow.)

Anyway, so, already HKN has more going in its favor than Village Wok, which was recommended to me by a Minneapolis native who also used to live nearby.



HONG KONG NOODLE


So, like I said, HKN has awesome dealz, but it's generic Chinese food. I secretly love generic Chinese food, much to my mother's dismay. It's also a good thing I'm not MSG-sensitive, either.

Mongolian Shrimp + Fried Rice. I don't really eat a lot of meat, but I do enjoy my seafood. I got this with fried rice instead of white. I'm not sure it was worth the extra dollar. It was basically oily rice with egg. That's okay. There were more shrimp than expected, and they use the larger kind, not those tiny ones that you often see.




Skinny view. I love takeout when it's still piping hot. Notice the condensation in the sweet and sour sauce container.




This was spicy with a nice kick from a great deal of chili peppers, onions, and green and red bell peppers. I liked that I didn't see those white styrofoam-type noodles they often place under Mongolian Beef at restaurants. Or maybe that's what makes it Mongolian?

Standard egg roll that comes with the meal. Since it was dinner, I didn't get any soup, but the egg roll was nice, perfectly fried in what I assume is days-old oil (which gives it that Chinese restaurant flavor, no less) and wrapped in a wax paper bag.




Nice view of innards. Standard cabbage and carrot. Some sort of meat. I'm assuming it was pork. I don't know, it usually all tastes the same to me. Dip it in the standard way-too-sweet-hot-orange sauce and your postprandial slump will carry you well into the next day.




I've had some of the other "specials" including the Kung Pao Shrimp and General Tso's chicken. I would stick with non-fried dishes. The Kung Pao had a generous portion of peanuts (which I really enjoy), I would say even TOO MANY peanuts, and they used the larger shrimp as well. The sauce was very well done. Like I said, stay away from fried. The General's chicken was a big soggy and wayyyyy too drenched in a tasteless, NOT HOT sauce. I thought the General was all about the hot sauce, and it was way disappointing because usually I am a big fan of fried anything.

Reading up on HKN, they're quite good at other dishes, but I never ventured into them, maybe because I like the idea of all-in-one meals and not having to serve myself family style solo.



VILLAGE WOK


VW was a lot closer to my place but it was a lot shadier looking. AND the staff was basically rude, and didn't know anything about their food. I think it's because the staff was all young Caucasian individuals who I gather were on some sort of combination of recreational drugs.

Apparently they are really good at seafood dishes, and since I'm a stickler for the combo-dish-for-one-low-price, I sought out the "dinner specials" which were competitive in price to HKN, but without the option to choose fried rice or noodles on the side, and the selections were kind of awkward. Like, chicken in black bean sauce. Or shrimp and bamboo shoots.

When I inquired about the latter, the dude helping me was like, um I can't really describe it. Sorry. UH YOU WORK HERE I ASSUME YOU'VE BASICALLY EATEN EVERYTHING IN THE RESTAURANT HOW CAN YOU NOT TELL ME AT LEAST WHAT KIND OF SAUCE IT IS SMOTHERED IN!? Frustrating. Needless to say, it was my last visit.

Salmon in black bean sauce with white rice.




Notice it's a fillet of salmon (actually there was another smaller fillet underneath, if I can recall) and too much of that short-grain fluffy rice which I only like on certain occasions. My takeout order took half an hour, which I thought was pretty unacceptable (let me reiterate, TAKEOUT).

The sauce was decent, pretty bland, not spicy although there were copious red chili peppers. The salmon was steamed or something first, I think it's the kind you get from a bag at a wholesale club. I guess at least this was healthy. Also, no egg roll or soup came with this. Apparently when you takeout a dinner special from the joint, you don't get the soup that comes with it. LAME.

Closeup. See the fish congealing in the left lowerhand corner? I hate that.




If you have no idea where "WHO IS IT VERSUS?" is from, you need more exposure to a little phenomenon called It's Always Sunny in Philadelphia. Just a little tip from me to you.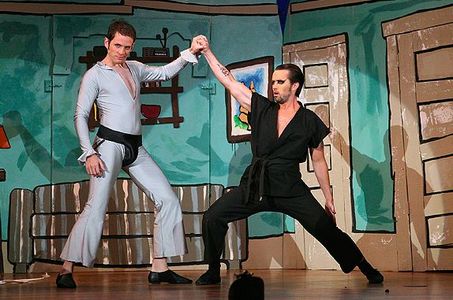 Image pulled from

The Phoenix

.



Anyway, you can probably guess who won. No, not the Nightman. Hong Kong Noodle. At least when I walk into HKN, I get my order taken by a Chinese female who yells at me and not some punk kid who doesn't know what sauce goes where.



HONG KONG NOODLE




901 Washington Avenue, SE




Minneapolis, MN




T: 612.379.9472



VILLAGE WOK


610 Washington Avenue, SE




Minneapolis, MN




T: 612.331.9041





*

Thomas Parke D'Invilliers

resides in Brooklyn and covets the Marc Jacobs for Louis Vuitton luggage set featured in 'The Darjeeling Limited.'