(Japan)
Suigei Shuzo Co.
Suigei "Koiku 54" Junmai Ginjo (BTL 720ml)
$28.00
Only 6 in stock
From legendary brewer Suigei Brewing Co. in Kochi Prefecture, Koiku 54 has a unique citrusy aroma that carries into its flavor with lime on the nose and notes of tangerine, complemented by a clean and dry finish. This sake is made with a type of sake rice cultivated in Kochi named Gin No Yume. Plus look at the label. What's not to like? 

Read about Yoko's visit to Suigei Brewing Co. in January 2023 on our blog!
Features
Brewed in Kochi, Japan by Suigei Brewing Co.
Junmai Ginjo


Seimaibuai (rice kernel remaining): Gin No Yume 50%

ABV 15% / SMV: +6.7 / Acidity: 1.7


24 fl oz (720ml)
Flavor Profile Chart
Recommended Tempurature
Recipes Suggestions
Glassware Suggestions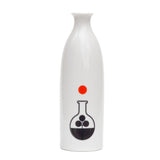 Sake Gumi Tokkuri
Please note: We can not deliver alcoholic products to SD, UT, MS, AL, VT, KY, AK.