Happy Hour: Manhattan Cocktail Classic 2012 Recap
"Now, alcohol makes a big man small and can lead to life of crime.
Drinking rum makes you skin-and-bone, and you cash in before your time.
Bootleg gin for your Mickey Finn till you don't even know your name.
You're a basket case right on your face, there's only one guy to blame.
Oh Mister Booze, Mister Booze, Mister B, double O, Z, E, …"


- Mr. Booze performed by Frank Sinatra, Bing Crosby, Sammy Davis, Jr., & Dean Martin (1964)
Last year, Manhattan Cocktail Classic (aka The Classic) founder Lesley Townsend proclaimed she would up the ante for the 2012 event . She was not kidding. Having attended the Classic preview in the fall of 2009 and subsequent festivals, the 2012 Classic was the most impressive thus far. It was better organized, more accessible to the public, and chock full of stellar events. Let me share some impressive statistics from the opening night Gala: 3,000 attendees imbibed over 30,000 handcrafted cocktails served up by over 150 of the world's greatest bartenders.
The MCC at the NY Public Library
As in previous years, the Classic opening night gala was held at New York City's iconic New York Public Library on Fifth Avenue in midtown. The Beaux-Arts building is constructed on the site of the old Croton Reservoir and opened in 1911. The famous E.C. Potter marble lions that flank the main stairs leading up to the building were added later. Those lucky enough to score the $150 tickets or media/VIP passes queued up in their respective lines on either side of the lions. I was traveling in good company with Umami Mart's Payman "Paystyle" Bahmani and spirits blogger Josh Hoffman. Earlier, we filled our bellies with a good old-fashioned New York dinner of muttonchops at the legendary Keens Steakhouse. Jerry Thomas would have been proud.
Soon more cocktail comrades joined us at the head of the line; everyone was dressed to impress for the Gala demanded no less. When the signal was given, we joined the well-heeled throngs making their their way up the stairs and through the elegant white marble entrance which opened up into the magnificent Astor Room. Mr. Booze was there to greet us in force.
Here are the highlights from the gala...
The Campari Bar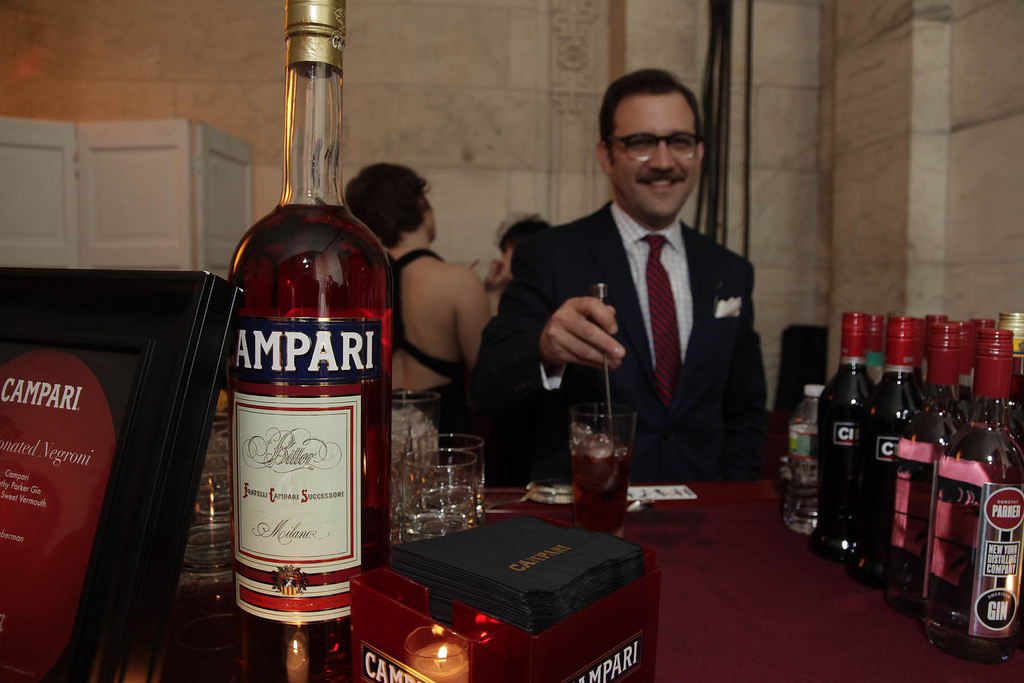 Allen Katz of the Shanty mixes the New York Negroni
The Campari Bar was a crowd favorite and a place to hold court. Campari featured three types of ruby red Negroni cocktails (pre-bottled carbonated, classic style on the rocks, and New York-style using Brooklyn-made Dorothy Parker Gin from the New York Distilling Company.) NYDC proprietor Allen Katz and mixologist Jacques Bezuidenhout from Jasper's Corner in San Francisco stirred up the signature drinks.
The PDT Pop-Up Lounge
Jeff Bell of PDT making Plymouth Gin cocktails
Fresh off their inaugural James Beard Outstanding Bar Program win, PDT held an invite-only private party in the Lionel Pincus and Princess Firyal Map Division room. The Map Division recently underwent a 9-month, $5 million renovation and restoration, returning the historic space to the original 1911 grandeur of the Carrère and Hastings design. The PDT crew's fete featured Plymouth and Beefeater gin cocktails by PDT's Barman Jeff Bell behind a makeshift bar to help wash down Criff Dawg hotdogs served on the spot with all their famous trimmings. Across the room, award-winning mixologist Leo Robitschek demonstrated the Nomad Hotel's new bar cart service and offered up Negronis, Southside, and Gin Gin Mules cocktails. Bar Cart service is the new bottle service was the resounding message. It reminded me of the Dukes Hotel in London where cocktails are made table-side using similar carts. I told Leo as much and he winked.
Maison Premier Bar 
Natasha David of Maison Premiere serves Obituary Cocktails
A trip to the third floor brought us into the Edna Barnes Salomon Room where attendees were treated to free oysters with caviar and cocktails such the New Orleans' favorite Obituary (Beefeater gin, Pernod Absinthe, Dolin dry vermouth) crafted by Maison Premier's Jillian Vose and Natasha David. The scene was a juxtaposition of class and brash with local celebrity street musician "The Naked Cowboy" holding court in front of a table of Naked Cowboy oysters!

New York City's finest
There were 6 jazz bands performing that night. Our favorite scene was in the majestic Celeste Bartos room where the dapper Michael Arenella's Dreamland Orchestra was playing hot jazz.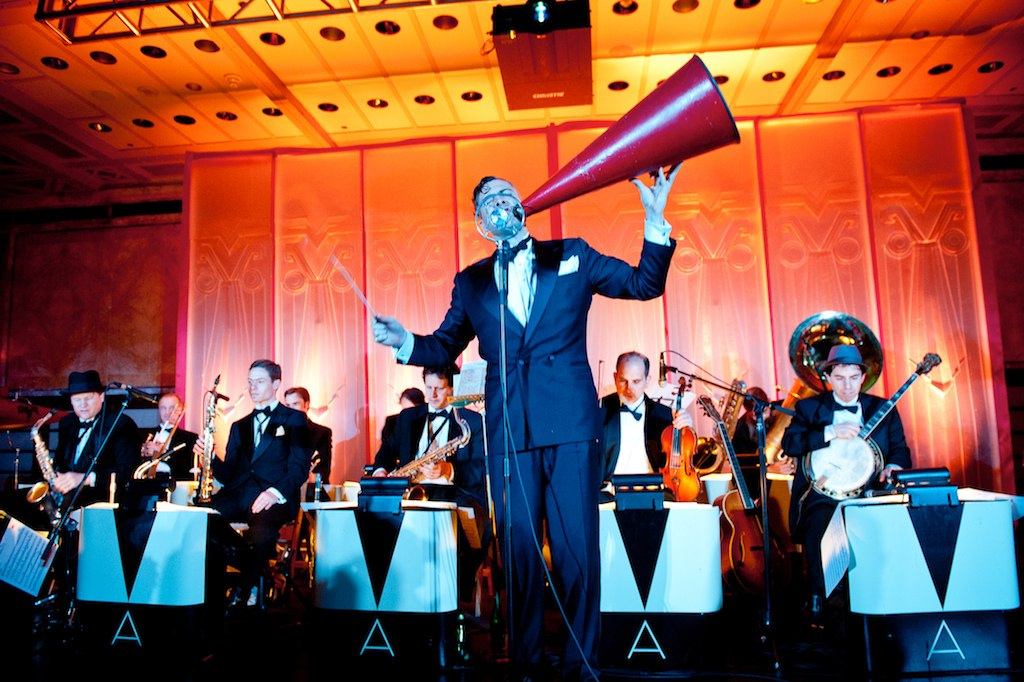 Michael Arenella performs in the Clare Bartos Room
Under a 30-foot-high glass saucer dome ceiling, this 6,400 square foot space was flanked by bars serving a myriad of cocktails ranging from Amaro Ramazzotti to Michter's Bourbon. Lindy hoppers enticed the crowd to trip the light fantastic with choreographed numbers while Arenella's musicians played the part of time machine.
Gala goers get their drink on in the Astor Room
Oh and there were after parties sponsored by Tanqueray gin and Zacapa rum which were held at Fatty Cue West Village and Daddy-O bar respectively. Umami Mart represented at both and it was a chance to catch up with old and new friends.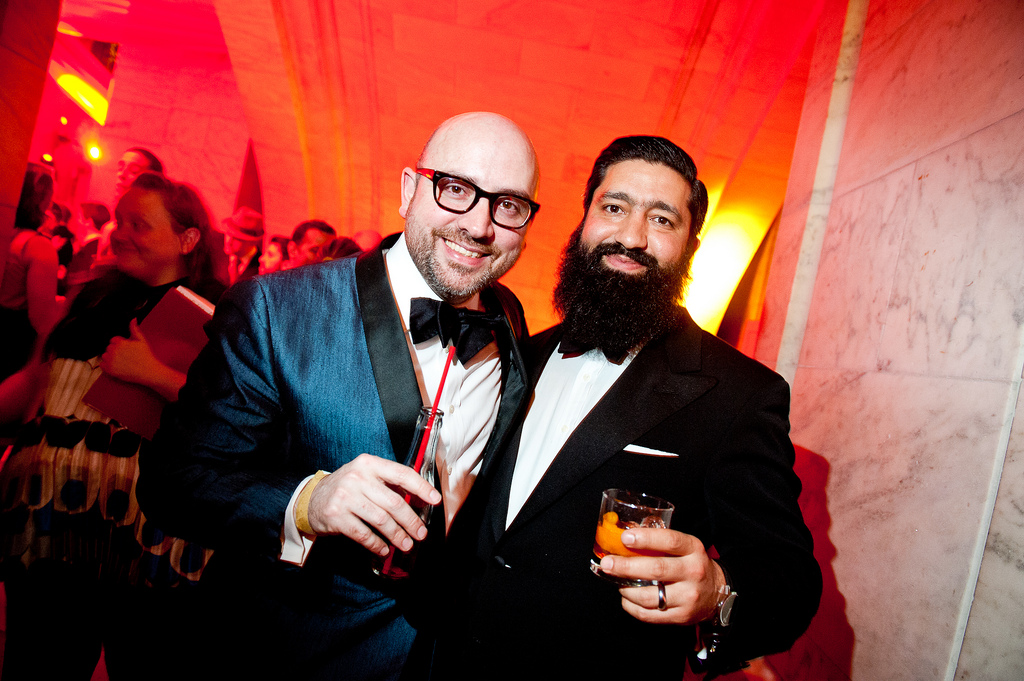 Fredo and Payman at the Campari Bar in the Gala
The Gala was a stellar time and a major improvement from prior years. According to the organizers, approximately 5,000 oysters, 5,000 meatball sliders, 300 pounds of charcuterie, and 300 pounds of jumbo shrimp were consumed, in addition to other treats. We were pleasantly surprised to find a cornucopia of gourmet food available this year and Gala goers were not shy about wolfing it down!
The first shot of a five-day extravaganza of Classic events had been fired and there was no going back. The official festival kicked off the next day with 67 other publicly ticketed events on offer, as well as a multi-day invitation-only trade conference. I found the Industry Invitation an innovative way for brands and the industry to get their messages across without taking away seats from the general public. How often do great seminars get sold out or overbooked? By splitting the industry from the publicly ticket events, it let more folks enjoy the Classic.
The next day I attended the "Industry Invitational" which was anchored at the Andaz 5
th
Avenue Hotel, across the street from the library building. The Invitational ran for four straight days and offered education sessions and tastings held by brands, public relations agencies, and industry personalities. Separately, the publicly ticketed events were held across the city and offered Classic goers 100 panels, presentations, tastings, and plus other boozy activities over the course of the four-day conference. One activity that sold out in a flash was the Tiki Safari, which included a field trip to genuine vintage Tiki and Polynesian restaurants in New Jersey and Staten Island. Head Buccaneer Brian Miller and "Tiki Adam" Kolesar lead the adventure and crafted Appleton Estate rum drinks on the bus for the lucky few that snagged tickets.
I attended the Angostura Brunch and demos at the Andaz Hotel. In one demonstration, the brand presenters used liquid nitrogen to freeze Angostura into block the length of a Collins glass. Since liquid nitrogen is colder than typical ice, the Angostura would remain in frozen form for several cocktails. They added gin and tonic water to a glass holding the frozen bitters and it made for a very enjoyable variation of the classic drink. From a cocktail nerd perspective, this was pretty friggin cool!
Then I visited the Angostura bar, which handed out complimentary cocktails featuring the bitters' potent orange formula. They were even kind enough to make a red snapper, which is what I needed badly after the Gala shenanigans. I attended a few talks from various brands but really enjoyed the Domain Select tasting room where we offered free tastings of their portfolio of liqueurs including Cocchi Americano, Cocchi Vermouth di Torino, Cocchi Chinato Barolo, Bonal, Byrrh, Swedish Punch, Haus Alpenz products such as Rothman & Winter -- Crème de Violette, Apricot liquor, St. Elizabeth Allspice Dram, Rhum J.M., Smith & Cross Rum, and a few more.
Once I was properly "educated," I headed downtown to the W Hotel off Union Square for the SoBou Preview Party. South of Bourbon Street (SoBou) held a party for media and cocktail aficionados to showcase their hotly anticipated restaurant. SoBou will be opening next month on Chartres Street in New Orleans and is billed as the Crescent City's first "Spirited Restaurant." Bar chef Abigail Gullo formerly of Fort Defiance and The Beagle in New York relocated to NOLA and is heading up the bar program while the culinary team from the legendary Commander's Palace is behind the food. At this preview party, Abigail dished out two signature punches and Cajun specialties that will be available on the menu.
After an enticing slice of New Orleans, I headed back uptown to a "Tonight We Tanqueray" party held at the swanky Lambs Club on hotel row for a fine cocktail party and then back to the Andaz for a few private parties thrown by High West Distillery Saloon from Park City, Utah before calling it an evening.
By the time Day Three rolled around, I was feeling the effects of almost 24 hours of sips, tasting, and cocktails. Nevertheless, I soldiered on to what was one of the best parties of this year's Classic: the Campari sponsored "Count Camillo Negroni's Birthday Party" held at The Shanty in Williamsburg. The Shanty is attached to Allen Katz's New York Distilling Company and is a great place to taste their inaugural gins, Dorothy Parker American Gin and Perry's Tot Navy Strength gin.
The invite-only event for media and trade folks was also attended by 200 of the country's top craft bartenders. The cause for celebration was the birthday of the legendary Count Camillo Negroni whose eponymous drink is one of Campari's signature cocktail. To honor the Count, guests donned their finest mustaches (or stick on stashes) and top hats, reminiscent of Florentine aristocrat's fashion.
Buon comleanno Count Negroni!
Revelers enjoyed Negronis and Negroni top trend variations made with ruby red Campari throughout the evening. Fellow "members of the bar" mixed the drinks:
Classic New York Negronis (with NYDC gins): Kenta Goto, Pegu Club & Franky Marshall, Monkey Bar
Carbonated Bottled Negronis: Theo Lieberman, Lantern's Keep
Barrel Aged Negronis: Allen Katz, The Shanty
Negroni Sbagliatos: Frank Cisneros, Bourgeois Pig Brooklyn
Negronis on Tap: Naren Young, Saxon & Parole
Boulevardiers: Maxwell Britten, Maison Premiere
What is a birthday party without the cake? This one included a clad Campari muse who popped out of the cake and sang "Happy Birthday" to the illustrious Count Negroni. Bartender-turned-baker Jane Danger of Jane's Sweet Buns served actual cake —a delicious white lemon gin cake with Campari strawberry frosting which hit the spot after a night of bitter cocktails.
The Gala, the Invitational, and Count Negroni's birthday party were amazing events and the highlights of the 2012 Manhattan Cocktail Classic. Over 8,000 people attended the Gala, dozens of publicly ticketed seminars, tastings, parties, beefsteak dinners, Pig and punch BBQs, brand shindigs, and you have the recipe for a superb event, which truly showcases New York cocktail culture. I look forward to next year and what Ms. Townsend and company have up their sleeves.
*Photos courtesy of Gabi Porter for the MCC
**Got a cocktail question? Reach Fredo on twitter @loungerati, email me at fredo(at)loungerati(dot)com, or simply drop me a comment below!
***Fredo Ceraso is the editor-at-large of the lounge lifestyle blog Loungerati.com. He is head cocktailian and a co-producer of The Salon parties. Fredo is a member of the USBG New York chapter and rolls drinks at many Lounge, Swing, Jazz Age, & Burlesque events in New York City