Inside Yukiwa Barware Factory
Our main objective for our trip to Japan (besides noodles and
ekiben
) was to visit the many factories where they make the bar and glassware we select for Umami Mart. We wanted to go straight to the source, and meet the people behind the products. This ended up being far more fruitful than we could have imagined, as we are now armed with information and knowledge of where the products you see at Umami Mart come from.
So we took a
shinkansen
(bullet train) from Tokyo to Tsubame-Sanjo in Niigata prefecture for two nights. A city well known throughout Japan as the headquarters for many  manufacturers of stainless steel wares (most notably SPOONS), Tsubame-Sanjo was industrial yet charming. We even got a chance to go to
onsen
(hot springs), which they are also famous for (and
hegi soba
!).
But the highlight of our two night stay in Niigata was our visit to Yukiwa factory, where they make most of our stainless steel barware. You've seen it: the Cobbler shakers, jiggers, Hawthorne strainers, barspoons and
beyond
. Yukiwa was originally a tobacco pipe company (remember those?) that started making stainless steel banquet service wares sometime in the 1960s or 70s. Talk about evolving with the times!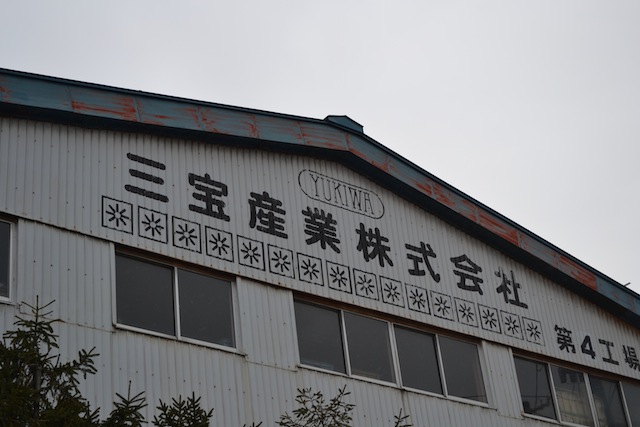 Photo by Yoko Kumano.
We showed up first thing in the morning and stayed late into the afternoon. It was a day touring the factory, speaking with the workers (and asking a lot of questions) and watching day-to-day operations unfold. Here's a peek!
After chatting over some coffee with the President of the company, he took us straight to the design section of the company.
Photo by Yoko Kumano.
Photo by Yoko Kumano.
Barware prototypes from outerspace!
Photo by Yoko Kumano.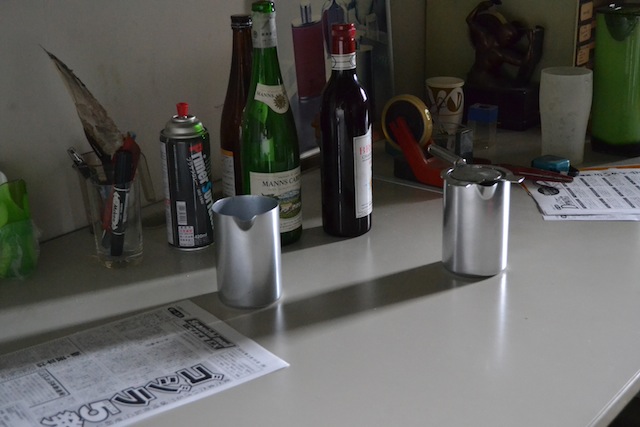 Photo by Yoko Kumano.
This is where the magic happens:
Photo by Yoko Kumano.
Photo by Yoko Kumano.
Of utmost importance: What is the best way to scoop ice cream?
Photo by Yoko Kumano.
Watching the designers draw up sketches in CAD was incredible!
Photo by Yoko Kumano.
Then, we went off to the factory, right next door. Yukiwa seemed to own the entire block, as we walked from one end of the company to the other, on the opposite side of the street. There were giant warehouses full of all sorts of gigantic machinery.
Beware of friendly rodents???
Photo by Yoko Kumano.
Stainless steel tins, ready for enhancements.

Putting the Yukiwa logo stamp on the bottom of the shaker:
Photo by Yoko Kumano.
Watch the machine stamping in action
here
.
On this machine, they were forming the tins for the
Baron shakers
:

Photo by Yoko Kumano.
Watch a video of this machine in action
here
.

Photo by Yoko Kumano.
Jiggers:
Photo by Yoko Kumano.
Polishing
Bell jiggers
!
Baron
Hawthorne strainers
:
Coffee pot:
The spout would go here.
This was one of my favorite machines:
Makin' platters!
It was truly freezing inside the factory, so these heat lamps helped keep the workers warm:
Photo by Yoko Kumano.
They took us inside one room where there were several people sitting around a table. They all seemed to be concentrating hard, making similar, subtle movements and hammering at a round piece of steel: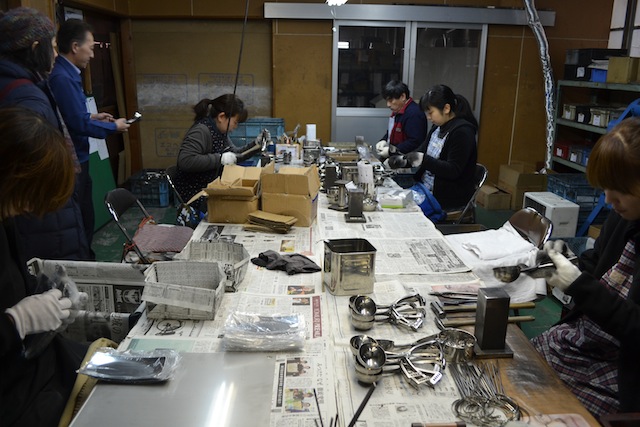 Photo by Yoko Kumano.
They were putting together ice cream scoops!
Photo by Yoko Kumano.
This was fascinating to watch. They squeezed the handle and watched the ring inside the scoop shift from left to right. If there was even a littlest defect in the way the ring was moving, they would hammer the steel so it would take the correct shape. Although it seemed like a mundane task, it was so precise, and the workers were all very intent and pensive. The room was silent except for the tinkering noise of the steel. It was mesmerizing. So much love goes into each ice cream scoop!
Gigantic storage space:
Photo by Yoko Kumano.
Me and Mr. Maruyama, CEO of Yukiwa:
Mr. Maruyama was showing me a new strainer. He was the greatest! Photo by Yoko Kumano.

We were so lucky to be able to watch many of the bar products we carry at Umami Mart being made that day. Clearly, the workers all took great care to create, examine, and approve each item going out. There was such a sense of pride and care in their work and products, it was very inspiring to watch.

Photo by Yoko Kumano.
Our visit to the Yukiwa factory was truly special, and we were grateful for their hospitality and time they gave us to show us around. Thank you, Yukiwa!
*Top photo by Yoko Kumano. All photos by me unless otherwise noted.