Slightly Peckish: Snacks + Bites in Hong Kong
As you all probably know by now, Hong Kong is a locus of culinary delights. Every little shop, however much it may be a hole in the wall, will offer something special. On this short trip, we made a point of only having Chinese food even though my friend S was dying to take us to some of her favourite French restaurants. But we were adamant. There aren't enough chances to come to this amazing city -- a metropolis in the truest sense -- and we weren't going to waste our time.
Apart from lunch and dinner, we had snacks. Lots of them. And such variety! It'll make you dizzy. So, are you ready?
On our first day after our meal at
Tim Ho Wan
, we decided to take a stroll and shop in the area. After an hour or so, we stumbled upon
Kung Wo Dou Bun Chong
, a tofu shop selling all kinds of things, savoury and sweet; deep fried tofu, tofu on sticks, tofu mixed with fish paste.
But we only had one thing on our minds:
tofu fa
(豆腐花), a soft, silky tofu in clear, sweet syrup. This is one of my favourite Chinese desserts and it's not something you come across so easily in London, so whenever I get the chance to eat it, I take it.
The shop was on a busy, bustling street packed with people and I think we got the only free table there. We opted for one hot and one cold tofu fa. It came from this huge earthenware jar which was about a metre tall from which a lady scooped out bowl after bowl of this silky dish.
People were eating all sorts of tofu variations, many savoury surrounded by large jars of preserved tofu and small bottles of chilli oil lining the walls. We looked regretfully back at all the strange delicacies but we'd just started our eating tour and needed not to overindulge.
Our next stop was to hunt for some egg tarts, the Chinese variation of the Portuguese
pasteis de nata
which came to the mainland via Macao. We found
Kam Wah Cafe
, a
cha chaan teng
(a typical Hong Kong cafe/tea-house similar to a Japanese
kissaten
), where we were greeted by a bustling young crowd eating a huge variety of dishes from savoury, such as instant noodles with spam, to sweet treats. But we only wanted sweet.
This place is famous for egg tarts which we saw many people queuing up to buy. We got a piping hot one just out of the oven and it was the most plump, juicy and flaky egg tart I've ever had. And it's so much nicer hot than cold.
We also ordered a pineapple bun (similar to the Japanese
melon pan
), a bun with a sweet crust. At the cha chaan teng, they serve it sliced in half with big slabs of butter.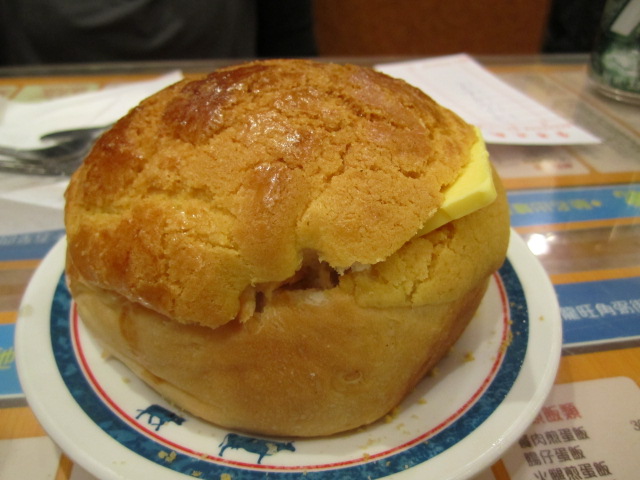 And a french toast which was more like a french toast sandwich again with butter and doused in maple syrup. This was sinful.
And to wash it all down, I we had some strong milky tea which I think was made with evaporated milk and a ying yang coffee which was a mixture of milk tea and coffee which was strange but likeable. But strange.
And my friend got herself a lemon and lime seven-up with preserved lemon (咸檸七).
They bring a glass filled with ice and half a preserved lemon, you pour in the seven-up and mash the lemon to release the flavour which is surprisingly refreshing. This was a big hit and I wish they'd serve it in London. You can also order a soda with preserved lime or plum (話梅) too.
KUNG WO DOU BUN CHONG
G/F, 118 Pei Ho Street
Sham Shui Po
Hong Kong
T: +852 2386 6871
KAM WAH CAFE
G/F, 47 Bute Street
Prince Edward
Hong Kong
T: +852 2392 6830