The Umami Reader: 3rd Wave Green Tea Is a Thing in Tokyo
- Move over coffee, green tea is the caffeinated beverage of 2017. It's not too surprising that
Tokyo is at the helm of the so-called 3rd wave green tea movement and home of the world's first pour-over green tea cafe
.
Tokyo Saryo
, located in the Sangenjaya neighborhood, opened on January 5 this year. It specializes in single origin sencha, and encourages visitors to try a couple of varieties side by side, for the best understanding of the flavor profiles of each tea. If I ever go to Tokyo Saryo, I definitely need to try 005 Okumidori, from Kagoshima Prefecture, mostly because I'm intrigued that they describe this fragrant tea as "shit green." (
Spoon & Tamago
; photo via Tokyo Saryo)
 - Some sad food news for East Bay residents:
the original
Hawker Fare in Oakland is closing. 
James Syhabout's "Lao Isaan Eatery," which first opened its doors at 2300 Webster Street in 2011 and now has a San Francisco outpost, will be open until February 18. Syhabout told the
San Francisco Chronicle 
that he is closing due to "questions surrounding his month-to-month lease." The building was just purchased by a group of investors, and rumor has it they're going to convert it into condos. Be sure to visit Hawker Fare while they're still open. Syhabout says he'll go out with a bang, bringing on new dishes and experimenting with the menu before the Oakland locale says goodbye. (
SF Chronicle
)
- If you're thinking, "Wow, we're really going to have four years of
this
?" you probably need a drink. We suggest
Nyet My President
 – a "White Russian, beneath a thin orange skin and fake gold leaf garnish." (Pairs well with Cheetos.) Special tip: If you're in Oakland, you can actually order the Nyet My President at
Blind Tiger
, which includes it as part of their 'Merica Drink Specials. (h/t: 
Reddit
; Blind Tiger tip + photo: Geoff Showers)
- Japan has its own edible hodge podge dedicated to The Orange One. Introducing
the Trump Burger, a 5,800 yen (about $50) horrific monstrosity created by Tokyo restaurant, BLT Steak.
"The burger consists of a premium-grade 150-gram filet mignon patty, 100 grams of French fois gras, carmelized apple compote with truffles, and a sauce made of port wine, honey, balsamic vinegar, and ginger, along with buns toasted with Gruyère cheese." According to Japan Today, the burger is meant to resemble the new president. Looking at the photo above, I'm not exactly sure what that means or why you'd want to put that thing (or that man) into your mouth, especially if you believe the old saying: you are what you eat. (
Japan Today
)
- 
Here's an idea that I hope never becomes a real trend: co-eating.
A pop-up in Helsinki, Finland called
Take In
is using the co-working space as a model for a new type of eatery. The gist: Take In allows diners to order delivery from a choice of 20 restaurants and have their food delivered to the Take In dining room to eat amongst other diners. Take In does not have a kitchen, but it provides bar service and a "hosting service," which ensures orders get to the right diner. Are you scratching your head wondering why anyone would eat here and not at a real restaurant? (I am.) This gimmicky idea is sponsored by American Express and Wolt (a food delivery service), which explain that Take In allows a group of people to eat together without having to order from the same restaurant. If this is a real quandry for people, may I suggest the mall food court? Or better yet, somewhere like
Swan's Market
in Oakland, where you can choose to order from one or more quality restaurants that serve you freshly prepared meals straight out of their kitchen. (
Eater
)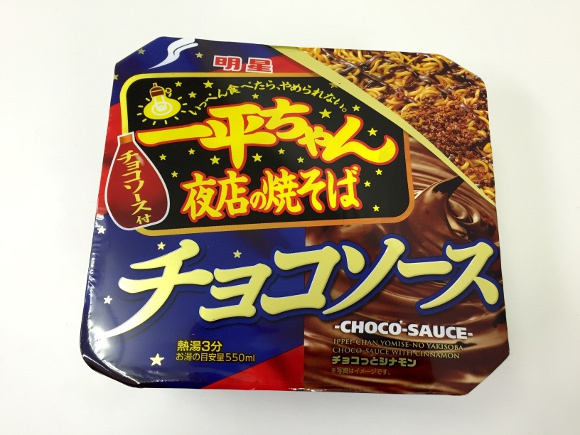 - Do you like
yakisoba
(savory and sweet Japanese panfried noodles)? What about
chocolate-flavored yakisoba? 
Myojo created a new version of instant yakisoba, Ippei-chan
Yomise no Yakisoba Choco Sauce, 
which includes a packet of cinnamon-spiked chocolate sauce. If you think that sounds good, check out this guy's face:
Some of the staffers at Rocket News tried the chocolate yakisoba and no surprise, it's awful. (
Rocket News
,
Japan Times
)
- If you're serious about ice cream – I'm talking super nerdy, SCIENCE serious – you probably already know about The Penn State Ice Cream Short Course. This week-long class, which debuted in 1892, is
the world's most prestigious ice cream science course.
It delves deeply into the nitty gritty of commercial ice cream production, which is far more complicated than mixing together milk, cream, sugar, and eggs. In fact, one of the most interesting and surprising facts about the ice cream biz? Most ice cream makers, even the smaller fancy-pants brands, use a base they buy from a larger company. According to Jeni Britton Bauer of Ohio-based Jeni's Splendid Ice Creams, "Everyone in San Francisco is using Straus Family Creamery mix. I've never met anyone who is not." (
Cook's Science
)
---
The

Umami

Reader

: Mining the internet for stuff about food worth

reading

and watching