Event Recap: Oorutaichi @ Umami Mart (OAK)
Just a little over two months ago, my
good friend in Tokyo
sent me this short email: "Hey, I know Umami Mart isn't a music venue, but would you be interesting in hosting a show for a friend of mine?"
Oorutaichi
, a one-man powerhouse from
Osaka
(home to Japanoise bands like the
Boredoms
and
Hanatarash
) was looking for a place to play on the west coast after
playing in NYC
. In true Umami Mart fashion, our answer was, "This looks like fun -- why not?" With no experience throwing a show since the fading memories of my high school years in a punk rock band, this show and its promotion was totally circa 1994. $3 would get you in the door and if you wanted to drink, well, all we had were a few cans of beer.
And what better way to signify that there was a party going on than a bona-fide disco ball -- borrowed from a couple of local
girls who get things done
.
Sound equipment was also generously lent to us by our friend Jesse and his
band
. Awesome! We were set.
Doors opened at 8pm and dj set by
Joe Stillwater
started off the night, warming up the crowd with what he calls "Jupiter landscape electronic pop" -- evoking space, rock and soul.
Kayoko in front of a packed house.
The Greasebox
was serving up grilled cheese sandwiches hot off the griddle, rabbit fritters and veggies.
Oorutaichi's set started around 9:30pm and I totally lost track of time. It may have been about a 45 minute set. Dancing was consistent and his projections made the experience so much more interactive and entertaining.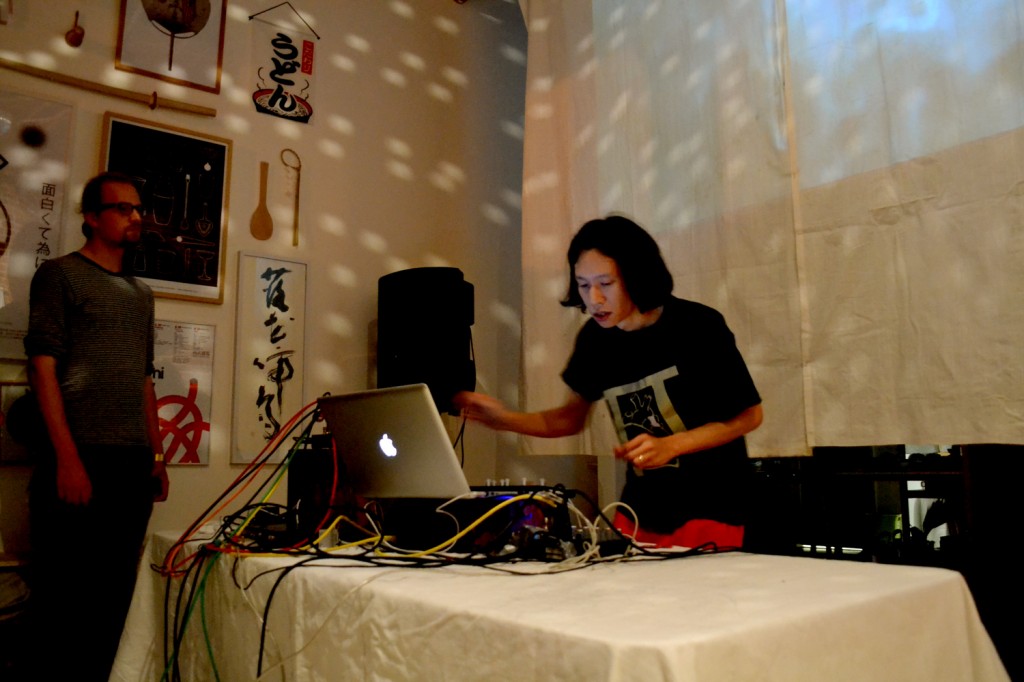 Oorutaichi has been performing as a solo artist for over 10 years now and used to be in a band called
Urichipan-gun
. Dedicated to creating music that makes people want to dance (and what moves the artist himself), Oorutaichi sings in his own made-up language.
Converting a kitchenware store full of fragile glass and furniture pieces and installing a disco ball took many hands that we were very grateful to have. Here is the set up for back projection.
Some call Oorutaichi's music electro-dance while others describe it as "mutant groove music". No matter what it is called, it was clear that there were no cultural barriers at Umami Mart that night with people thrashing around and yelling at the top of their lungs in glee.
Dance...
Dance...
Revolution!!!
Video footage from the event popped up on YouTube the next day. Thanks to the Martian who uploaded this!
And some dark footage shot on my iPhone.
This was truly one of the most dynamic events we've had at the Umami Mart Disco Hall.
Big thanks to Oorutaichi for making a pitstop in Oakland, and thanks to everyone for coming out! Oakland rocked that night and we'll be waiting for Oorutaichi to come through these parts again.