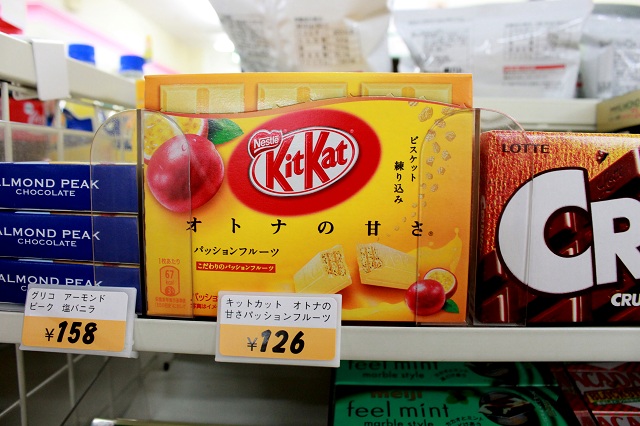 When something takes off in Japan, it gets huge. For a hot minute. People have no qualms with waiting in a long line for hours, out in the butt-ass cold, to get their hands on the newest HOT food trend from abroad that they saw on the morning news. Whether it's bamkuchen, Krispy Kreme donuts, Parisian macarons, you name it,
there was a line for it
.
One trend that seems to be in Japan to stay is the Kit Kat. I'm reading on Wiki that
Kit Kat
(originally from England) has introduced over 200 different flavors since 2000. Yoko has been writing about Kit Kats from Japan since 2009, which in Japan's food trend time is FOREVER AGO. But Kit Kat's stronghold on Japan remains, and reigns supreme.
In our last trip to Tokyo, we stopped by the Kit Kat pop-up inside the Seibu department store in Ueno. We took a train way out to the other side of the city after hearing about this shop, anxiously expecting a wonderland of exclusive Kit Kat flavors of Japan.
Sadly, the Kit Kat pop-up, the "Chocolatory" was pathetically crammed into the corner of Seibu's
depachika
(department store basement which is usually where all the food stalls are set up). It was sad. Furthermore they were out of all the limited edition flavors exclusive to the Chocolatory pop-up in Ueno! Oh dear.
But in Japan, something being sold out is even a bigger sign of the success of the product, and you just have to buy what is left over. Like a sucker, I bought a handful of the only Chocolatory Kit Kats left, the "Chilli" flavor. Gotta take what you can get!
The packaging is quite exquisite, I have to say. Inside, there are a couple individually packed Kit Kats. The bag that it came in was also branded for the Chocolatory.
In ode to the Kit Kat, I've rounded up all the Kit Kat stories from Umami Mart for your snacking pleasure.
Kinako Kit Kat
by Yoko Kumano, June 2009:
"
I have a new appreciation for kinako now that I have come to realize that it just might work as a temporary substitute for my peanut cravings."
Ramune Kit Kat
by Yoko Kumano, July 2009:
"As I bit into it, I almost gagged."
Mango Pudding Kit Kat
by Yoko Kumano, August 2009:
"I am usually not a fan of chocolate that doesn't taste like chocolate, but the Mango Pudding coating was actually quite enjoyable."


Caramel Pudding Kit Kat
by Yoko Kumano, October 2009:
"It was almost like they just started with a regular chocolate Kit Kat and spritzed a squirt of flan de toilette"
Conbini Cabaret: Gentei Candy, LTD
by Furochan, June 2013:

"...It was not as good as it sounded — too much cream, not enough cookie and generally too sweet."

In this post, Furochan introduced us to her friend James' Japanese Kit Kat collection.
Check out James' dedicated scrapbook of limited edition Kit Kats. Dedication to documentation!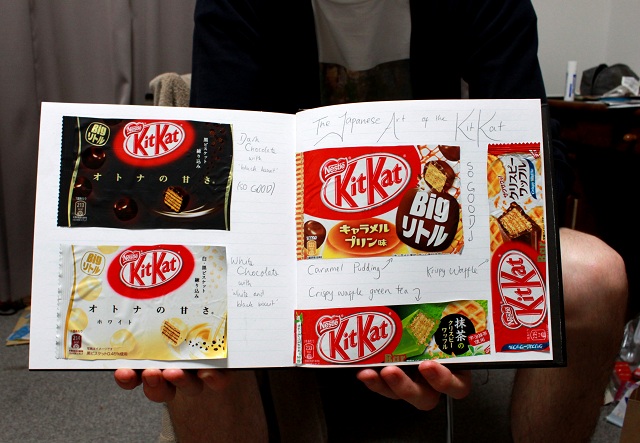 At Umami Mart Oakland, we sell Kit Kats from Japan in our U-Mart
conbini
: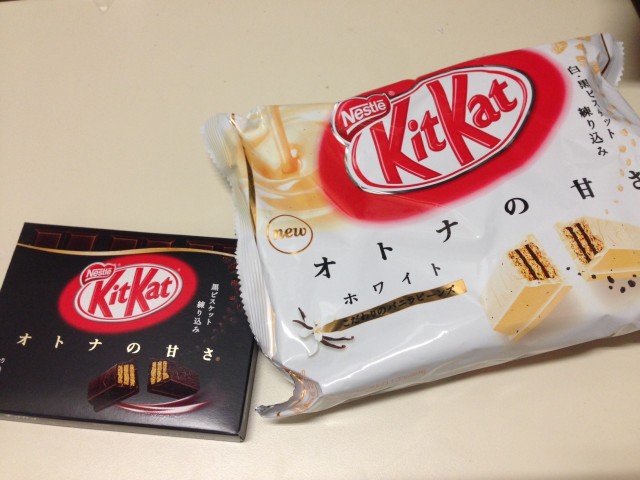 But the true star is the Matcha Kit Kat:
We can't keep enough of these in stock, people love them here in the U.S. too! They are so sad when they come into the shop and we're out of them.
These Matcha Kit Kats are now available at the SF shop, and online.
Get 'em while they're HOT
!
*Top photo of Passionfruit Kit Kat by Furochan.