One Year of Umami Mart Oakland
Our first year as Umami Mart in 3D has zipped by. We opened our doors at 815 Broadway on August 3, 2012, and what a year it's been! It seems like only yesterday that Yoko and I were having one of our weekly meetings at the original Hopkins Buffet, wondering how we could find a good real estate agent, or how we could rent a retail space. Would we need a lawyer? We would talk idealistically about a place to host events and throw fabulous parties. Big dreams.
We weren't picky -- we would have been happy with a small room to showcase the barware we'd been selling online, with space in the back where we could process our online shipping orders. It was a dream that we thought would take years to achieve.
Instead, the ball started rolling fast. Really fast. Meeting Alfonso and Sarah of
Popuphood
was a combination of luck, extremely good timing and simply snatching up a good deal when we saw one. Yoko and I were ready to open a brick-and-mortar shop, and the retail gods gave one to us -- with six months rent-free!
Here is the shop in June 2012.
This was an "Art Gallery" before. Notice the black floors.
I shudder just thinking about the floors, and all the time we put into cleaning those walls. It was so gross.
Now, I don't have an interior decorating bone in my body. I sort of figured we would put out some folding tables, hang some food porn shots (noodles and uni) on the wall and call it a day. Maybe hang some lanterns? You know, like an Oriental Bazaar.
Then Yoko had a genius idea. Why don't we ask
Anders
to design the space??? He was all the way in Copenhagen, Denmark but what the hell, maybe he would go for it. Oh, and he went for it. We had a Skype meeting one day to propose the idea, and he had this sketch ready for us in the next few days.
Anders was just as excited about this project as we were. It was such a fresh, invigorating design, chock-full of ideas that I could not even comprehend, given my handicapped design sensibilities. My mind was blown.
But notice the one gleaming detail of the sketch: the floors. WHITE FLOORS. The floors were black, which I was hoping we would all overlook... Apparently not.
So the next few weeks were dedicated to painting the floors white. It took four coats? Five? It was hell to try covering up the original black floors.
The buildout took three weeks, $10K and all our friends and family. All of them. Anders flew out from Copenhagen and Keisuke came and terrorized us all for a week.
But we did it. On August 3, we opened Umami Mart. It was the beginning of many events and all those fabulous parties we had been fantasizing about. Kanpai!
Photo by Erin Gleeson
Welcome!
Photo by Erin Gleeson
Photo by Erin Gleeson
August 2012

Kayoko: Ryohei aka Yamahomo aka MOTO missed our grand opening party but visited us in mid-August. He has been writing for the blog (when we were
only
still a food blog) since the very beginning so he is a VIP member of the Umami Mart family. We hosted "Macarons with Moto" for a night of macarons and MOTO's fab fashions. And hair.
Yoko: I am particularly fond of this event because it was our first. It was a mellow event, but it was the first time we met some of our regulars that still visit us today. We were lucky that Moto is a master floral designer too. We haven't had such good looking floral arrangements in the space since then.
September 2012
Kayoko: We hosted a shochu tasting night with certified Shochu Advisor
Washi Washino
. The event wasn't as well-attended as our sake tasting event, but the people who came were definitely into it.
Yoko: I am a huge shochu enthusiast so it's always a source of excitement for me when we include any thing shochu-related in the shop. I remember the attendees of this event clearly. I like that we attracted a crowd of people who are genuinely interested in learning about shochu. I hope to have more of these.
Kayoko: Shochu is definitely still unchartered territory but we're trying to break down barriers and bring awareness of this distilled beverage. Washi is exceptionally knowledgeable about the subject and we are very lucky to have him in the Bay Area.
October 2012
Kayoko: With mounting buzz over the opening of Ramen Shop in Rockridge, Oakland, Yoko and I wanted to showcase the backbone of their restaurant business: the noodle-making machine. Weighing in at 500 pounds, we had about 8 burly dudes help us get the machine onto a big rented moving truck. It was intense.
Yoko: This was one of the most dramatic moments involving our events. A truck was rented to move this ramen noodle-making machine. And if ANYTHING went wrong the Ramen Shop's eagerly anticipated opening would be severely delayed and Umami Mart would be to blame for it. But, we decided it was a "good" idea anyway. Very luckily, nothing went wrong and we delivered on the spectacle. Visitors of all ages ogled at this miracle machine during the event.
Kayoko: Moving the ramen machine, much to everyone's horror, was totally worth it! We had a night of not serving bowls of ramen, but simply watching J.J.
make
the noodles on his machine. Everyone seemed to enjoy the event. These days, Ramen Shop is one of the most talked-about new restaurants in the country. Woot!
November 2012
Kayoko: Erin Gleeson, a good friend of mine from college is a food photographer who has contributed to our blog since 2007. She is coming out with a book next year, based on her recipe blog
The Forest Feast
. We hosted her very first Forest Feast photo exhibit in the back nook of the shop.
Yoko: Erin is a true wizard. Anything she touches (seemingly effortlessly) turns into something magical. The back nook was finally put into good use when she practiced her magic on it. It turned into a cozy space that was perfect for the holidays. It featured prints and cards from her Forest Feast collection.
Kayoko: We all eagerly await the Forest Feast book, set to release in the spring of 2014. You bet we will throw a huge party for it!
Right before Thanksgiving, we turned into a music venue for one night and hosted Oorutaichi, a music and video artist from Japan. We filled the shop to the brim and gave Oakland a night they'll never forget. People still talk about how great this night was. It was raining that night and all these people came out anyway!
Yoko: This was one of the most successful events at Umami Mart. I couldn't believe we fit that many people in there. You can't even see Lizzy of the Grease Box all the way back in this shot, cooking up her amazing grilled cheese sandwiches. Even though we had never heard Oorutaichi live, we had agreed to have Oorutaichi perform on a hunch after seeing his
videos
on YouTube.
Kayoko: The set went on for over an hour, with an encore. Everyone was pumped and couldn't get enough.
Kayoko: Yoko designs all our event fliers and promotional material for Umami Mart. She's talented like that. This is hands-down my favorite flier of this year:
Here is the other best flier of the year.
Kayoko: I remember when planning the Oorutaichi event, Yoko and I wondered if anyone would show up, given it was only a couple of days before Thanksgiving. We made postcards for this event and flyered them all around town. I even dropped them off at Green Apple Books in SF. It was truly an unforgettable event, Umami Mart-style.
Yoko: I still can't believe it was only $3! That was the deal of the century!
Kayoko: We're punk rock!
This was only a few nights before Black Friday. Then, our very first Holiday Madness season began.
Yoko: We were pretty crazy and oblivious, holding this many events before the huge holiday rush -- Kayoko and I opened the store seven days a week with earlier opening hours, and later closing hours. And we'll be crazy enough this year to go for extended hours again.
December 2012
Kayoko: On the fifth night of Chanukah, we had a little menorah-lighting celebration. Erin Gleeson's husband Jack is a rabbi, so we asked him to come up and light a menorah with us. We drank Hebrew beers and ate our weight in brisket that night by 
The Grease Box
.
Yoko: I LOVED our first annual Chanukah at Umami Mart. It was quaint but so peaceful. It embodied the spirit of the holidays. I lit my very first menorah ever. And to have Kayoko, Erin and Jack share this moment with me was very heart-warming. This was about as warm and fuzzy as I could see Kayoko or I ever getting.
Kayoko: HA! Totally true. Not many people came out for this event, we figured everyone was busy holiday shopping. Or maybe they thought this was silly. But I have to say it was probably one of my favorite events at Umami Mart this year. It was so peaceful and loving. Erin even made the menorah out of a log!
January 2013
Kayoko: Kelly Geary is a cook from NYC and she authored a book in 2011 on pickling and jamming called
Tart and Sweet
. She was in town and we asked her to lead a conversation on quick-pickling.
Yoko: We started the new year with a fresh and useful demonstration on quick-pickling. Kelly with her assistant Ryoji showed us how to pickle some mini-shiitake and carrots. I loved that we had a captive audience who was eager to ask questions.
Kayoko: Yah they were so into it! We learned a lot about pickling vs. quick-pickling vs. lacto-fermentation that day. Thanks Kelly!
February 2013
Kayoko: After Erin's show went down, we moved onto an exhibit of photographs by our friend Aya Brackett. The show captured poignant food moments in both her homes in Japan in Oakland.
Yoko: Aya's work really defined the vibe of the space for our first spring season in the space. The subject matter was so fitting: a collision of cultures (US and Japan) in the context of food. Her photos are calming and charming -- for every day of the 2 months it was up, I took every opportunity to view them.
Kayoko: I have to say that coming from an arts background, I loved that we hosted photography shows by Aya and Erin. I remembered how much art matters and how it can really brighten up a space. And it felt special when customers really studied them, and asked questions, and appreciated them enough to want to hang them up on their own walls.
Later in the month, we asked Kristyn Leach, the lead farmer for
Namu Farm
in Sunol, to come in and talk about seeds, planting, gardening tips and caretaking.
Yoko: Kristyn's talk was very informative. I liked how she spent a long time talking about soil and composting, emphasizing that creating the right environment is key. I also still remember her thorough explanations on essential tools that one must have to start gardening.
March 2013


Kayoko: We took the opportunity to commemorate Girls' Day on March 3 and busted out the hina dolls handmade by Yoko's mama. It was a gregarious evening with lots of little boys and girls running around. Yoko made
amazake
, a non-alcoholic beverage traditionally served on Girls' Day.
Yoko: I grew up with this hina doll set in my house, so it was great that my mom was eager to have them displayed for the Umami Mart family. My mom spent about 15 years making these dolls and I remember each one in minute detail. It was so charming to see all the little girls respond to this display. Without telling them, many just 
knew
that they were precious and stared at them with awe.
Kayoko: I loved that our regular customers came and brought their children. It was a memorable evening at Umami Mart.
Later in the month, we threw a fun soiree to celebrate the signing of our lease. We dedicated the event to our daruma, to whom we had wished to sign a lease within six months that we opened. And our wish was granted! We signed a two-year lease!!!
Yoko: I was really proud that we could look back on our six months and be confident about signing a lease. This commemoration was special because we had a champagne toast with
real
glasses, thanks to Camino! And sparkling wine by Selection Massale! This was a very classy moment for us.
Kayoko: We thank the Umami Mart community, in real life and online, for all your support for our Oakland shop!
APRIL 2013
Kayoko: We hosted Ippo Ramen for First Friday. We sold out in an hour. There were a few people who came here from SF who left mad and hungry. Sorry!
Yoko: He will be back with more
this Saturday
!
Kayoko: And this was not an event for us to broadcast, but Umami Mart hosted a WEDDING!!!!
Yoko: The space is beautiful (thanks to Anders Arhoj), so why not have a wedding here?
Kayoko: No, Yoko and I did not get married.
Yoko: Not yet...
Kayoko: We would ask that all our gifts be from Umami Mart. HA!
MAY 2013
Kayoko: After a lot of discussion (and dread) we decided to re-do our floors. We closed for one day during Memorial Day weekend and asked the men of
Manual Labor
, and Johnny, to help us install gleaming new white floors.
This is how I felt about it:
This is how Yoko felt about it:
Yoko: My thighs and uppers arms were sore for three days after this. But hey, the result was nothing short of beautiful -- and now we know how to install floor! That's pretty bad-ass.
Kayoko: My ass still hurts just thinking about it. But it was worth it!
JUNE 2013
Kayoko: Ah, June. What a crazy fucking month. Around the end of April, we decided to build out the back nook (where we had been hosting the photography shows), into the Bay Area's first conbini. We invited Anders over from Copenhagen again to design the space, and Joe and Devin of Manual Labor to build all the shelves.
Yoko: Again, Kayoko and I are crazy. For some reason we always think we are up for the "next new thing" and do it from conception to completion in 8 weeks. I've realized that the reason is because we have a DREAM TEAM who are as crazy as we are.
The Umami Mart Dream Team: Anders, Yoko, Jay, Devin, Joe, and me
Kayoko: Since we first opened in 2012, people would always call and ask if we sold food. Well Oakland, here ya go!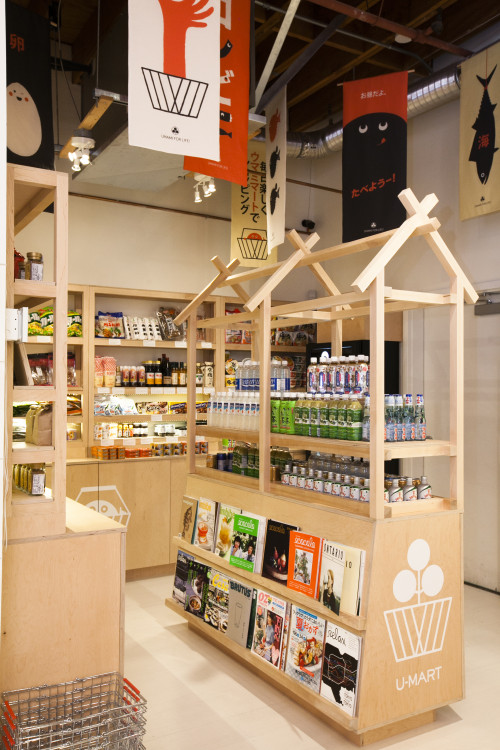 Photo by Myleen Hollero
Photo by Myleen Hollero
Photo by Myleen Hollero
Kayoko: Yoko built this back shelf AND the light box AND installed all the lighting. I could not have asked for a more badass partner.
Photo by Myleen Hollero
We of course threw another fabulous, HUGE party to celebrate the conbini opening, with people spilling onto the streets.

This is how we do it!
Whew! Ok that's it. That's every event we held in the last year at 815 Broadway. We had a couple of off-site events like the
bee hive tour
 and a
sake tasting in LA
, but we packed in as much energy and love into our space for the first year as we could.
To celebrate our one year anniversary, we got these iPhone covers. Cause it's all about branding, ya'll!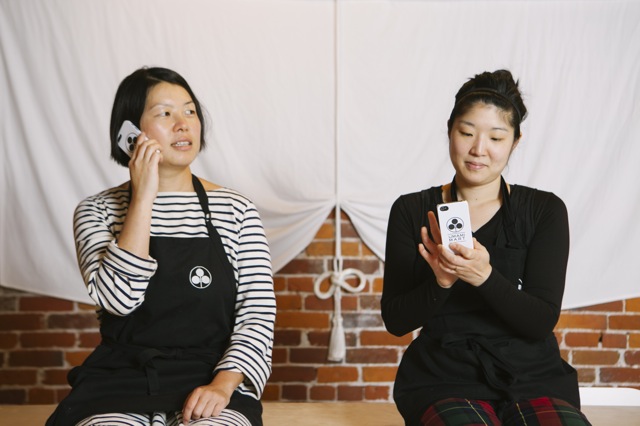 Photo by Myleen Hollero
Kayoko: I love our shop so much, it is a true manifestation of the Umami Mart universe which was formerly only online. It's a place to get together and discuss pertinent food and dining matters (most frequently asked question: "Where do I go for the best bowl of ramen in the Bay Area?") ; a resource for Japanese food and drinks; and also a place to buy unique, functional tools for your home and kitchen.
Yoko: This post is so much better than any other yearbook I've been in. It reminds me that I should probably take a vacation, but also makes me so excited for the next year. There is still to much more to do, see, listen, touch, smell and taste here at Umami Mart. I wake up everyday thankful for being a part of this local and worldwide community called Planet Umami Mart.
Photo by Myleen Hollero
Kayoko: Yes Yoko, take a vacation! No seriously. It's been an incredible year, but there are still many more doors to open, people to encounter, and opportunities to discover. The world has seen nothing of this duo yet! UMAMI FOR LIFE!
Stay tuned for a jam-packed fall full of events, starting this Saturday for our
One Year Anniversary Matsuri
. Taikos will be drummin', street food will be grillin', sno-cones will be sprinklin' and all the J-Pop jams will be spinnin'.
Don't miss any of our fabulous parties. See you Saturday!
*Top photo by Myleen Hollero. All photos by Kayoko Akabori and Yoko Kumano unless otherwise noted.