Super Faminto: Brasil's Chocolate Brigadeiro!
Brazil has a serious love for condensed milk in their desserts and
brigadeiro
is the #1 most commonly made of them all. It is the holy grail of condensed milk, butter, and cocoa powdered chocolate. They make for a seriously awesome ball of thick chocolate, covered in sprinkles.
The chocolate sweet is named after the famous politician and Air Force brigadier 
Eduardo Gomes
, who in no way resembles a round ball of chocolate.
Brigadeiro
is also damn cheap and easy to make. In Brazil, during the late 40s and early 50s, imported candy and sweets were in short supply, and Nestle, yep the multi-national company, had newly arrived on the market and needed to establish its brand. The recipe was a hit due to several factors: the need to replace imported sweets, for Brigadeiro Gomes' popularity, the might of Nestle's cocoa powder and condensed milk marketing, and the recipe's ease.
Nowadays you can't go to any kid's party, baby shower, or wedding without finding these chocolate bon-bons littering the dessert tables.
INGREDIENTS
Makes 25-30 balls
1 can of condensed milk
3 fat spoonfuls of Cocoa powder
1 supple tablespoon of butter
Granulated chocolate sprinkles (or any sprinkle really)
Bon-bon liners
A pot in lieu of a mixing bowl
Wooden spoon
METHOD
Soften one supple table spoon of butter over low heat. Melting it down is fine too.
Mix butter and the whole can of condensed milk:
Mix it with the wooden spoon. Then add the 3 spoonfuls of chocolate cocoa powder slowly:
Mix:
Put it in your pot (if you didn't start with one) over
low heat
and don't stop stirring until it is sticky, smooth (no lumps) and pulls off the pot without much trouble.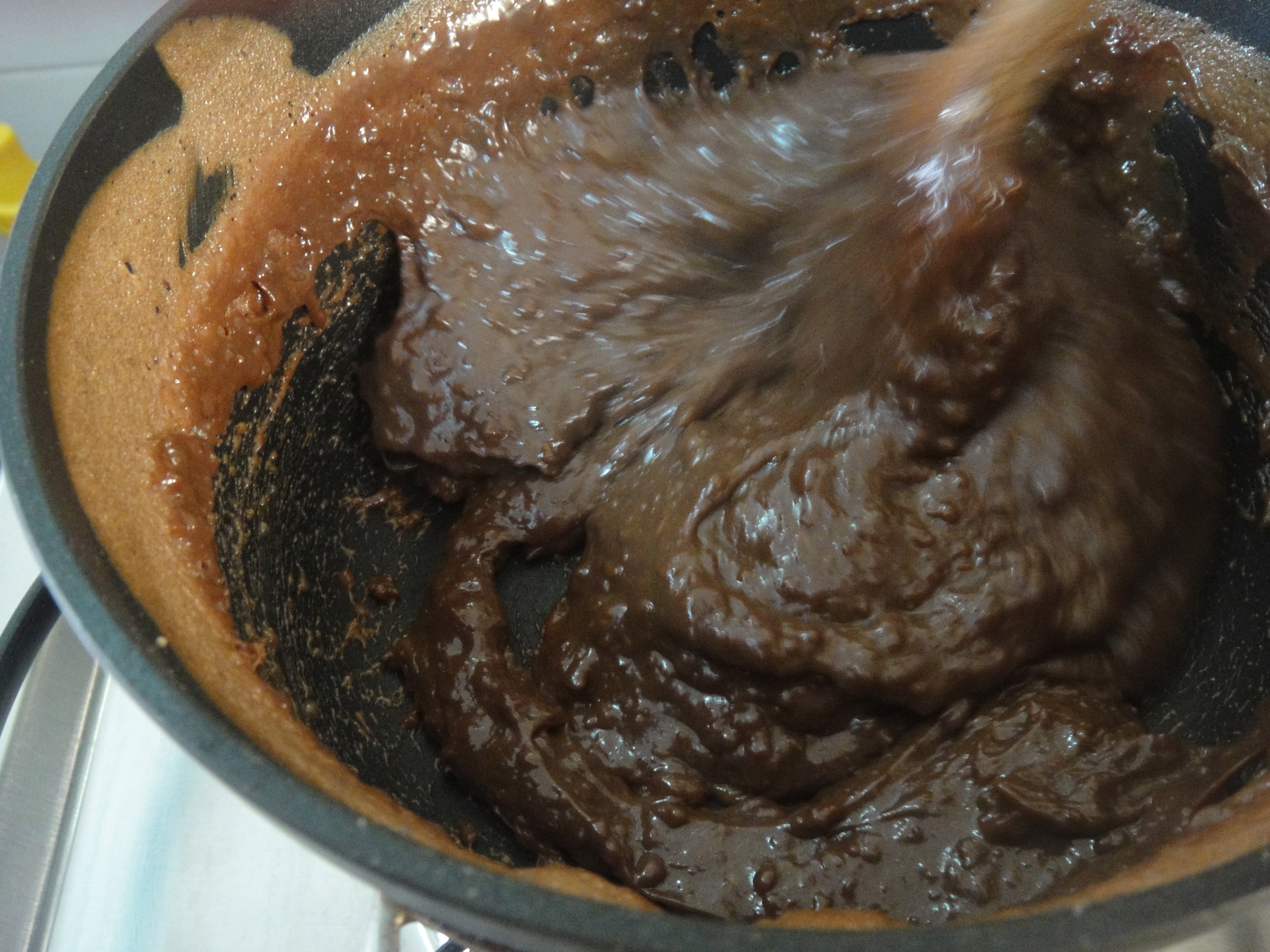 It's a little less lumpy!
Now get the last remaining lumps out and it's ready to be put in a bowl or plate to cool.
Let it cool for 6 hours -- room temperature is best. (Beware of ants that might f$%# it all up.)
Once cool, butter up your hands- so the chocolate doesn't stick all over you. Then hand roll your balls.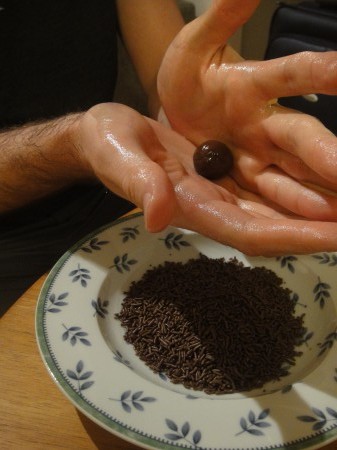 Then cover your exposed balls by rolling them in sprinkles:
Cover up them brigadeiro balls.
Then put the balls in the liners:
Serve them up or put them in the fridge for later.
And
that's
Brazilian
brigadeiro
!
Next time: Lemon Brigadeiro.