The Umami Reader: The Art of Handmade Soba
-  If you've had freshly-made soba, you know that the difference between dried and fresh buckwheat noodles is astounding, but even then, you might not know the amount of work that goes into making these noodles. To get an idea,
watch this short film about Seattle-based chef Mutsuko Soma of Kamonegi, who makes soba in the traditional Japanese way.
Every step of her recipe for
nihachi
soba (20% wheat, 80% buckwheat) is done by hand, including milling her own flour, combining the ingredients and kneading the dough, rolling out the dough, and then cutting the noodles at the perfect width (1.2 mm). If you like watching
How It's Made
, you'll like this mesmerizing video. (
Food Talkies
)
- Japanese women have long held the title of having the healthiest hearts in the world (as well as the
highest life expectancy
), but a
new group of people are now being hailed as having the lowest levels of corony artery disease
.
The Tsimane, a Bolivian hunter-gatherer society living in the Amazon, are now thought to have the world's hardiest hearts.
NPR reports, "Of Tsimane people over age 40, about 85 percent have no atherosclerosis. And nearly two-thirds over age 75 were apparently free of arterial plaque. Compare that to Americans — who have exactly the opposite statistics. Nearly 85 percent of Americans over age 45
have
atherosclerosis. And only 14 percent are free of the plaque." Doctors and scientists studying the Tsimane are not completely sure why they have such low instances of atherosclerosis. As a group, the Tsimane exhibit factors that would lead scientists to conclude they'd be at risk for poor heart health, including higher BMI (a quarter of Tsimane would actually be considered "overweight"), low levels of "good" cholesterol in their diet, and high levels of chronic inflammation. While the Tsimane don't regularly engage in high-intensity activity, they walk about 7.5 miles throughout the day. Their diet – mostly made up of carbohydrates like corn, cassava, and plantains – is high in fiber, short on simple sugars, and totally devoid of transfat. Not surprisingly, a myriad of factors are probably what contributes to their good heart health, but how long before we're all reading self-help books and following the new Tsimane Diet craze? (
NPR
)
[caption id="attachment_29457" align="alignnone" width="640"]
Photo by Sarah Han[/caption]
- Get your goat: During America's earliest years,
cheesemakers were mostly women.
 Before the days of refrigeration, these industrious women made cheese on the farm as a way to preserve milk. American men didn't really get into the cheese biz until the work moved into factories, when they began to dominate in the world of cheese.
But in the '70s through the mid-'80s, a small group of women cheesemakers began to appear across the country.
Using goat milk, they started a cheese revolution, and today, are still regarded as some of the country's best artisan cheesemakers. These women include Laura Chenel (Laura Chenel's Chevre), Mary Keehn (Cypress Grove), Jennifer Byce (Redwood Hill Farm), Sally Jackson (Sally Jackson Cheese), Judith Schad (Capriole), Letty Kilmoyer (Westfield Farm), Paula Lambert (Mozzarella Company), and Allison Hooper (Vermont Creamery). As an homage to these women, the
Wall Street Journal
posted a recipe for the
Goat Goddess Grilled Cheese Sandwich
, a new take on the classic grilled cheese, using a combination of cheeses from three of the above cheesemakers. They claim it's the greatest grilled cheese sandwich. Whether or not it beats my 
Ultimate Umami Grilled Cheese
, I am a bit skeptical, but I will admit, it does sound worthy of a try! (
Wall Street Journal
)
- Speaking of iconic American sandwiches, ESPN wrote a fun piece on
the role of the simple peanut butter and jelly sandwich in the world of professional basketball.
The story goes that it all started with Kevin Garnett, the 2007-08 Celtics, and a round of PB&Js eaten by the team before a winning game in December that season. After that particuarly good game, Garnett decided that PB&Js (in his case, two sandwiches made with strawberry jam) were a prerequisite for every game. And it wasn't too long before other players and other teams took up the habit of a pre-game PB&J. The article notes that while PB&Js aren't particularly healthy, the NBA has decided it's an "addiction" that's more helpful than harmful for most players. As a food that most players remember from childhood, it brings them comfort, which can help improve their game, especially since many athletes are superstitious and abide by rituals. Lakers coach (and former Laker player) Luke Walton still eats a PB&J before every game. He admits, "Athletes are strange people. We've got weird habits." (
ESPN
)











- Another athlete who made the food news this week is Colin Kaepernick. Hot on the heels of news that Trump's proposed budget would cut the program that helps feed America's impoverished, including seniors, disabled people, and others in need, former 49-ers quarterback,
Kaepernick donated $50k to Meals on Wheels
. He also helped raise awareness about the
Turkish Airlines Help Somalia initiative
, which is donating food, water, and aid to Somilia, where more than 6 million people are experiencing famine. (
ABC News
,
Teen Vogue
)
- Online restaurant reservation service, OpenTable is asking customers to "book responsibly."
This week, OpenTable started their campaign designed to prevent diners from failing to make good on showing up for their reservations. 
The service is now sending more reminder emails, as well as texts and push notifications, to bookers about pending reservations. It also has a "four-strike" policy, meaning if a user does not show up to four reservations within a year, their account will be terminated. SF Chronicle food critic Michael Bauer responded to this news affirmatively, writing a piece titled,
"Why we should consider reservations a privilege, and not a right."
His argument is that restaurants' profit margins are so narrow that no-shows are causing even more woes. We willingly pre-pay for a baseball game or concert tickets, accepting that if we don't make it to the event, we're not getting our money back. Why shouldn't we have the same expectations when we make a reservation at a restaurant, Bauer wonders. Whether you agree with Bauer or not, it's a fact that standing up a restaurant or canceling last minute is a dick move, so be an upstanding diner and let the restaurant know when you can't make it. (
SF Chronicle
)
[caption id="attachment_29463" align="aligncenter" width="400"]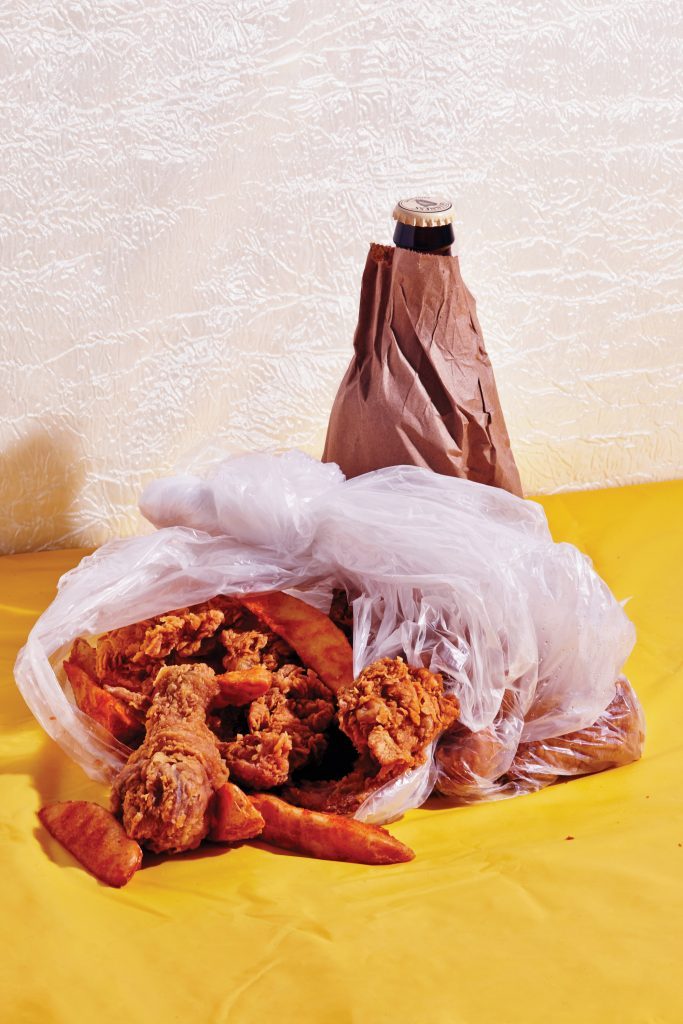 Photo of Kenyan Chicken and Chips via
Lucky Peach
[/caption]
-
Before bidding adieu to Lucky Peach, be sure to check out their Guide to Fried Chicken of the World.
The list includes international fried chicken favorites, including 
Toriten
(tempura chicken from Oita, Japan), Kenyan Chicken and Chips,
Tongdak
(Korean fried chicken), and more. Some of the descriptions of the featured fowl are written by famous chefs and notable food writers, including Andy Ricker of Pok Pok and Corey Lee of Benu and In Situ. (
Lucky Peach
)
- Another guide worth noting is
Serious Eats' Dashi 101, which covers pretty much everything you wanted to know about the umami-ful Japanese stock
, traditionally made from
kombu
 (dried seaweed) and 
katsuobushi
 (dried, smoked bonito). Dashi is the base of most Japanese savory recipes, so having a good dashi on hand is integral for Japanese cooking. (
Serious Eats
)
-
Ballast Point beer is facing a boycott based on its parent company's right-leaning political affiliations.
The San Diego-based craft beer company is owned by New York's Constellation Brands, which through its own political action committee has made large political donations to Republicans, including Speaker of the House Paul Ryan. Now there's a movement with a hashtag – #dontdrinkballast – which is asking people to vote with their wallets by abstaining from drinking Ballast Point. On March 20,
Ballast Point put out a statement
distancing itself from the political views of its parent company: "Ballast Point does not support Paul Ryan, nor the healthcare bill... Ballast Point has no direct involvement or input into the actions of Constellation's PAC. Please know that our only goal as Ballast Point is to brew great beer and provide for our employees and our customers." (
Medium
)
---
The

Umami

Reader

: Mining the internet for stuff about food worth

reading

and watching