Ukai: Cormorant Fishing in Gifu
Yoko and I were lucky enough to be invited to Gifu prefecture in central Japan to visit specific cities that are known for producing knives, ceramics and wood products, and tour their factories. We had a wonderful three days in different parts of Gifu, looking for new products for Umami Mart, while enjoying the regional cuisine and spending our evenings soaking in the
onsen
(hot springs). Tough life!
Gifu is very well known throughout Japan for
Ukai
, an ancient fishing technique aided by
cormorants
-- a prehistoric-looking bird with a long neck and beak. It is hard to believe: for 1,300 years, fishermen in Gifu have trained these birds to catch fish in the river, then spit them out for their masters!!! As if it were some sort of mythic Japanese fable, Yoko and I watched this take place with our own eyes. What a spectacle!
Whenever we told a Japanese person we were going to Gifu, they would exclaim, "Ukai!" It is a very well known practice in Gifu (they do it in Kyoto too) and thousands of tourists pour into this prefecture from all over the country to witness this style of fishing. Ukai or 鵜飼 in kanji, literally means "cormorant raising" and according to
Wikipedia
, it's a practice that is passed down from father to son, and these days, even daughters. The birds are trained to catch
ayu
(sweetfish) in the Gifu's Nagara River; sardine-like in size, these fish only roam the waters from May to October, so the fishing is only done during these months. Sweet trivia: Charlie Chaplin himself traveled to Gifu to watch Ukai, not once, but twice!
We were staying at a hotel right along the Nagara River, where the boats were set up for the Ukai. I was surprised that this happens at night, which I assume is the time that the ayu are in abundance.
Boat rowers getting ready for the evening's Ukai festivities
The boats can hold anywhere from 15 to 50 people
Lanterns with drawings of the cormorants
The event begins at nightfall with short fireworks and the boats come down the river one by one. It was very dramatic
.
A large fire lantern hangs off the front of the boat, acting as a light source for the fishermen, and the cormorants
.
Can you see the cormorant in the water?
Ukai master
Waiting for the catch
Got one! The master lifts up the bird from its harness
This goes on for about 40 minutes. The birds and masters wait.
When the fire burns out, it's time to head home.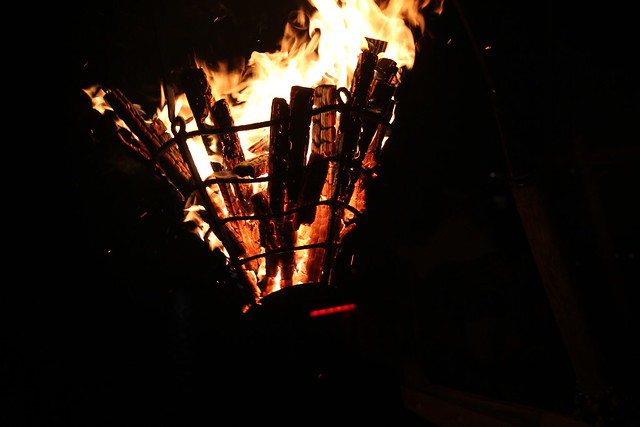 The stars of the evening, the cormorant!
The night's catch:
This was such a special event to witness and we were so lucky to have been on a boat, so close to the actual fishing. I of course did wonder if this was a sort of animal torture in the guise of "tradition" -- the fishermen do wrap a ring around the bird's neck so it cannot swallow the fish. But this is a dying practice, as modern-day fishing technologies have obviously trumped these ancient ways. It was certainly a spectacle for tourists like myself, but so AWESOME to watch. I considered it more of a history lesson than anything else and it is incredible that they have been able to preserve such an old tradition of fishing.
Here are some freshly grilled ayu we had at the hotel.
Ayu is a fish exclusively from Japan (I believe) and they are indeed sweet and delicious. Sort of like
shishamo
but a bit bigger and without the egg sacs.
Check out all of our photos of the Ukai
here
. And read more about it on Wikipedia if you're interested, it's quite a
comprehensive read
. I do recommend visiting Gifu during the Ukai months and experiencing the fishing for yourself. It will blow your mind!
*Photos by me and Yoko Kumano