Photos by Erin Gleeson
We did it! With the loving support from our friends, family, and community, Yoko and I have opened Umami Mart, a retail shop in Oakland, CA, specializing in kitchen + barware from Japan.
The idea for starting a brick-and-mortar shop really derived from necessity. We had been running our
online shop
for nearly two years, and the inventory was eating up Yoko's apartment, ie her life. I'd walk into her place and there were boxes everywhere, packaging products, human-size rolls of bubble wrap -- the entire online shop resided in every nook and cranny of her apartment. She was about to lose it (
Skylar style
). It was time for some breathing room.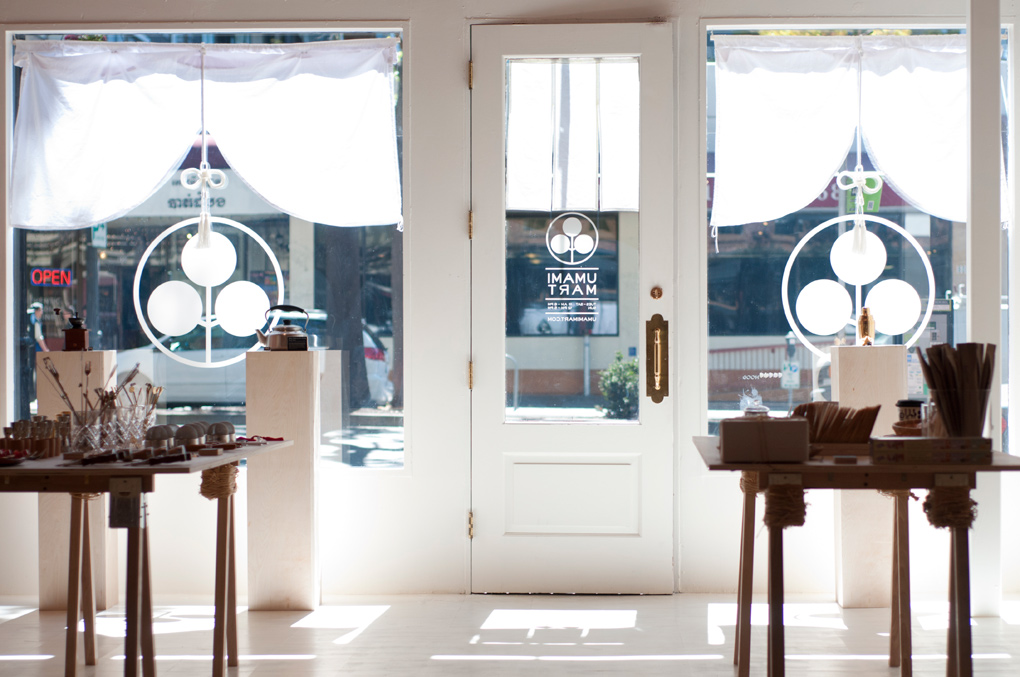 Window decals and all signage by Cindy Liu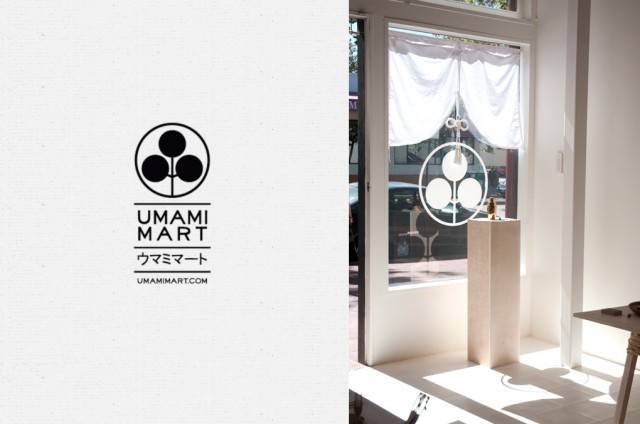 Our kamon (family crest) was by Anders Arhøj. The sprout images symbolizes growth and bright future.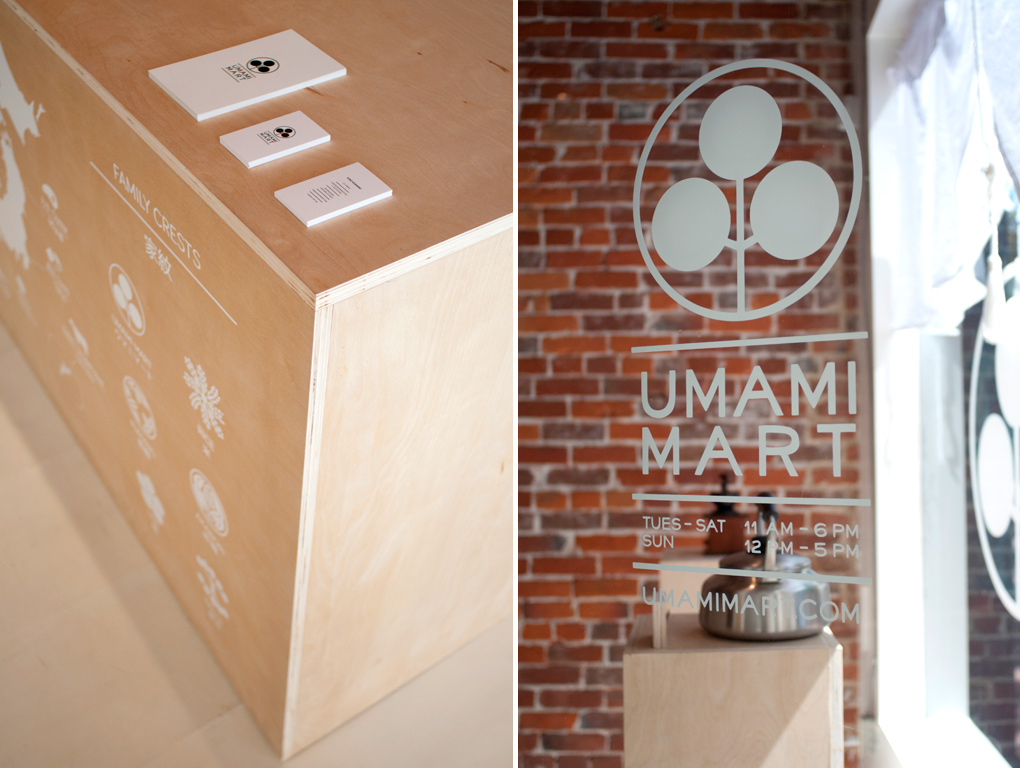 Umami Mart is open Tuesday to Sunday. Decals by Cindy Liu
All brand identity by Anders Arhøj
Windows look out to Broadway
Gallery wall. Most images designed by Anders Arhøj. Prints coming soon for purchase!
One day, in early spring, Yoko emailed me, "Why don't we open a SHOP???" From there, it was full-speed ahead. We started talking to people we know in the business for feedback and suggestions. Then, we got in touch with Alfonso of
popuphood
-- a program to help revitalize neighborhoods by granting prospective retailers six months rent-free.
We could not refuse.
Anders Arhøj, a well-regarded art director in Copenhagen who runs his
own firm
(when he's not out
skankin' for Umami Mart
), was planning on coming into town to "relax in Berkeley" for a month. Yoko and I asked him if he would be interested in taking the lead in designing the interiors of the shop. He said yes!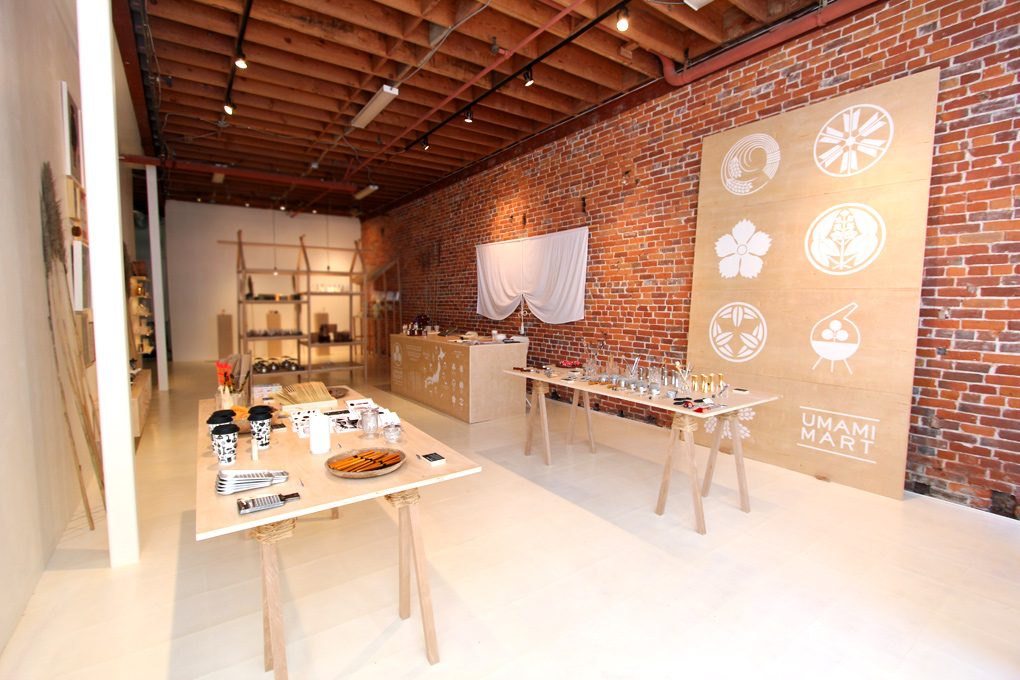 We created this space on a shoe-string budget of $10k, using mostly birch plywood. Photo by Johnny Lopes
As the head designer of this project, Anders put all of his knowledge and keen eye into helping us build the space that best fit Umami Mart's sensibilities, and product line. Anders lived in Japan for a year, and his time there was influential in his career and design aesthetics.
For Umami Mart, he envisioned a bright space where Shinto meets Scandinavian minimalism. He designed all the furniture, logos, graphics -- everything.

Yoko and Johnny built those tables!
Upon entrance to the shop, there is a display of arrows on the white wall. There are 38 white arrows, and one red.
Hamaya are arrows that are said to ward off evil. Each hamaya handmade by Yoko's mama, Kazuko Hayama.
All the white
noren
(curtains) in the shop windows, and on the brick wall above the register desk are hand-sewn by Yoko's sister, Kaoru Kumano. 
Like in Japan, we put up the noren in the door every morning, as a sign that we are open.  The bow you see above is an extremely intricate agemaki knot. 
Our good friends Devin Farrell (who made the
Hashi set
) and architect Joe Perez-Green are extremely talented woodworkers who have recently started a company called Manual Labor. We were so lucky that they agreed to build the centerpiece of the shop.
THE SHRINE!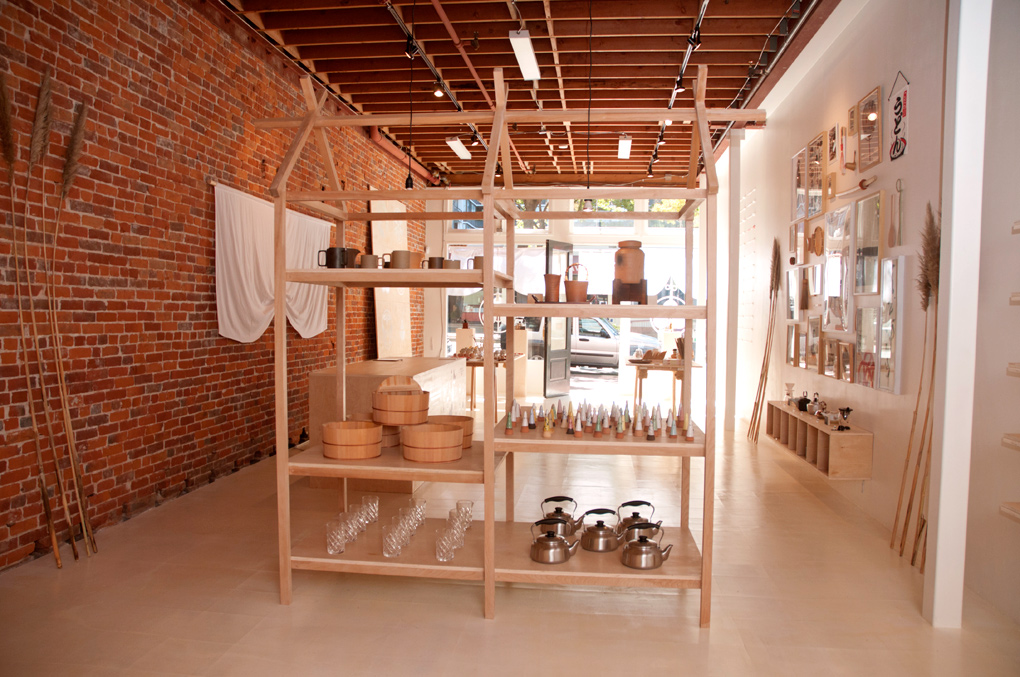 Huge 8 foot shelf designed by Anders as a "shrine". Built by Manual Labor (info@mlcollective.com).
Devin and Joe also built this massive desk for us, which is against the brick wall in the middle of the shop.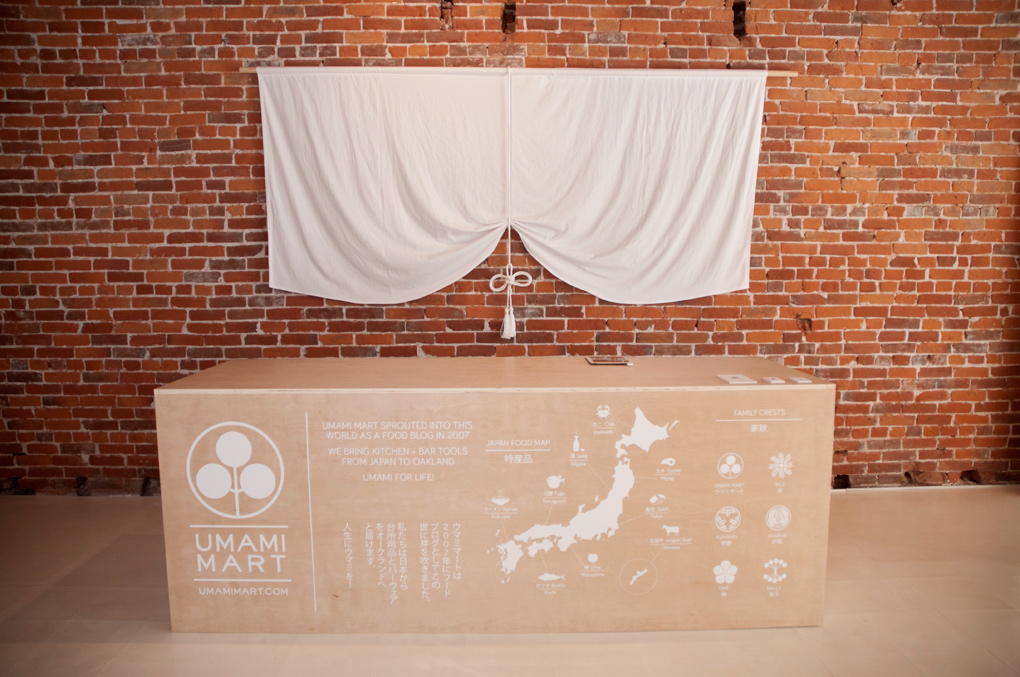 This is where Yoko and I blog, gossip, eat, and make transactions every day. The noren (curtain) is by Kaoru Kumano

The front is full of  fun, visual stimulation a la Skankynavia. Japan Food Map!
Design by Anders Arhøj. Decals by Cindy Liu
Market stall made by Washi and Johnny. Pedestals on the left by another woodworker friend of ours, Koa Stephens
Barware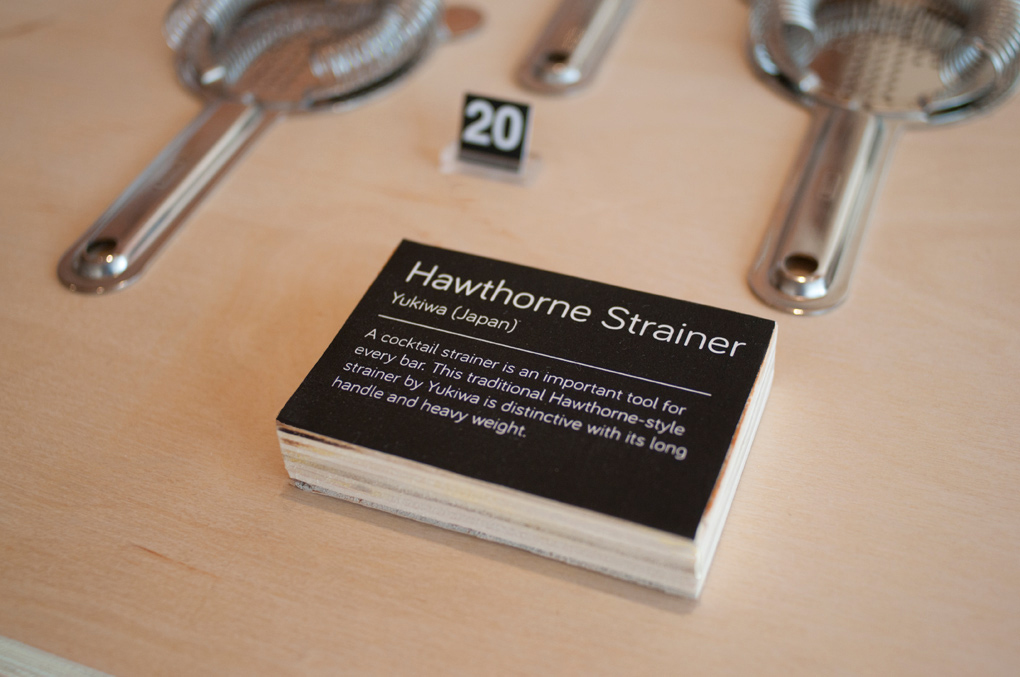 Plywood blocks for descriptions of our products
Anders foraged through thrift shops all around town for vintage frames for this wall. People ask if these are on sale every day. Soon, they will be!
Anders brought his GHOSTS, a collaborative project by himself and Louise Gaarmanns. These are wildly popular in Denmark right now and are flying off the shelves of shops and museums.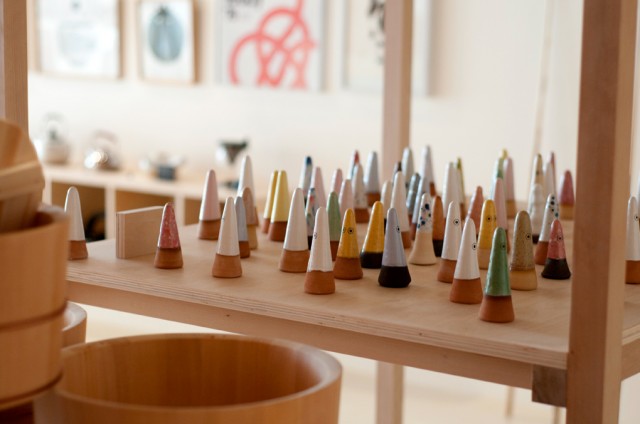 The Ghosts, or "Kitchen Talisman" are decorative ceramic pieces hand-thrown, then glazed.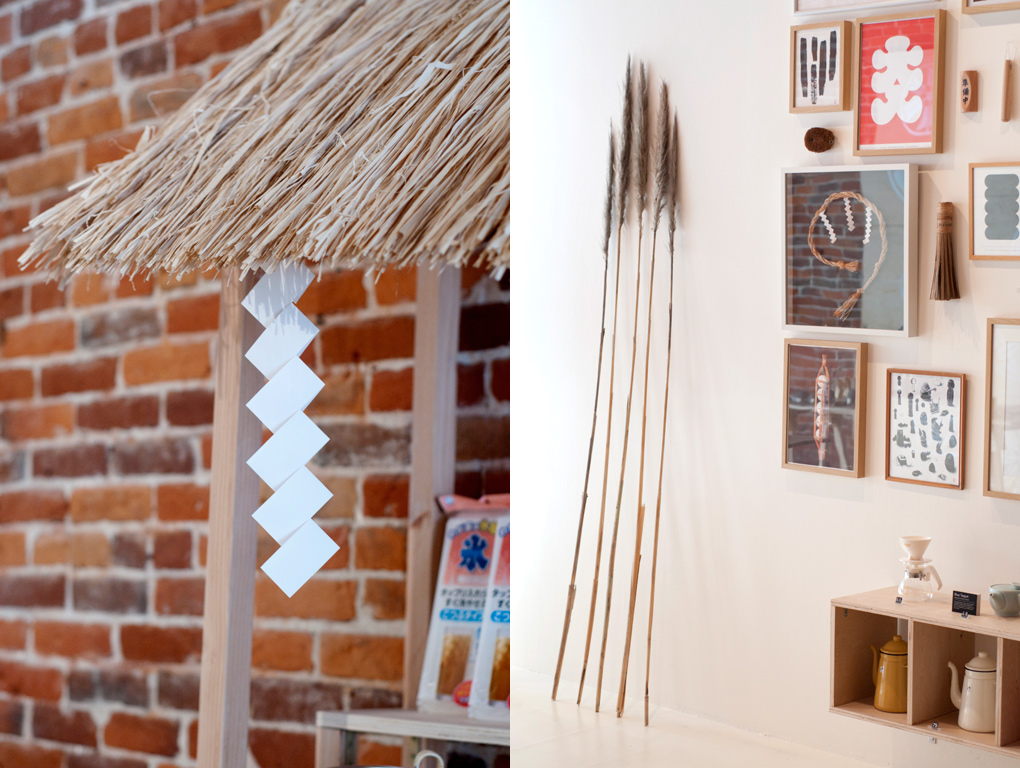 Shinto-themed accents can be found throughout the shop
Wild weeds foraged by Keisuke and Johnny.
At our shop, we'd like to be known for our hospitality and service. Let us wrap your gifts!
Me and Yoko in our Umami Mart uniforms
Here's a sweet montage by Anders, starting three weeks out!
THANK YOU TO THE UMAMI MART FAMILY! 
Keisuke Akabori
Anders Arhøj
Mike Brandeberry
Nicole Buffet
Martha Chong
Jay Dion + Rie Hirai
Devin Farrell
Sarah Filley
Erin Gleeson
Tamara Hathcock
Kazuko Hayama
James Kirkpatrick
DM Kishi
Mike Kross
Kaoru Kumano
Norma Listman
Cindy Liu
Johnny Lopes
Joe Perez-Green
popuphood
Koa Stephens
Tyler Vogel
Shinichi Washino
And thank you to all our loyal readers who have kept us going since 2007. We would not have made it this far without your encouragement and support! We can't wait to see you all at the shop.
Come visit soon! 
Sign by Cindy Liu
UMAMI MART
815 Broadway
Oakland, CA 94607
T: 510.575.9152
Tuesday - Saturday 11am - 6pm
Sunday 12pm - 5pm