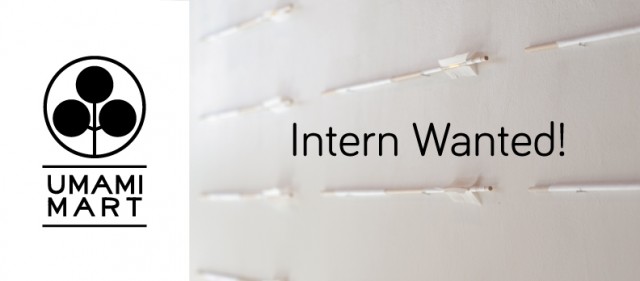 It's been over six months now since Yoko and I started our shop in Oakland, and we'd love a motivated team member to join us! We're ready for a star intern to help us grow and be a part of the inner-workings of Umami Mart. FUN! Here's the description below -- please forward to anyone who may be interested!
MARKETING / PHOTOGRAPHY / E-COMMERCE INTERN
Umami Mart, an international food and drink blog, shop and Japanese barware importer, seeks a marketing intern to assist in overseeing the online shop. This position will be an unpaid part-time internship, with potential for part-time hire. Yoko and Kayoko will work closely with the intern, who should have a keen interest in learning about e-commerce; and with a passion for photography, writing, food and design.
Responsibilities include:
- Photographing all new products, including glass, ceramic and stainless steel
- Writing descriptions for new products
- Manage Facebook / Twitter / Instagram for new products and campaigns
- Communicating with online customers about their orders
- Oversee packing and shipping orders
- Help brainstorm marketing campaigns for the online shop and execute them
- Ordering products for the shop
- Oversee the email list
Qualifications:
- Expertise in photographing and lighting, color correction skills and experience a must
- Comprehensive expertise with Photoshop and Illustrator
- Knowledge of graphic design would be awesome!
- Access to digital camera and laptop preferred
- Would love if you lived in the East Bay
- A positive attitude and good sense of humor!
We're looking for a dynamic self-starter to join our team -- someone who is ambitious, motivated and enthusiastic. We hope that this person is an avid reader of the blog and have attended our events. Because this is an unpaid position (but we will cover your BART fare!), it is important that our interns are truly interested in Umami Mart, while pursuing their own interests on the job.
Email
shop@umamimart.com
with your resume and a short blurb about yourself and what you hope to accomplish with us. Cheers!