Two weeks ago, I picked up Anders aka Mr. Skankynavia from LAX. It was a bit of a drive from the Bay Area, but a little vacay for both of us before we began the crazy build-out of our
Oakland shop
. We both love LA -- the sunshine, the celebrity, the botox. L. Ron Hubbard Way was only a few blocks from the place we stayed. Perfect! We patiently await TomKat's reunion.
Here are a few snapshops of what we ate during our trip. We packed quite the punch during our short two-day stay.
I've been wanting to try Ricky's Tacos. He started out as a little street cart, and now has a permanent location!
Fish fry.
Fish tacos, Ensanada style.
For dinner, we headed over to
Din Tai Fung
in Arcadia. Remember our double threat
Tokyo
-
LA
Umamiventure?
After spending 30 minutes to get there, we waited almost an hour to be seated, at 8:30pm on a Sunday night. WTF! But sooooo worth it.
We ordered a massive spread of noodles and dumplings. I dream of their beef noodle soup.
But perhaps the highlight of the night for me was the shrimp and bitter melon dumplings. They're so cute!
Dumpling porn.
However, the main purpose of our LA trip was not the food. It was Universal Studios! It was all Anders' idea.
A thermo-nuclear, explosive drink that Anders bought at the "Charging Station" for the Transformers ride.
What else?
Dippin Dots is the quintessential theme park treat. SO 90s.
Alright, I admit, Universal was a BLAST! We had such a fun time -- the Simpsons ride was probably my favorite. After an entire eight hours spent in the sun, waiting in line for rides, weeding through the crowds, we were all pretty famished.
We hopped on the 101 and headed to Little Tokyo for a
Honda-ya
nightcap.
Our spread of homemade tofu, fried wakasagi (smelt), salmon skin salad and battera sushi (pressed mackerel).
We woke up the next day, depressed at the prospect of leaving LA. How SAD.
To compensate, we took the long way home up 101 and stopped off at Santa Barbara, for the beach and La Super Rica, of course!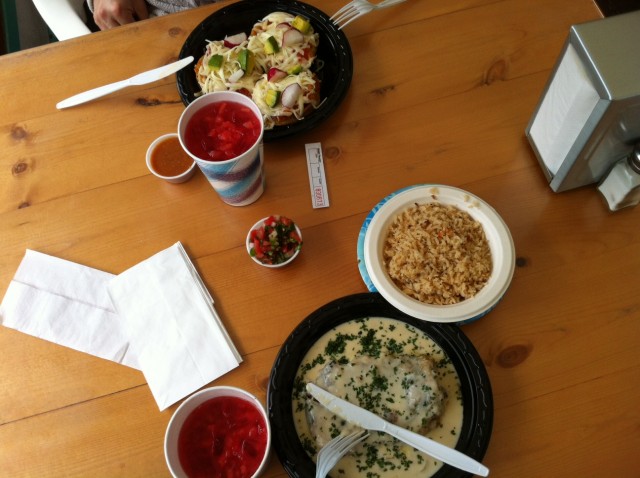 Sopes, chile rellenos, side of Mexican rice, and watermelon agua fresca. Obsession.
I have a confession to make. I love Mike Myers.
So I Married An Axe Murderer
, HELL-O! Was that not the best movie ever? The dad, the Carmen Ghia, the city, the haggis. I went to see that in the movie theater in junior high and literally had the biggest crush on Mike after that. What a nerd...
We'll be back soon, Los Angeles! Thanks always for a fabulous time.
RICKY'S FISH TACOS
1400 N Virgil Ave
Los Angeles, CA 90027
DIN TAI FUNG
1108 S Baldwin Avenue
Arcadia, CA 91007
T: 626.574.7068
HONDA-YA
333 S Alameda, Ste 314
Los Angeles, CA 90013
T: 213.625.1184
LA SUPER RICA 
622 N Milpas St|
Santa Barbara, CA 93103
T: 805.963.4940