A Visit to Heuga Bar in Gifu City
Yoko and I first met bartender Tomokazu Kai in 2010, when we helped present an event with Suntory Whisky called the
Tokyo-SF Bartender Salon
. The event was held at Prizefighter bar in Emeryville and was meant to bring bartenders from Japan and the Bay Area together to present and talk about cocktails and bartending techniques. Mr. Kai, along with Masako Ikegami, represented the bartenders from Japan, as they had just won the coveted Suntory Cocktail Awards and were visiting the States as their grand prize.
We were lucky to meet them both back in 2010, and Kai-san has remained a wonderful friend. He often pops into the Umami Mart blog, answering pressing questions about bartending styles in Japan, like "
why don't bartenders in Japan use bitters
?" These articles have been popular, and we take Mr. Kai's suggestions seriously (we started importing
this polishing cloth
after he mentioned it, and it has become quite popular with local and NYC bartenders).
When we found out we would be touring factories in Gifu prefecture in May, visiting Mr. Kai at Heuga Bar was high on our priority list. As soon as we touched down in Gifu City, we made our way to Heuga (pronounced hUga), which turned out to be just as charming and cozy (and spotless!) as we had imaged.
Comfortable living!
A walk down into the entrance of Heuga Bar
Settling into the gorgeous bar!
An oshibori (warm hand towel) to start
Glassware and top shelf liquor
Mr. Kai making Yoko's mojito. The bar is awesomely back-lit for dramatic effect. It reminded us of the bar in The Shining (our dream bar)

Japanese cocktail books. Molecular mixology is apparently all the rage right now
I asked Mr. Kai to make me a boozy rum drink. Here's what he chose for me.
HAVANA MARTINI
Adapted from Takao Mori of Mori Bar in Ginza
Ingredients
3oz dark rum
Barspoon Manzanilla sherry
1 dash orange bitters
Garnish lemon peel and olive
Method
Choose a couple large pieces of ice. Rinse with water to dissolve any small shards from the ice. Strain.
Add bitters, sherry and rum into the mixing glass:
Stir.
Strain into a rocks glass full of ice and lemon peel:
Garnish with olive on a cocktail pick:
Serve alongside sweet and savory bites:
My Havana Martini was indeed boozy and delicious. The perfect remedy after 20 hours of travel; it really hit the spot.
Mr. Kai mentioned that Gifu is known for its persimmons, so Yoko asked him to make her a drink incorporating a persimmon liqueur.
Mr. Kai's brain ticked for a few seconds, and he decided to pair it with some tequila blanco. Wonderful! This drink was fragrant and uplifting.
By the end of the evening, the bar was in full swing.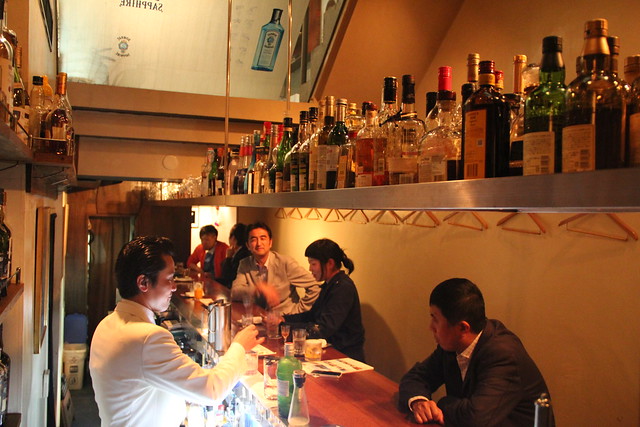 The customers were all of Mr. Kai's regulars, and he greeted them warmly. Everyone was really chatty and lively, and they were all impressed that we had traveled to Heuga Bar all the way from California. We asked Mr. Kai where all the women were, and while he said that most of his customers were men, women did come in as well.
A native of Kagoshima (the homeland of shochu!), Mr. Kai has bartended at Heuga Bar for eight years, after moving to Gifu for university. He is such a kind person, and seriously talented bartender; he made us feel so relaxed and at ease, like we were at home.
Make sure to stop by Heuga Bar if you are ever in Gifu. You're in for a treat!
HEUGA BAR
Kinpo-cho 1-15CUT building B1F
Gifu City, Gifu 5008847
T: +81 58-264-7875