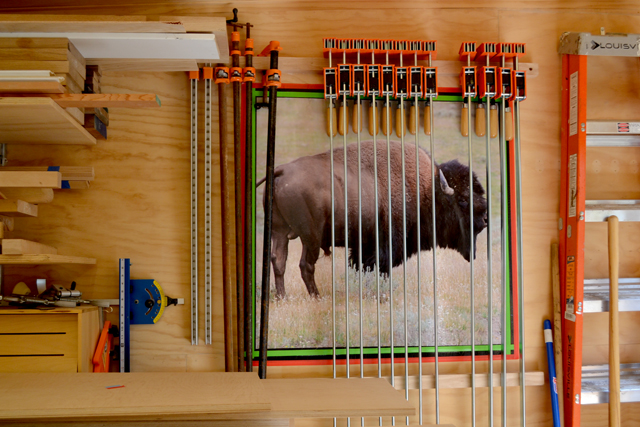 All of our projects here at Umami Mart are a team effort. Kayoko and I have millions of ideas everyday that don't get past the four walls of Umami Mart. From producing a TV show to buying a building, some ideas have faded while others are waiting for the right time.
The ideas that we can put on a straight face on and ask our friends to help out are the ones we are actually confident about. Such is the case for U-MART, the Umami Mart conbini!
After enlisting Anders to design the space, we knew where we could go to actually realize the design:
Manual Labor
.
Manual Labor, headed by Joe Perez-Green and Devin Farrell, are furniture-makers based in Berkeley. They have been our ally in keeping us looking like we know what we are doing. If it weren't for these guys, everything at Umami Mart HQ would be falling apart, crooked, yellowing and "charming." Instead, Umami Mart stays in check because Manual Labor has taught us so much about how to take care of the beautiful wood furniture pieces they have built for us.
Without their inspiration, I would have never felt empowered to wield power tools and get excited about wood. Building Umami Mart hasn't just been a lesson in meeting the community and selecting products, but also about literally BUILDING IT. For all the guidance, amazing work, and even helping us install
new floors
(!) -- we thank you, Manual Labor!
Less than a week after finalizing our plans for our conbini, Devin and Joe invited us to their studio in Berkeley for a peek into the furniture for U-MART.
Every piece of wood for the cabinets in the conbini, articulated on a whiteboard.
Precision tools.
Devin and Joe moving plywood pieces.
Ideas become reality.
Looking at different pieces.
Ralph, the shop dog.
Come see the finished product on
Tuesday 6/25 at 6pm
for the unveiling of
U-MART
, the Bay Area's first conbini!
*Contact Devin and Joe of Manual Labor at info@manualabor.com for your woodworking and custom furniture needs. They're the best!