Iberian Tattie: The Fishing Villages of Ayamonte + Monte Gordo
By Marta Bernal Valencia
After weeks of cold and rainy weather in Madrid, I headed to Huelva (in southwestern Spain) to meet up with my friend Lucía from London. We were both starving for some good weather and Andalusian food.
We stayed in Ayamonte, a charming, small village in the edge of the Portugal border, beside the Guadiana River. Narrow white streets with geraniums pots and marshes welcome you to this fisherman's town of never-ending beaches and pine forest landscapes.
Our local friends told us that some of the restaurants in town don't need to go to the fish market because the families own their own boats and they catch the fish themselves. So we went to try one of them!
We headed to Restaurante El Contrabando and ordered a tomato and anchovies salad as appetizer. It had lots of garlic and olive oil, delicious!
We also tried
coquinas
a kind of clam typical of Huelva. They cook the clams with white wine, parsley and little garlic. So toothsome.
Later, we also saw these guys catching the clams on the beach!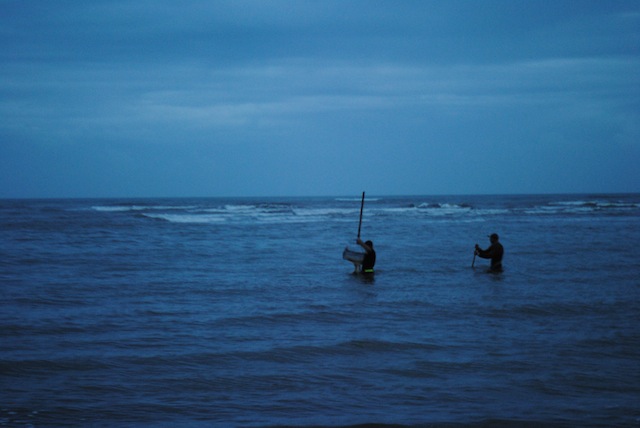 Another west Andalusian recipe:
cazón en adobo
(marinated dogfish):
Cumin, bayleaves, oregano, garlic and sweet paprika are the spices used in this recipe. The dogfish is marinated in vinegar and water for eight hours and then is breaded with flour and deep fried. The result is an irresistible crunch!
Deep fried calamari strips:
After several desserts (cheesecake, three-chocolate cake and cream cake) we were ready to have a walk on the beach and think about our dinner in the Portuguese town of Monte Gordo.
In Monte Gordo, the chosen restaurant was O Infante, a traditional seafood restaurant with live music and a really warm atmosphere. Their specialities are the
zapateiras
(king crabs)...
... And the
espetada
(skewers of shrimps and monkfish). So good!
The small squids were also exquisite:
Our friends wanted to play a joke, so they told the waiter that it was my birthday. They served me an amazing fig cake with a candle and sparkler on top, while the entire restaurant sang me happy birthday!!
Happy indeed.
RESTAURANTE EL CONTRABANDO 
Paseo de las Palmeras, 13, 21409
Isla del Moral, Huelva
T: 959 47 71 72 
RESTAURANTE O INFANTE
Estrada Nacional 125
Castro Marim (Monte Gordo exit)
T: 0035 1 281 956 817
*Marta is from Andalucia, Spain and loves the sea, travelling, photography and anything that stimulates her curiosity -- like having conversations over good food! And of course, siesta. She will be based in Edinburgh for the next two years, eating lots of "tatties" (potatoes).