Umami Map: Japanese Markets in the Bay Area
At our shop at 815 Broadway in Oakland, Umami Mart has a
conbini
(convenience store) section, stocked with Japanese snacks, condiments, spices, and sweets. Our selection of food items is small and curated, and we don't carry refrigerated or perishable foods. We often get calls asking if we carry miso, onigiri, umeboshi, and other Japanese ingredients, and in those cases, we'll direct the caller to the closest market.
Below, I've compiled a list of all the Japanese markets in the Bay Area. From historic mom-and-pop stores to corporate chains, we are really lucky to have so many markets here dedicated to Japanese cuisine.
Note, I did not include Asian markets that sell Japanese goods (like Koreana Plaza in Oakland, Berkeley Bowl, etc.) or $1 stores like Daiso and Ichiban Kan.
San Francisco
Nijiya
1737 Post Street
San Francisco
Located in Japantown,
Nijiya
is San Francisco's biggest Japanese market. Formerly known as Maruwa, this chain supermarket is a comprehensive store full of most of the essential Japanese ingredients you'd need, from dashi to pre-made sauces to fresh mochi.
Nijiya definitely has the best selection of shochu in the City.
The one section I'd say is lacking at the San Francisco location is the produce aisle, which isn't horrible, but not great, especially if you're looking for fruits and vegetables that aren't packaged in plastic. It is, however, a decent place to get sashimi-quality fish and thinly sliced meats, ready for
shabu-shabu
or other
nabemono
.
This Nijiya also has a large selection of prepared foods, like sushi, onigiri, and bento meals. The one bummer is that the premade meals are refrigerated. They can be microwaved at the market to enjoy hot, but microwaving food is never the ideal.
Super Mira
1790 Sutter Street
San Francisco
Super Mira
is a small Japanese market located one block over from Nijiya in Japantown. It's a good option if you like to patronize mom-and-pop stores, rather than a large chain.
Unlike at Nijiya, there's an actual seating area to enjoy the pre-made foods you buy here, and they sell hot foods, like ramen,
oyako-don
, and udon. The bentos here are fresher and higher quality than Nijiya. This tempura looks pretty tempting!
And their fish is fresh!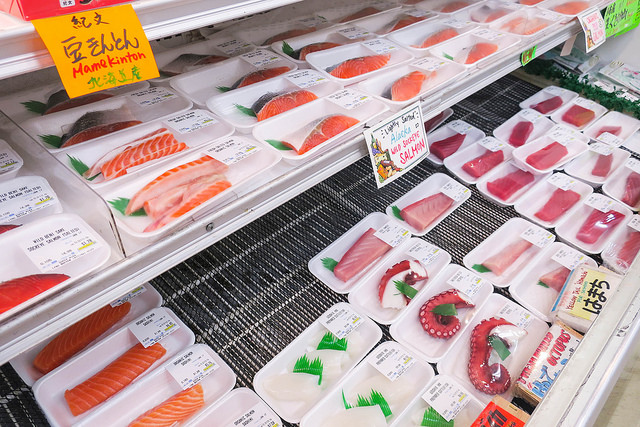 Super Mira carries Japanese breads from Sacramento's Mahoroba's Bread (delivered on Sunday), pastries from Patisserie Norina (Sundays only), and handmade
ohagi mochi
(Saturdays only). Another special thing to note about Super Mira: it's the home of Yasukochi's Sweet Stop, a 43-year-old family-owned bakery, beloved for its coffee crunch cake. NB: although Super Mira is open 7 days a week, Yasukochi is closed on Sundays and Mondays. They sell out of the crunch cake quickly, but you can call at 10 a.m. to reserve one.
SF Honorable Mentions:
Common Sage
1552 Polk Street
San Francisco
Common Sage
in Nob Hill is kind of like Umami Mart in that it's a combination of different types of stores.
Primarily a cafe (they serve Sightglass coffee), Common Sage calls itself a Japanese-European deli/market. In addition to standard cafe baked good offerings, it serves ramen and other Japanese snacks like onigiri to order, as well as non-Japanese sandwiches. It also carries a small selection of Japanese ingredients, like natto, teas, vinegars, beer, and sake.
As for its moniker, the young granddaughter of the owners is named Sage.
Genki Crepes and Mini Market
330 Clement Street
San Francisco
Genki
in the Inner Richmond has a plethora of Japanese (and other Asian) candies and sweets, as well as ice cream.
The freshly-made sweet and savory crepes are the starring attraction, but you can also get Hong Kong-style egg puffs and scoops of ice cream. Don't expect to shop for dinner here.
The aisles are stocked with an excellent selection of Japanese sweets, including Kasugai Fruit gummies, Pocky, Hi-Chew, Green Tea Kit Kat, and other boxed candies with collectible figurines or other prizes inside. Basically, it is my childhood dream sweet shop. They also have canned and bottled Japanese beverages, like Ramune and chilled teas.
East Bay
Tokyo Fish Market
1220 San Pablo Avenue
Berkeley
Tokyo Fish Market
gets a lot of referrals from Umami Mart staffers, since it's the closest dedicated Japanese market near Oakland. Whenever someone calls looking for an ingredient like
kombu
or
shio koji
, we tell them to go to Tokyo Fish.
Besides the standard Japanese products, this Berkeley grocery is
the
place to go for consistently good sashimi-grade seafood in the area.
Yoko, who has been a loyal TFM customer since 2002, says, "Tokyo Fish Market has one of the friendliest staffs behind the fish counter. They can always tell me which fish is the freshest and/or the best deal." Along with fresh cuts of fish to take home and prepare yourself, they have an extensive deli with pre-made nigiri,
inari
, and handrolls prepared by the chefs of nearby Musashi restaurant.
They also offer fresh bento boxes with tempura, teriyaki,
tonkatsu
, and
karaage
. Tokyo Fish has a good selection of Hawaiian brands and products. Last, but not least, Tokyo Fish Market has a gift shop, where you can buy Japanese household items like rice cookers, bento boxes, chopsticks, and other wares. Be aware that parking in the lot can be tricky here.
Yaoya-san
10566 San Pablo Avenue
El Cerrito
Farther down San Pablo, in nearby El Cerrito, lies
Yaoya-san
, a mom-and-pop Japanese grocery store with one of the most awesome
About Us webpages
 I've ever seen.
As with Tokyo Fish, Yaoya-san offers sashimi and sushi bento boxes that are prepared by Musashi in Berkeley. Yaoya-san also has a decent Hawaiian section, although you might want to call before going if you're looking for something in particular.
Compact but pretty complete, Yaoya-san has the standard Japanese staples as you'd expect, as well as beers, sake, shochu, a small meat and fish section, and a small produce section. A special thing to note: they carry pastries from Patisserie Norina (Tuesday and Saturday only).
Diablo Oriental Foods
2590 North Main Street
Walnut Creek
Diablo is a tiny grocery store that's been around long enough that it calls itself "Oriental."
While it's not the neatest, most well-organized, or biggest Japanese market, it's known for its sashimi-grade fish at a good price. It also offers produce; Japanese and other Asian snacks and candies; beverages, including sake; and housewares.
And let's be honest, if you live in Walnut Creek, it's probably a godsend when you need Japanese ingredients and don't want to drive to Berkeley.
South Bay + Peninsula
Santo Market
245 East Taylor Street
San Jose
Santo Market
was established in 1946 by George Y. Santo, who first opened the grocery store in San Jose's Japantown on Sixth and Jackson streets. Santo later moved to Sixth and Taylor streets, where it stands today.
Santo is still a family-owned and operated business. Santo carries Asian (not just Japanese) groceries, as well as general American stock as well. But take a look inside; it's pretty old-school.
You can get coffee drinks, plate lunches, Hawaiian shaved ice, house-made mochi (on Fridays), and prepared foods at their deli counter.
Mitsuwa
675 Saratoga Avenue
San Jose
If you're already familiar with Japanese supermarket chains, you may remember one called Yaohan. In '95, Yaohan went bankrupt and
Mitsuwa
took over all their locations, including this one in San Jose.
The biggest selling point of Mitsuwa is its size. Mitsuwa has lots of everything, including stuff that other Japanese markets on this list are lacking, including a large produce area, a housewares shop, a big beauty section, a Matcha Love cafe, a pickled vegetables section, and a Japanese confectionary shop.
Mitsuwa holds regular food fairs celebrating different regions in Japan. For example, they'll have samples of ramen from Hokkaido or sweets from Kyushu. If you love going to Costco or Trader Joe's to fill up on samples, you'll love these food fairs.
But the best thing about Mitsuwa? It houses 
Ramen Santouka
, one of Silicon Valley's best ramen shops and
Kayoko's longtime go-to bowl in the Bay Area
.
Marukai
19750 Stevens Creek Boulevard
Cupertino
Marukai
is another large Japanese supermarket, so selection and variety are key here.
They're owned by a Japanese corporation called
Don Quijote
(yes,
Quijote
with a j). Marukai is big enough that they've even started their own membership reward program, which gives members better prices than at many of these other markets. But even without the rewards program, their prices are generally cheaper than the other markets, overall.
Marukai has a very good fish and sushi counter (some say better than Mitsuwa).
It also has an excellent shochu selection and a good produce section, too. But one of the biggest things going for Marukai versus Mitsuwa is the shopping experience. If you prefer less intense parking and crowds, Marukai might be your best bet between the two markets.
Nijiya
1956 S. El Camino Real
San Mateo
(Also 143 E. El Camino Real, Mountain View; and 240 Jackson Street, San Jose)
The South Bay and Peninsula have three 
Nijiya
locations! And all three have
hot
foods and seating areas to enjoy them. If you're trying to eat healthier and more organic, take note that Nijiya's house brand is fairly good and affordable for things like brown rice and organic shoyu. Also, pay attention to the weekly sale items for great deals on pantry items, meat, seafood, and produce (same goes for Marukai and Mitsuwa). Speaking of produce – it's notably better at these three locations than at San Francisco's Nijiya.
The Nijiya in San Mateo gets a lot of love for its location, across from popular ramen-ya, Santa Ramen. Over in Mountain View, also on El Camino Real, Nijiya has a ramen shop inside, which people love because it's cheap, fast, and pretty decent. The San Jose Nijiya is downtown, within the city's Japantown area.
If you're a long time SJ resident, you'll recall that the site formerly housed the historic family-owned Japanese market called Dobashi.
Takahashi Market
221 South Claremont Street
San Mateo
Takahashi
is a South Bay original. Opened in 1906 by Tokutaro Takahashi, this market has been family-owned and operated for four generations.
It's a bit dated inside, especially in comparison to the sparkling clean big chain Japanese markets in the South Bay and the Peninsula, but Takahashi Market has a loyal customer base.
Takahashi carries all types of Asian foods, but especially Japanese and Hawaiian products. In 2006, on their 100th anniversary, they added a kitchen, which serves Hawaiian plate lunches, like Loco Moco, Kalua pork, and musubi. Hawaiian specialties like poi, lau lau, and KP are flown in fresh on Thursdays. It also has a newer fish counter, which is pretty good, but expect to go elsewhere for vegetables and fruits.
Suruki Supermarket
71 E 4th Ave
San Mateo
Suruki
started as a door-to-door Japanese grocery store in 1974. Shuji Suruki began his business to serve Japanese families and farmers all over the Bay Area, from San Francisco to Salinas. In 1980, he opened Suruki Japanese Foods in Burlingame and eventually stopped the door-to-door business. Ten years later, the market moved to San Mateo and became Suruki Supermarket, where it still has a devoted following.
Though it's called a supermarket, it's small compared to Mitsuwa and Marukai. Still, it's clean and updated inside and is filled with all the Japanese staples. It has a well-stocked and reasonably-priced fish counter.
Suruki carries fresh tofu from Sacramento Tofu and San Jose Tofu.
Most notably, Suruki carries superb bentos. Kayoko says, "I grew up going to Suruki. My dad worked in that neighborhood so we would go on weekends and get bentos."
It is also one of the few markets that carries Japanese whiskies (along with a good selection of shochu and sake).
The #1 thing that people love about Suruki: At 6 p.m., the sushi and ready-made bento boxes are marked 50% off. To get the best of the discounted food, you may have to line-up before 6 p.m.. Really, people do it.
Tokyo Fish Market photos by Yoko Kumano; all other photos by Kayoko Akabori. See even more photos on our Flickr page.