Japanify: Shiso Shout-Out
Quite possibly the only herb in the mint family that the Japanese will not associate with toothpaste is
shiso
. Shiso, or sometimes referred to as
perilla, Japanese basil
or
beefsteak plant
is often found as a garnish in Japanese cuisine. I noticed that Yamahomo and I seem to have somewhat of an obsession with shiso based on how many times we have wrote about or mentioned shiso on UM -- so I thought I would put together a little digest chronicling the good (and bad) times we've have with shiso on UM.
But first, a little background on shiso.
Growing Shiso
The plant itself is quite easy to grow, especially in California, where we are blessed with some intense sunlight. The other advantage we have in California is that the shiso plant doesn't seem to attract as many bugs as it does in Tokyo, where I used to grow it on my balcony:
Healthy, green shiso is in season during the hottest months of the year. I am lucky enough to have access to my sister's very healthy shiso plant (more like bush) in her beautiful Berkeley garden.
You can usually get a shiso plant or shiso seeds from your local Japanese grocer or neighborhood nursery.
Types
There are two types of shiso - green and purple. The green kind, aojiso or aoba, is more common and used to accompany sashimi or as garnish for wafu (Japanese style) pastas and pizzas.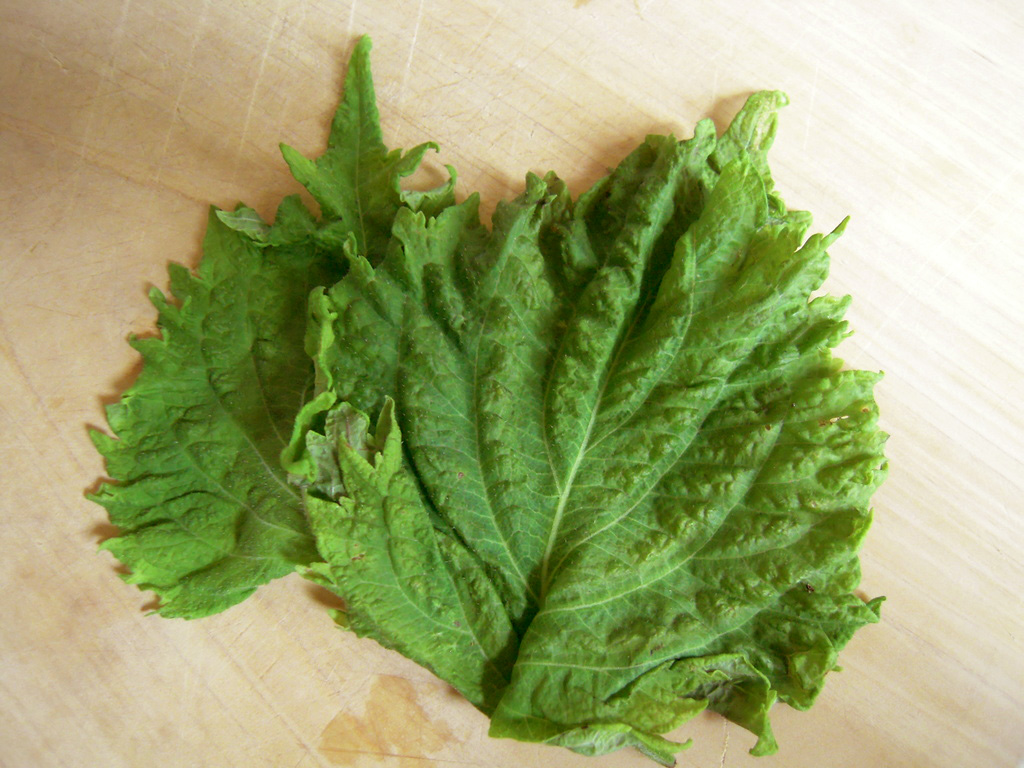 The purple kind, akajiso, is most often used for its stunning color and is most well-known for dying ume in the process of making umeboshi.
Nutrition
Shiso deserves bonus points for having high amounts of omega-3 fatty acids (the good stuff in salmon) which is said to be beneficial for a healthy heart for its anti-inflammatory properties. Pretty impressive for being a little green (or red) plant.
The Shiso Digest
And now a trip down memory lane of all the great times we've had with shiso on UM.
Yamahomo's
Shiso Juice: A Healthy Mixer for Unhealthy Boozing
post
My
Gross Soda
post featuring Shiso Pepsi
My
Awamori with Shiso and Wasabi
post
Organic Megumi Natto
post featuring ume-shiso-natto sushi
Sonia's wonderfully photographed
Inari Four Ways
post including a recipe for inari topped with ume/shiso furikake.
And one of my
recent posts
featuring shiso strips atop Sapporo ramen.