Lazyass Cookin': Steam-Baked Salmon
Last night Johnny and I had plans to watch the season-premiere-of-the-same-season of
Breaking Bad
. It was a few nights delayed but I had been looking forward to it nonetheless. For this, I wanted to make a nice-ish dinner without slaving over it. I've been too busy lately to spend serious quality time with my kitchen. It's sad.
This is a dish that Hideko used to make for dinner for special evenings or whenever she found salmon for cheap at the market. Really more the latter than the former. I can't say that I love salmon, it's a bit generic, but whenever I cook it, I prepare it this way. It's too easy not to.
I had everything I needed for this dish except for salmon so I set out to buy a pound of it in Berkeley. I called ahead to Monterey Fish who told me salmon was $21.99 per pound. Whoa. I hadn't bought salmon in years and had forgotten how expensive it is, and at Monterey Fish, they would of course only have the best of the best. But still out of my budget. Instead, I took my chances and went to Tokyo Fish around the corner. There, I found a whole variety of salmon, from different locations in varying price ranges. I ended up with two fresh (not frozen), farmed salmon steaks from Canada for $8.99 a pound. This, I could afford and went home with two salmon steaks for $10. You certainly could use nicer salmon for this dish, but it doesn't have to be anything fancy. You're steaming the hell out of it anyhow.
INGREDIENTS
Serves 2
2 Salmon steaks or about a pound of salmon
A couple of mushrooms
A quarter of a yellow onion
A small carrot
A few sprigs of parsley
2 cloves garlic
1 tbsp butter
2 tbsps white wine
Salt + pepper
Lemon
2 sheets of foil
METHOD
1. Slice onion, carrot, garlic, mushrooms. Salt and pepper the salmon on both sides.
2. Do this individually for each salmon: Place on foil. Place garlic on top.
3. Divide the mushrooms, carrots, onions, parsley and garlic in two and add into the foil.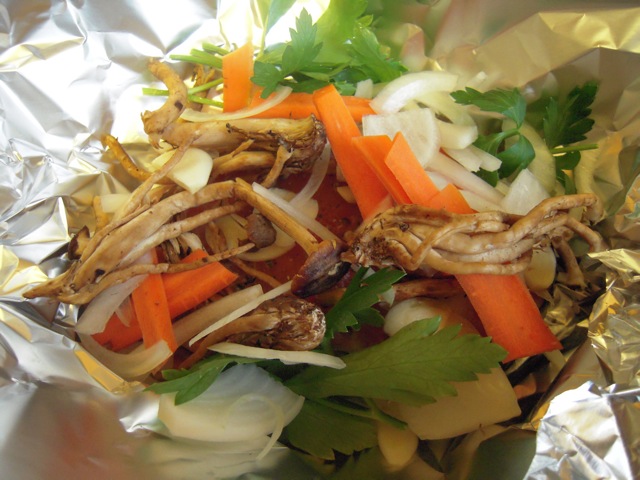 3. Drizzle a tablespoon of white wine over the salmon. You could use sake instead if you prefer. Add half a tablespoon of butter on top of each salmon steak.
4. Set the oven to BROIL. Wrap the foil up tightly into a sack. Make sure there are no holes in the sack. This is also how I roast beets.
5. Place the sacks into the broiler for 20-25 minutes. This may sound long but these are pretty thick slabs and you don't want raw salmon. Well, I don't. If you have are thinner cuts of salmon, I would say 10 minutes.
Gaging the broiler time of the salmon is the trickiest part of this dish. You want the salmon to be cooked through, but still moist. If the fish spends too much time in the broiler, it will dry out.
You can, of course use this recipe for any kind of fish. White fish like rock cod would work well.
I served this alongside some roasted mushrooms and asparagus, and
Yoko's potato salad
.
You probably should take it out of the foil, but plating it this way reminds me of my childhood.
Tread lightly.