Packaging Whore: Chinatown Canned Goods
Our shop is located right next to Oakland's Chinatown, where I spend a lot of my time. This is sort of a dream for me, I've always wanted to be near a Chinatown, whether in NYC or in the Bay Area -- so I could have access to a variety of banh mi, noodles, dim sum, and roasted ducks hanging in the windows. Plus, everything is super cheap and since the turnover is so high, everything is pretty fresh, including the groceries. Probably even more fresh than your regular market or grocer.
During a recent visit to the market I usually go to for condiments (Vietnamese-owned), I found all these awesome canned food products, for SO cheap (50 cents a can)!! I have to admit that I bought them solely for the packaging. I'm kinda afraid to actually open them -- they're a bit dusty and look very "vintage" (watch this awesome video for some laughs on the use of the word
VINTAGE
).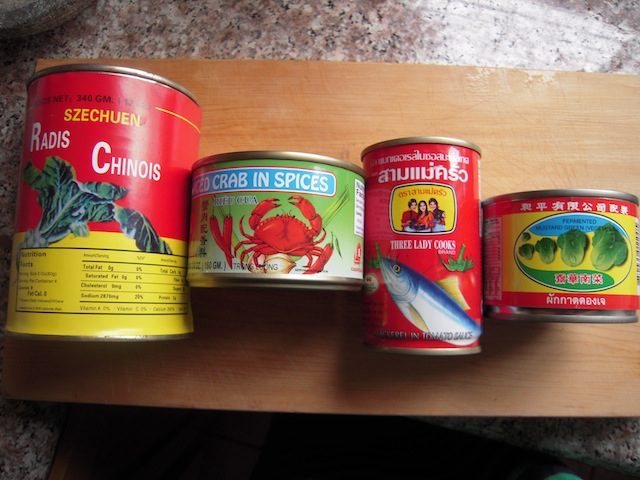 "Radis Chinois"!!!! How great is that?? It's probably mustard greens. And the little crab with the drawings of the various "spices" is classic. I brought back the can of sardines in tomato sauce from Vietnam, it is delicious and was only $0.07. What a deal! Look at this asshole hawking
6 for $19
.
Check out the cute little picture of the dancing lettuces in the very right can. It's fermented mustard greens, I'll definitely try that and let you know how it is.
The Radis Chinois is a product of "The Republic of China" (vintage!), and the rest is from Thailand.
Here are the back sides of the Radis Chinois and mustard greens. These are the best cans out of the four by far. I love how the "Pigeon Brand" takes up so much space.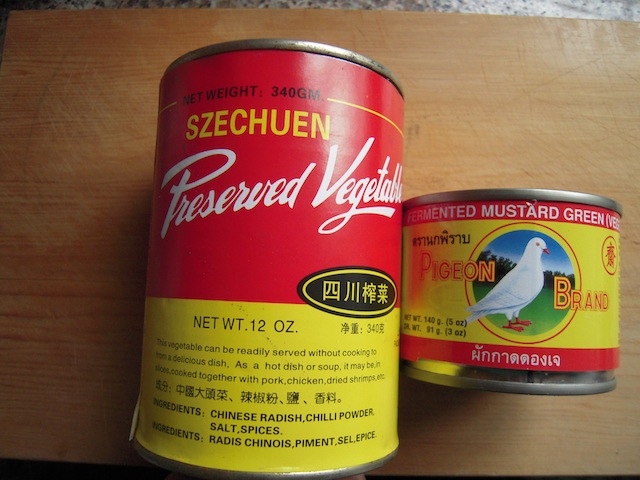 Tops of the Radis Chinois and dancing lettuces. The cuteness does not stop!
Love Chinatown!