Umami Mart Heads to San Francisco!
We have some very exciting news: Umami Mart will be popping up in San Francisco for the holidays! Our friend Kelly Ishikawa and Rod Hipskind, owners of
The Perish Trust
, came to us a couple of months ago with a proposal to pop-up in the back of their shop. Yoko and I couldn't believe the offer. Umami Mart in San Francisco! Dreams come true!
Here's the juicy info:
WHEN: Tuesday November 1st through Tuesday December 24.
HOURS
Monday closed
Tuesday 11-7
Wednesday 11-7
Thursday 11-7
Friday 12-6
Saturday 12-6
Sunday 12-6
Holiday hours TBD.
WHERE: 728 Divisadero Street (btwn Grove + Fulton), San Francisco, CA
Google map here
The Perish Trust opened its doors nearly five years ago (!), selling new and antique objects that recall Americana and the great outdoors. It is a large, moody space filled to the brim with anything from rare books, ceramics, jewelry, and trinkets from our childhood. Kelly and Rod travel all around the world and are constantly picking up new items for their cozy shop. The theme of Perish Trust is vastly different from Umami Mart's, and we are so honored that they've invited us into their space.
Umami Mart will be located in the very back of the shop -- a kitchen area that had been used mainly for storage.
It seemed perfect -- a small, manageable space, unlike our behemoth Oakland shop. And it's a kitchen! A kitchenware shop in a kitchen, get it?!?!?
We of course called Anders in Copenhagen right away. He is the president of Umami Mart's design division, after all. Despite his busy schedule, he managed to fit in a few sketches and ideas for the space, keeping in mind the design of our Oakland flagship shop. This past week was spent painting and building for Project Umami Mart SF! Here are a few snapshots of the renovation.
Primed walls
The doorway to The Perish Trust
Laying down the first coat of paint for the floors. White of course!
Micah, our master electrician, installing the lights.
Kishi building shelves.

Yoko putting down the second coat of paint on the floors. One sock only!
A nice, shiny floor after three coats of paint and sealant.
One table built. Onto the logo wall.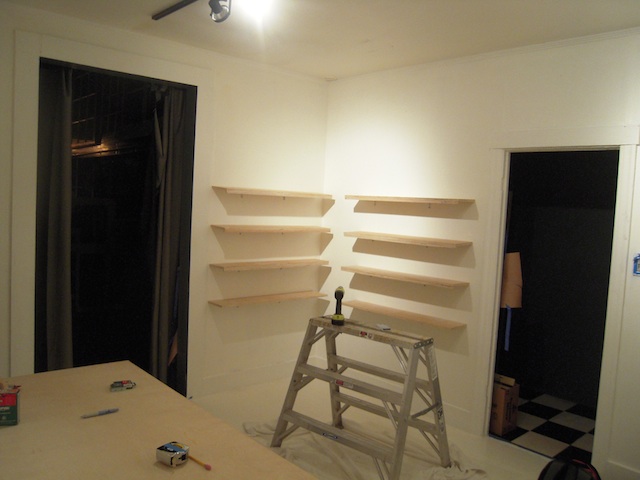 All shelves built and installed.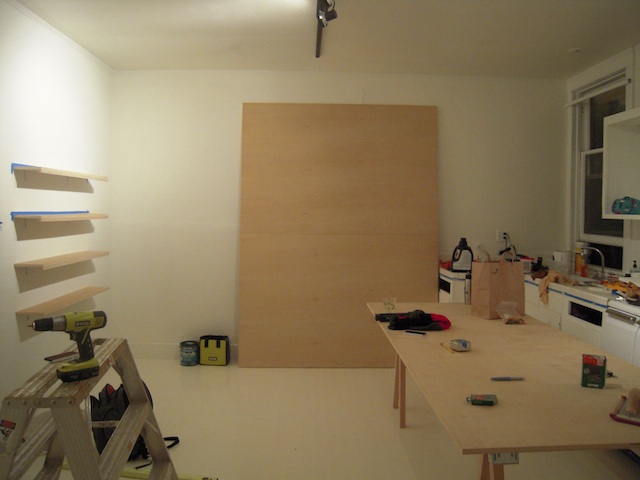 All furniture complete!
We truly CANNOT WAIT to open our doors in San Francisco, inside The Perish Trust, and hope that the community will come out and see what Umami Mart is all about. Japanese kitchen and barware galore! Hooray! See you all in November and throughout the holidays.
*Top sketch by Anders Arhoj. Photos by Yoko Kumano and Kayoko Akabori