Crop Shop in Azabujuban (TYO)
I used to live in Azabujuban for four years during my 20s. Sadly I don't get to go there that often anymore as I live farther away. I love Azabujuban so much because there are so many great restaurants and cool shops there – both old and new. I like to check out new places everytime I visit and this cute little coffee bean roaster called
Crop Shop
, caught my eyes one day. I found out that they carry decaffeinated coffee beans, which is hard to find in Japan (except for Starbucks, I guess).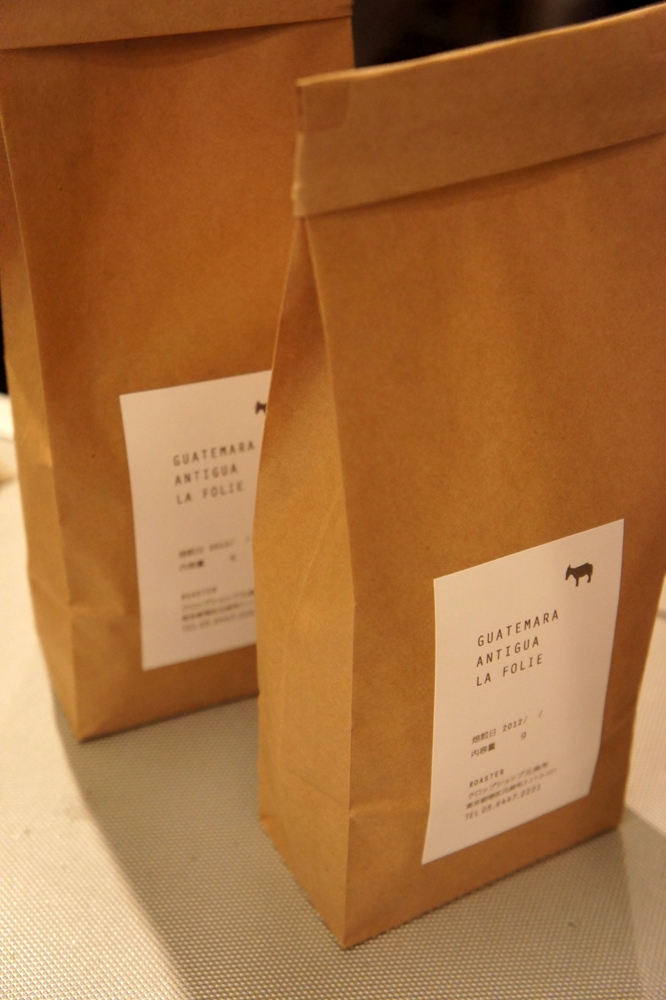 I purchased a bag of coffee beans to try. The aroma was so strong that I walked home so happy! Usually, I'm the kind of person who tries new places hoping that I may encounter something more delicious, so I hardly ever go back to the same place again. I don't want to miss out on all the possibilities! So I surprise myself by visiting the Crop Shop every time I am in Azabujuban.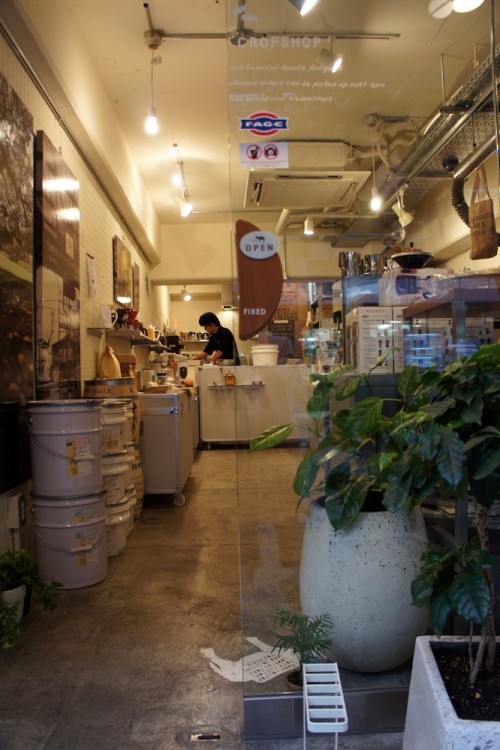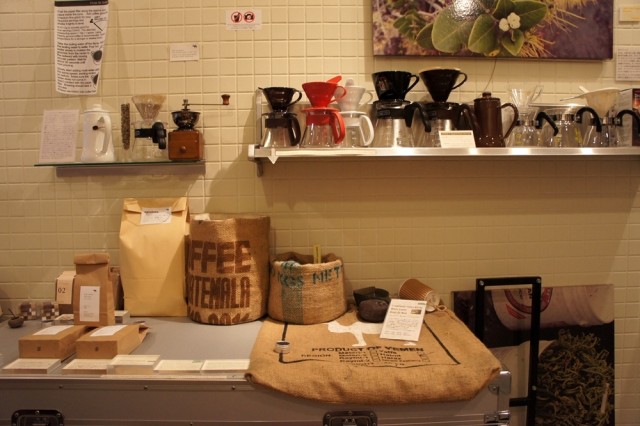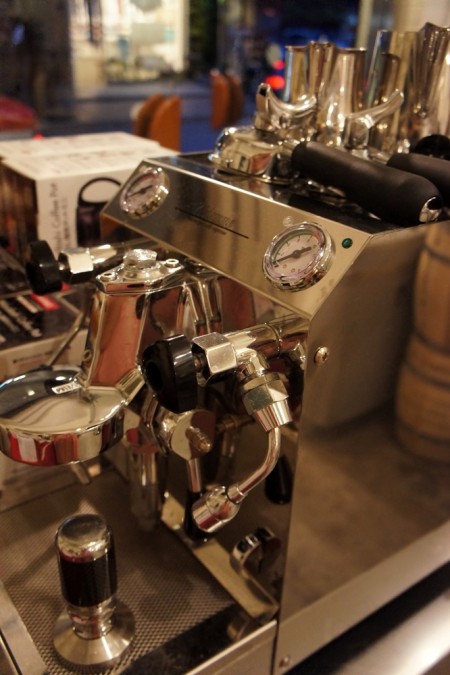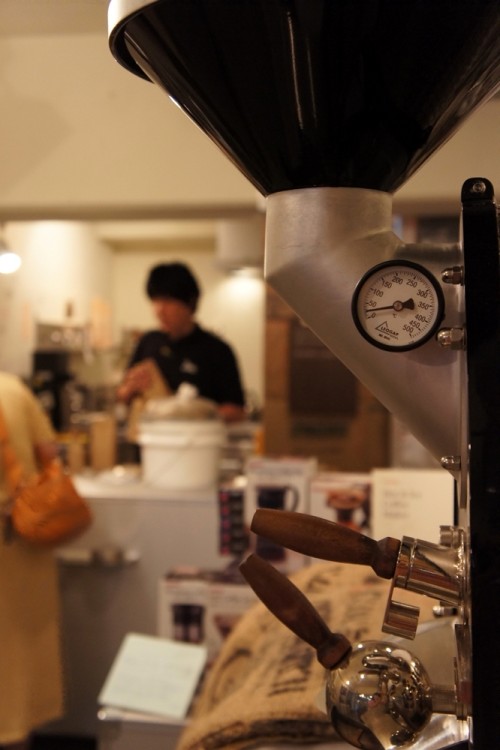 What's so attractive about this shop? First of all, I think it's the incomplete aspect of the shop. It's always evolving little by little. You find something new every time you go -- sometimes, it's a scarf dyed with coffee, or totes made from coffee bean sacks made from jute, or bottles of water with cartoon characters such as Snoopy and Thomas the Tank Engine, or even the Greek yogurt Fage. It's simply fun and everything is all quite unique and stylish.
Mr. Tejima opened Crop Shop in July 2011. He used to be a graphic designer before he opened his shop and he does all of the design for it. During college, Mr. Tejima had a part time job at a coffee roasting factory in Kobe, which is where he learned all about coffee. Kobe is famous for its great coffee and a more vibrant coffee culture compared to Tokyo. He said that the level or coffee roasters and shops are much higher in Kobe than Tokyo.
Mr. Tejima roasts his own coffee right in the shop
Mr. Tejima is extremely kind. Maybe because he's from Kansai region where people are more friendly to strangers than Tokyo he is really approachable and I can easily chat with him for hours and I always end up staying there so much longer than I planned. I was there recently as it was closing, and we talked about my work with sake breweries. He then opened the refrigerator and took out a bottle of sake and kindly offered me a drink! He even had a special sake tasting glasses.
The sake was
Azumacho from Saga
prefecture and their sake is known as a "sake of peace", bridging together U.S. and Japan. This is because General Douglas MacArthur used to love their sake, as it is very clean and light. The sake was so good and it got me so excited too. Mr. Tejima stocks different kinds of drinks to enjoy after work, and I was lucky to have tried some of this sake with him. When I visited him last, he had port wine and beer too.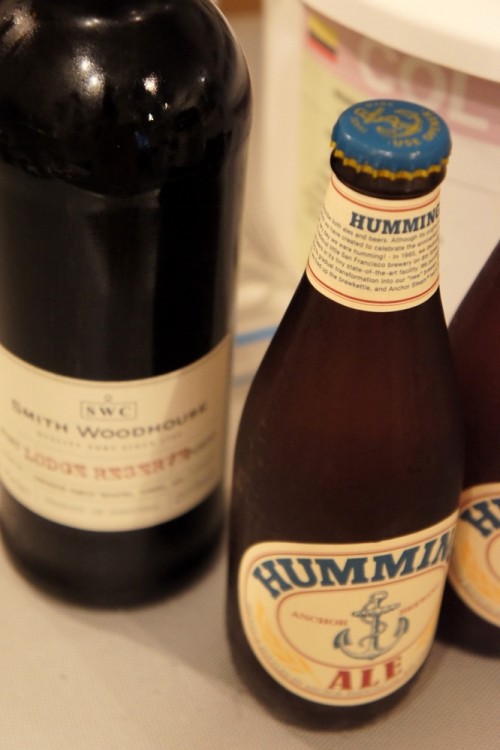 I usually have so much fun at his shop and always buy a few bags of his coffee beans. Recently, I even helped him name his newly-released iced coffee in English. The iced-coffee is housemade drip coffee using cotton or cloth filter called
nel
(short for flan-
nel
, get it?). He wanted to come up with a single phrase that encompassed all of these things.
Soaking the nel filters
He struggled the word
nel
at all, since the slang is very unique to Japanese coffee brewing, and English speakers might not know what it is. Although I was able to help to a certain degree I had to ask my English-native-speaker friends to help me with this to to give him appropriate feedback.
After exchanging series of emails, he decided on the names, "Housemade (Nel drip) Iced Coffee" on the bottle and "nel (cloth filter) drip coffee" for the sign.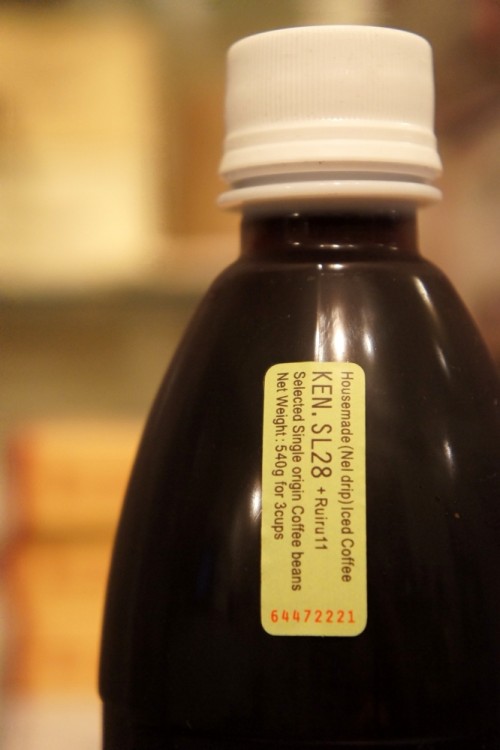 I hope you all approve of the name. The 500ml bottle is 800 to 900 yen.  
You may find the coffee very strong but it is actually not so harsh on your stomach. Mr. Tejima specifically wanted to make iced-coffee that is strong in flavor but one that doesn't upset your stomach. Unfortunately he couldn't find a factory to produce at a large volume, at a level of quality that he expected. So he makes it at his shop and is very limited! Perfect as is and also great for café-au-lait.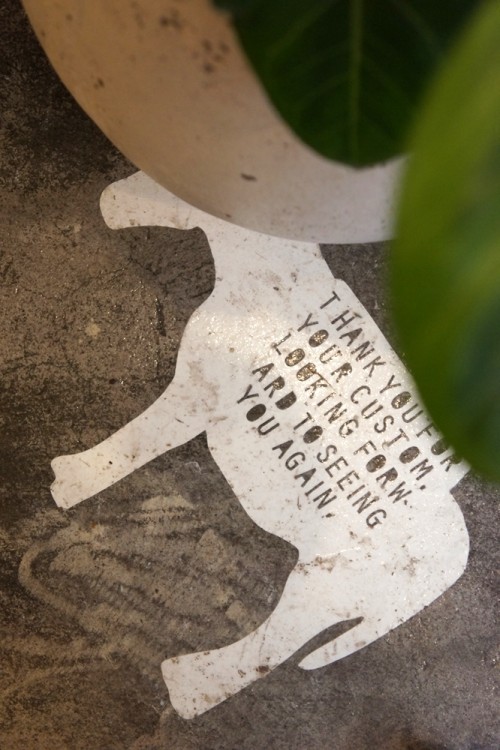 There still are so many to write about this owner and the shop but I will stop here for now so that you have more fun to find out yourself!
He started to sell espresso from July at his shop and I recommend you stop by next time you go to Azabujuban.
CROP SHOP
101 3-11-3 Century Roppongi
Azabu, Minato-ku
Tokyo JAPAN
T: 03.6447.2221
*Shizuka Wakashita is based in Tokyo. She enjoys sake, sweets, and healthy Japanese cooking.