Gochi: Revitalizing Japanese Cuisine in Cupertino
Gochi opened quietly in 2005, in a little non-descript strip mall on the back roads of Cupertino. It was actually a bit traumatizing for me -- they bought out a nasty dive bar called the Peacock Lounge where my friends and I used to go when visiting our hometown for the holidays. The "Cock", as we affectionately called it, had been completely gutted and turned into a Japanese "fusion tapas" place. You could imagine how bittersweet it was for us Cupertino girls.
My girlfriends and me at the Peacock Lounge in 2007. I am the only one in the picture who is not married, or have a child.
But here I am, in 2012, finally writing about
Gochi
. It has over 1000 Yelp reviews, so its greatness is no secret, at least not in the South Bay. The chef and owner Masa-san is a really young energetic guy with a million creative ideas that pours out of his mind and plops all over the extensive 4-page menu. Plus daily specials! Oh dear. My father Kuni and he worked together back in the 90s at a restaurant called Kitahama, and Kuni thinks he's really talented.
And he certainly is! My brother Keisuke was in town a few weeks ago so we all went. Even Johnny took the train down from San Francisco after work to join us -- he used to work at Apple, and he always talks about how much he misses Gochi and their pizzas. Which is to say that Gochi has a ton of street cred, and a very loyal following. It's always packed to the gills, and pretty impossible to get a reservation. At a Japanese restaurant in little Cupertino! It's just crazy, how popular this place continues to become.
In typical Akabori style, we ordered a shit ton of food. We all just start yelling out stuff we want one by one, with no clear order, until the server gives us this crazed "OMG that is way too much food" look. That's when we stop. But even so, the menu is so expansive, and there's always so much to explore. There's something for everyone here, which is what brings people back, I think.
Freshly steamly takenoko with a nori vinaigrette.
Kumamoto oysters.
Little gems of the sea.
Shiokara (squid marinated in innards). Mmmmm, this was me and Kuni's favorite.
Tori soboro natto: ground chicken mixed with natto in lettuce cups, with a spicy soy sauce.
Woo-wee! These are fantastic!
Gyuniku salad: Thinly-sliced beef, shabu style, blanched, on a bed of spring salad and onions, served with a sesame dressing. Excellent!
Seared marinated duck, with a yuzu pepper tomato salsa. Very refreshing.
Foie gras!
A slice of seared foie gras, laying on a block of steamed daikon, topped with kaiware daikon shoots, in a soy-dashi sauce.
Johnny gets really happy when he eats foie gras.
Kurobuta pork katsu, with three dipping sauces.
Fatty hog delight.
Mayo sauce, miso-sesame sauce, and traditional tonkatsu sauce.
Gindara nitsuke: Soy braised black cod
Spicy Ebi Mayo: Prawns in a spicy mayo sauce. This is to die for.
Mayo porn.
Shiitake Ebi-Zume: Shiitake mushrooms stuffed with a shrimp and tofu patty, in a thick soy-dashi gravy.
Chashu miso pizza! The reason Johnny comes back.
One of their most fun dishes on the menu for "shime" (meal ending), the clay pot rice. We got the mentaiko and jako version. This is a small!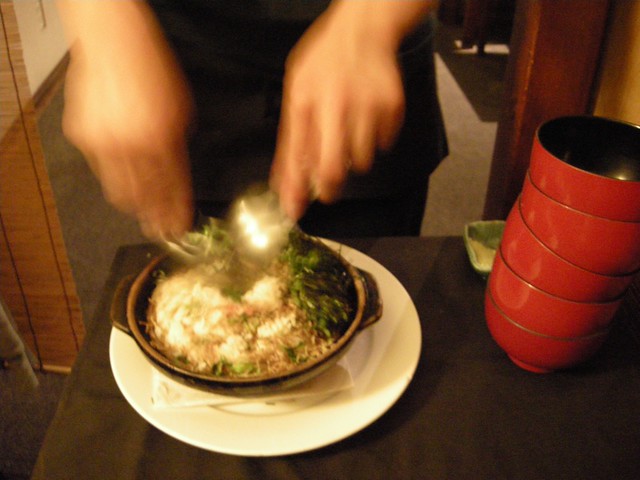 The rice comes in a sizzling pot, and the server mixes the ingredients altogether.
Yah!
The crispy burnt pieces are the best part, like tadig (crust from Persian rice)!
It's $2.50 extra for a side of dashi broth, but you've gotta splurge and get it so you can make an ochazuke (tea-soaked rice) to properly end the meal.
A trio of desserts from left: Green tea creme brulee, lychee sorbet, black sesame ice cream.
Shochu, sake and Japanese whisky is a part of the dining culture at Gochi. Many customers "bottle-keep" here.
Aya Nakamura, long time Gochi manager and Masa Takei, owner and chef.
Keisuke and Hideko.
"Gochi" is short for "gochisou" which means "feast." It also is a shortened slang word for "gochisou-sama deshita" which is what you say at the end of the meal, which is sort of a "thank you for this feast". We always have such a great time at Gochi. The staff is warm, knowledgeable and welcoming, and the food is always comforting. With an innovative contemporary twist! I look forward to returning through the years to see what Masa-san comes up with next.
Go-chi
!
GOCHI
19980 East Homestead Road
Cupertino, CA
T: 408. 725.0542 (Reservations by phone only)