Japanify: Matsutake Farro
The other day, Washi and I went to Uniqlo thinking we could just casually stroll in two days after its opening. First reality check: there was a line winding two blocks down the building. So we went to some other shops.
Second reality check for Washi: he couldn't fit comfortably into a size M anymore. So that night, he decided to eat smarter and healthier.
When I think of smart and healthy, I think of less sugar and more whole grains. So I reached for the
farro
that had been in my pantry for about 3 months and decided to figure out an appetizing way to eat these mighty grains besides in a salad or soup.
I did a quick search online and found a great recipe from the
NY times
.
As I do with many recipes, I adapted into something that wouldn't require me to buy a bunch of extra stuff at the grocery store. So I substituted things like sake for wine and
nori
 for parsley and eliminating the cheese (for an even healthier meal). So this is pretty much the same recipe as the NY Times one, with a little bit of a Nippon flair.
INGREDIENTS
1/2 ounce (1/2 cup, approximately) dried porcini or shiitake mushrooms
1 quart chicken stock or dashi
2 cups farro
2 tablespoons extra virgin olive oil
1 cup finely chopped onion
1/4 lb shiitake
1/2 lb cremini mushrooms
2-3 small matsutake mushrooms
2 large garlic cloves, green shoots removed, grated
1/2 cup sake
1/4 cup slivers of nori
Salt to taste
METHOD
1. Soak farro in hot water for 30 minutes
2. Soak porcini or shiitake in water for 30 minutes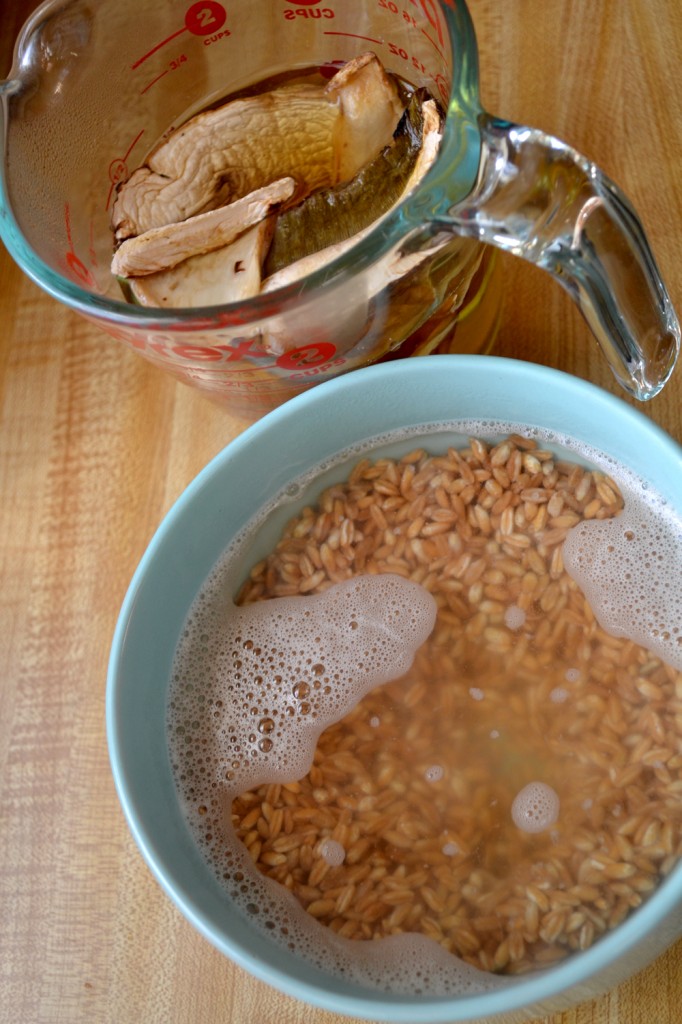 3. Slice mushrooms and onions and grate garlic.
4. Heat oil in pan, add onions and keep on med-hi heat until tender.
5. Drain the rehydrated mushrooms and keep the stock from it. Chop mushrooms. Meanwhile, heat the mushroom stock with 5 cups of dashi or chicken stock together in a pot.
6. Add the sliced raw mushrooms into the onion pan. I closed the lid for a few minutes so they would cook down quicker.
7. Drain the farro.
8. Add the rehydrated mushrooms, garlic and farro into the pan. Cook for a few minutes until you hear the farro crackling a bit.
9. Add the stock into the pan and let the the rice mixture simmer for 50 minutes.
This recipe took kind of a long time because there are many steps, but it was worth the effort when you have a special ingredient like
matsutake
. When cooked, the farro looked like
natto
, which was an added bonus for me. With all the stocks and mushrooms working together, this dish is dimensional and savory without any butter or meat.
Guilty as charged! I cheated today by putting some ikura on top of this, but trust me, this dish is plenty happening without the ikura. The ikura is just extra credit.
I feel like I succeeded with adding this recipe onto the health-conscious roster for Washi's new routine. There's nothing wrong with trying to eat healthier if your friends are trying to as well... as long as they don't hate you for eating ice-cream while they watch.