A trip to Brattleboro, Vermont was just what I needed this winter... it provided a little R&R and an idea that was perfect for Japanify.
Brattleboro put on quite a show for this Californian. It snowed just enough make the dwellings around town look like gingerbread dusted with powdered sugar, but not enough to soak into my boots. This was definitely as close as I have ever been to experiencing a white Christmas.
What on earth was I doing in the boondocks of Vermont? Visiting my best friend from the 11th grade. Here we are when were 18... err... 20.
Staying in her beautiful home brought me into the company of her three wonderful roommates whose interests range from welding to circus arts. Netti, who is involved in the latter, is whom I must credit for this week's Japanify. She showed me how to combine a quintessentially American snack ingredient with a traditionally Japanese condiment.
Tamari popcorn
INGREDIENTS
Tamari in a spray bottle
1/2 cup Nutritional yeast
2/3 cup Popcorn kernels
4-5 tbsp of oil

METHOD
1. Popping the kernels starts with heating up oil in a large pot. Cover the bottom of the pan with about 1/4 inch of oil and heat on high.
2. To make sure the oil is hot enough put one kernel in and wait until it pops. Once it pops adjust the heat to medium and put all the kernels into the pot.
3. Heat the kernels on medium and swish the pot around so the corn kernels on the bottom the pan don't burn.
4. Once all the popcorn is popped, transfer enough popcorn into a bowl so it's about 2 inches deep.
5. Bust out the spray bottle and go to town. Toss the bowl as you spray. 4-5 sprays should suffice.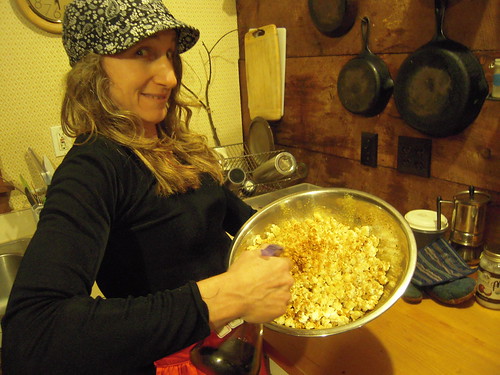 6. Sprinkle a generous amount of nutritional yeast onto the popcorn.
7. Repeat steps 4-6 until your bowl is full.
This is a crowd-pleaser in terms of how quick it can be made and its nutritional value. It was a pleasant surprise to find this gem of a snack utilizing a Japanese ingredient in southern Vermont. Thanks to Netti and all the folks at Chez Vie!
One for the road: