MOTO Restaurant Review: Le Bernardin: Disagreeing with 4 Stars
I recently became a permanent resident of this country, and to celebrate my newly acquired freedom, we went to Le Bernardin. Though I know a lot about food, I haven't been to many top-notch restaurants because I end up bitching about its flaws. If you are paying $250 a person for a dining experience, don't you expect it to be superb, from food to decor to service to every tiny aspect such as the flower arrangements, or how the tables are set up?
Hence the title of this post. Despite the fact this restaurant has been admired, loved and showered with awards continuously since 1986 when they moved from Paris, I must interject.
Food: Indeed, it was superb. Eric Ripert knows his fish. What to make, how to make, cook times, temperatures, all of it. I will give him that. Some people may think Le Bernardin is a French restaurant, but it's really a seafood restaurant, so let's not mix things up here. His use of Japanese ingredients, flavors, textures -- everything was very impressive.
Here is what we ordered.
Amuse bouche: From left, lox (already eaten), butter poached lobster, and watermelon gazpacho with golden watermelon.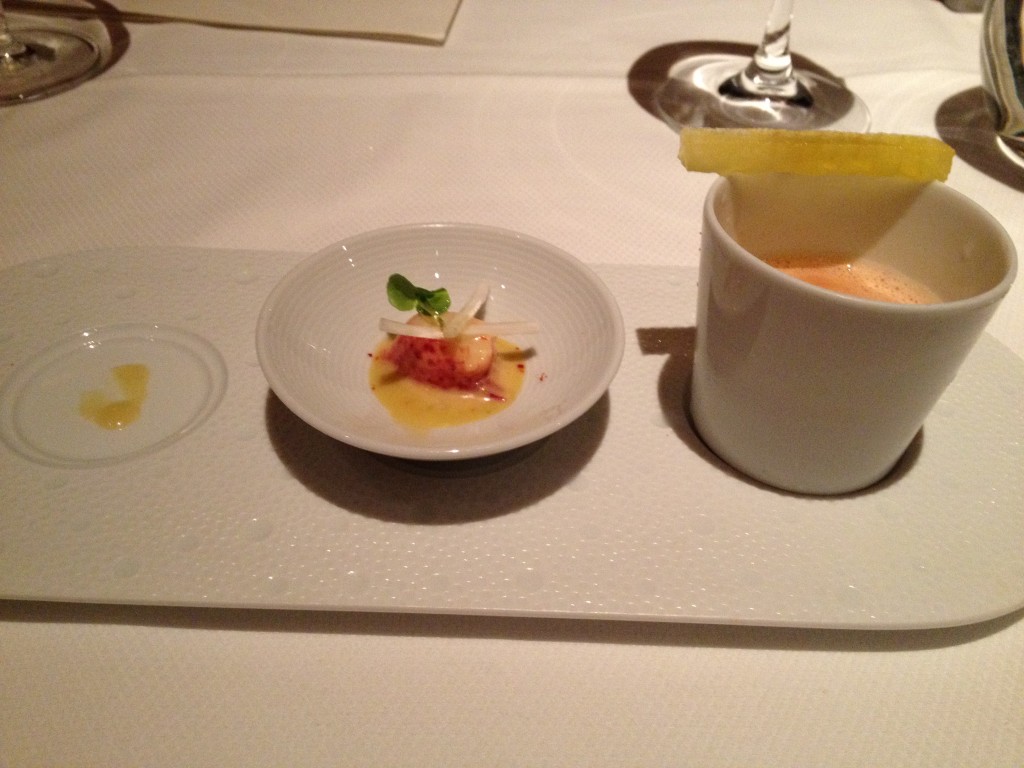 Very refreshing, especially watermelon gazpacho was sweet, tangy, and  appetizing.
First course: Flash-marinated sea scallop, sweet and sour grapes, extra virgin olive oil-yuzu vinaigrette.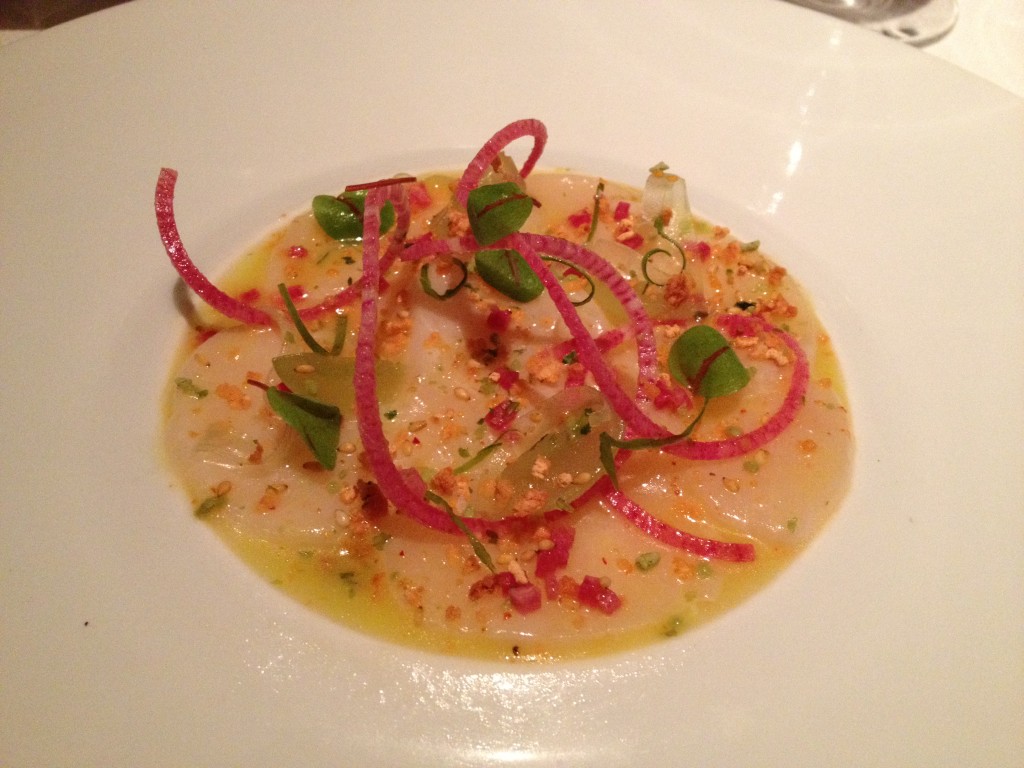 Super sweet scallops, with a very interesting texture. Something crunchy (can't tell what it was) mixed with the velvety scallop was a very interesting combination.
Hamachi "Sashimi": mint, cucumber and apple, sweet and sour carrot vinaigrette.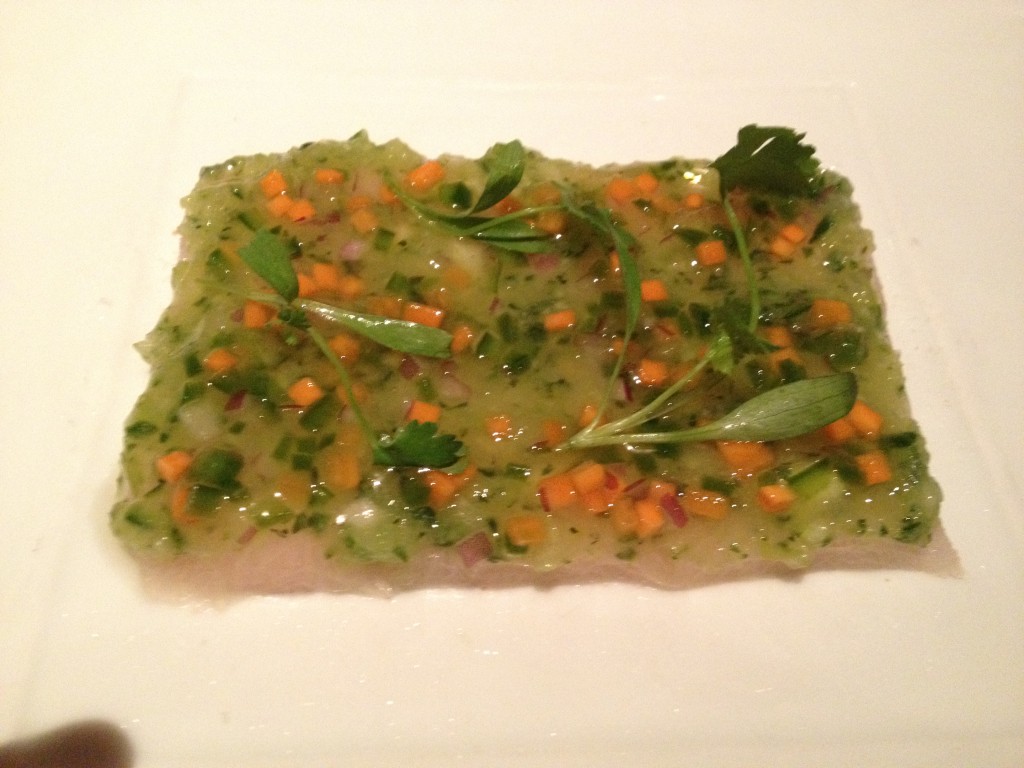 I tasted cilantro, so I didn't like it, but Nate seemed to love it.
Second course: Ultra rare seared tuna, marinated fennel, basil and capers.
Tuna was fresh, but I don't like fennel, so it was just ok.
My second course: Caviar and shellfish medley, yuzu-scented custard, smoked bonito broth.
I could have a bucket of this. This was very Japanese. Egg custard on the bottom with a subtle yuzu scent, and topped with various shell fish. And the broth!  It was very comforting to taste katsuo dashi (bonito broth) at a fancy western restaurant. Plus the uni shell-shaped container was so cute.
Main course: "Ultra-rare" arctic char, truffled peas and favas butter lettuce-tarragon emulsion.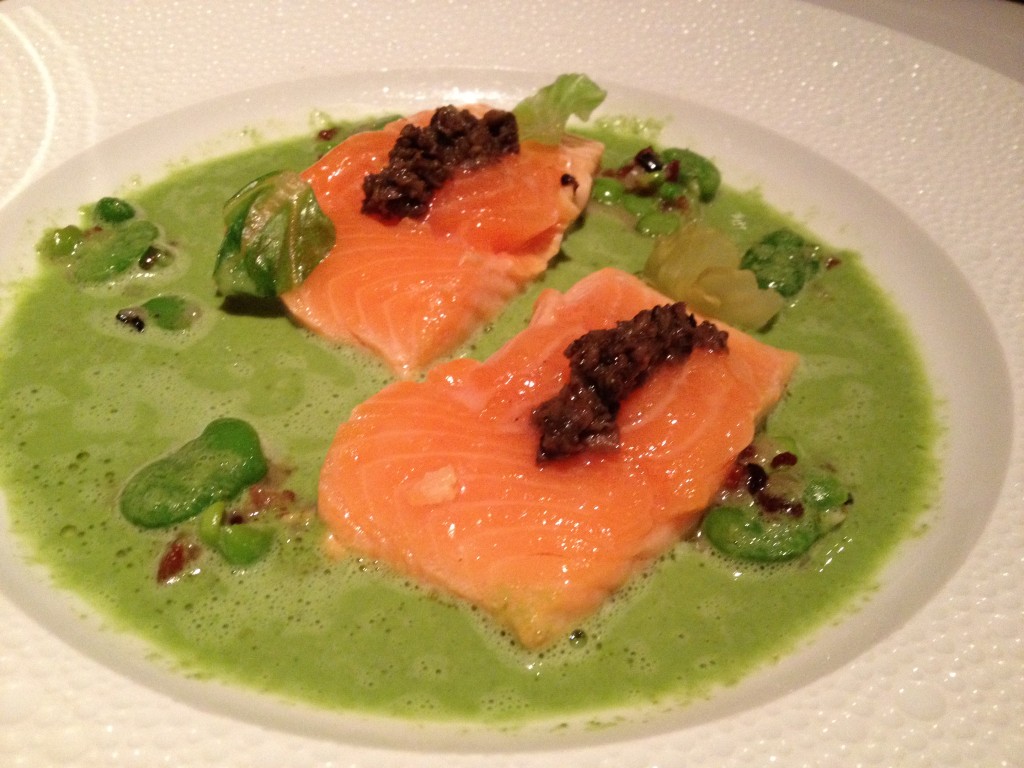 Arctic char was amazing. I didn't care too much for green sauce. It was too green for me.
My main course: Roasted monkfish, wilted mustard greens-daikon "sandwich", adobo sauce.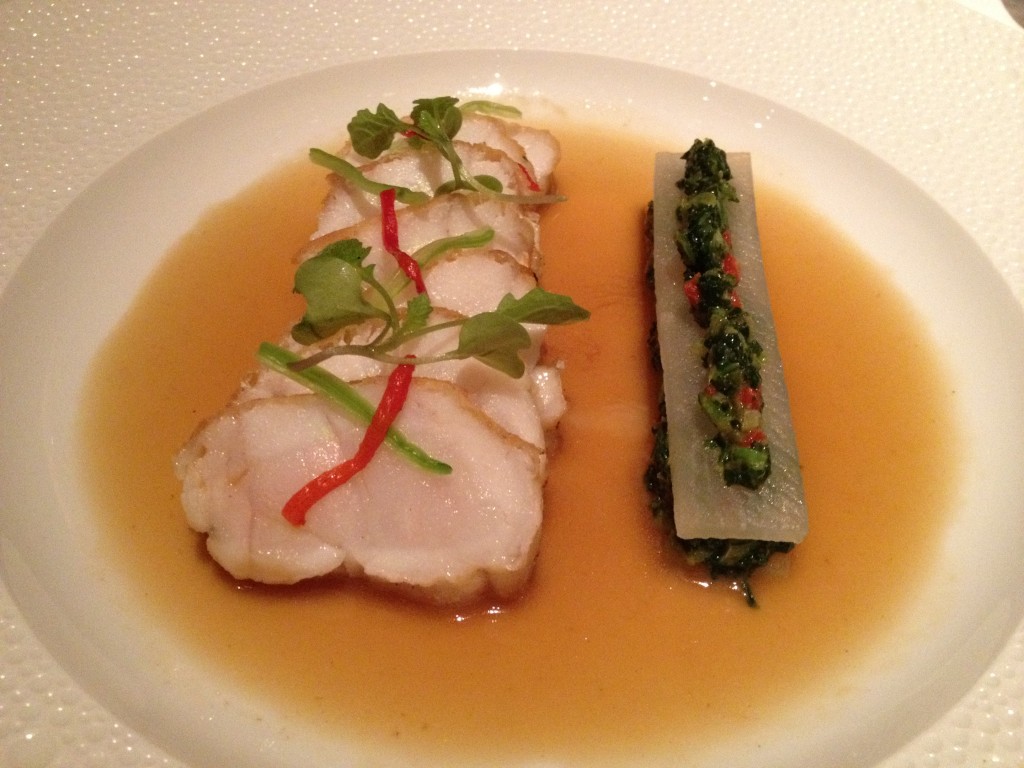 Hats down.  Amazing. Although the menu says "roasted" monkfish, I suspect some sous vide action must have taken place. Monkfish is usually a bit chewy, but this was so succulent, and almost flaky. And on the side was daikon radish sandwich. Holy cow, menu says mustard green, but I bet the green was actually daikon leaves! Finally someone in the Western world found the depth and breadth of root vegetable leaves!! It complimented the simple fish so well.
Monkfish porn!
I especially loved the wine glass stem. It was extremely thin, and elegant.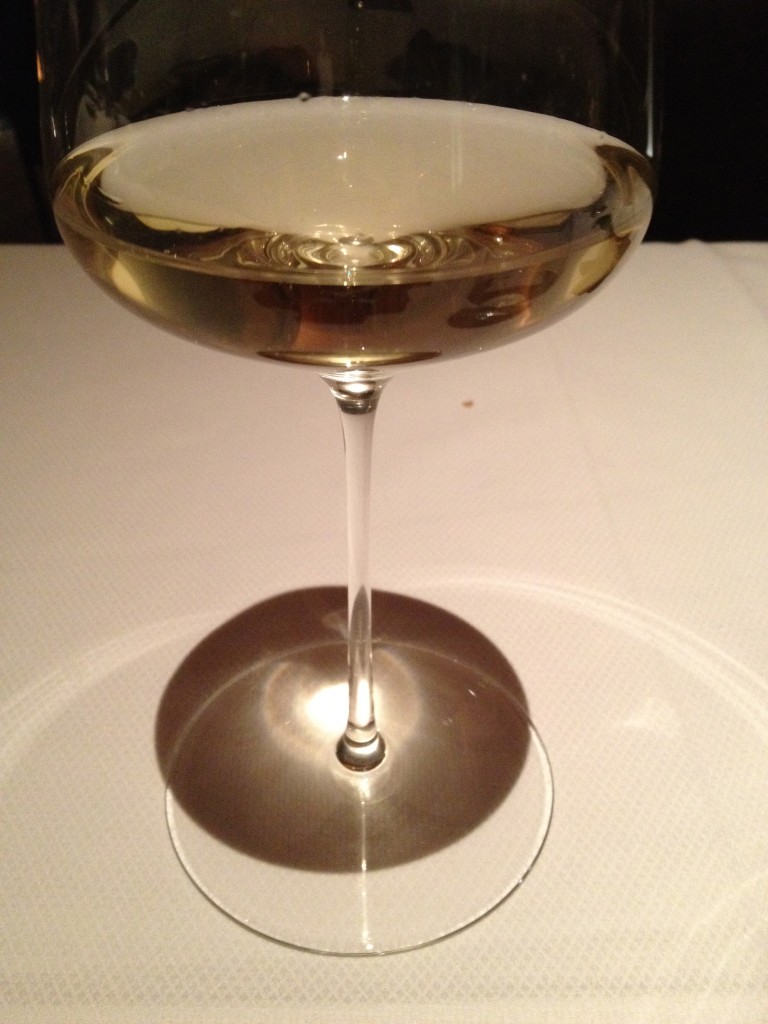 Desserts: A bit disappointing. I got the banana special. Can't remember exactly what everything was, but it wasn't spectacular.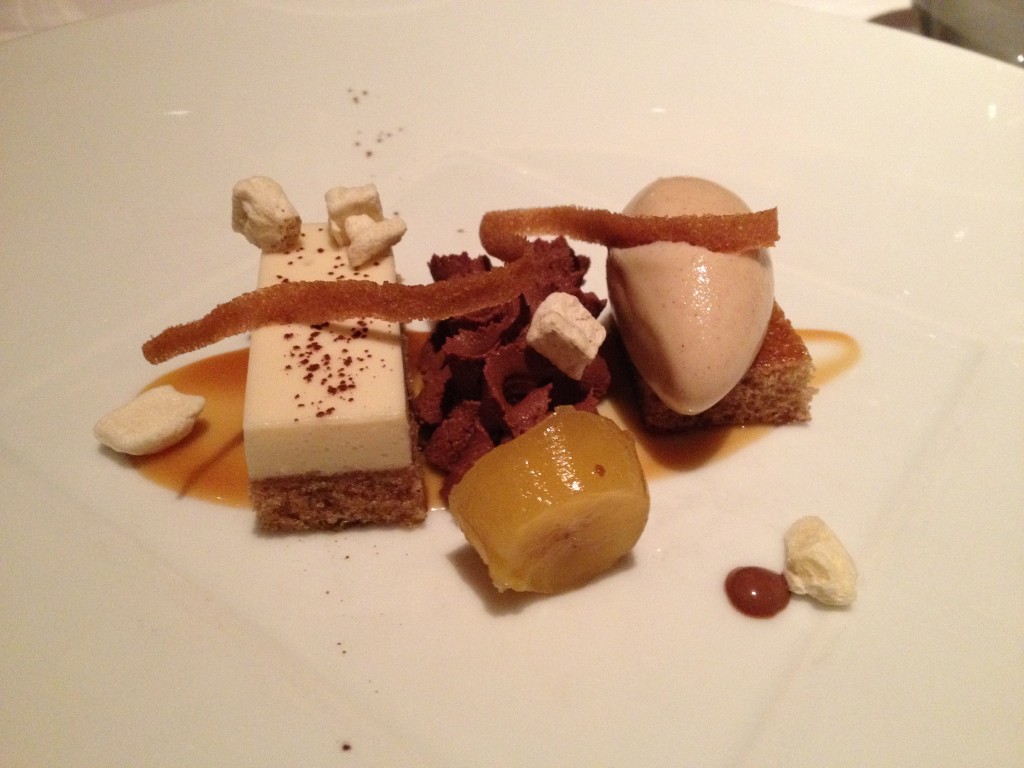 Sorbet. Passion fruit, raspberry, coconut, and something basil (yellow one).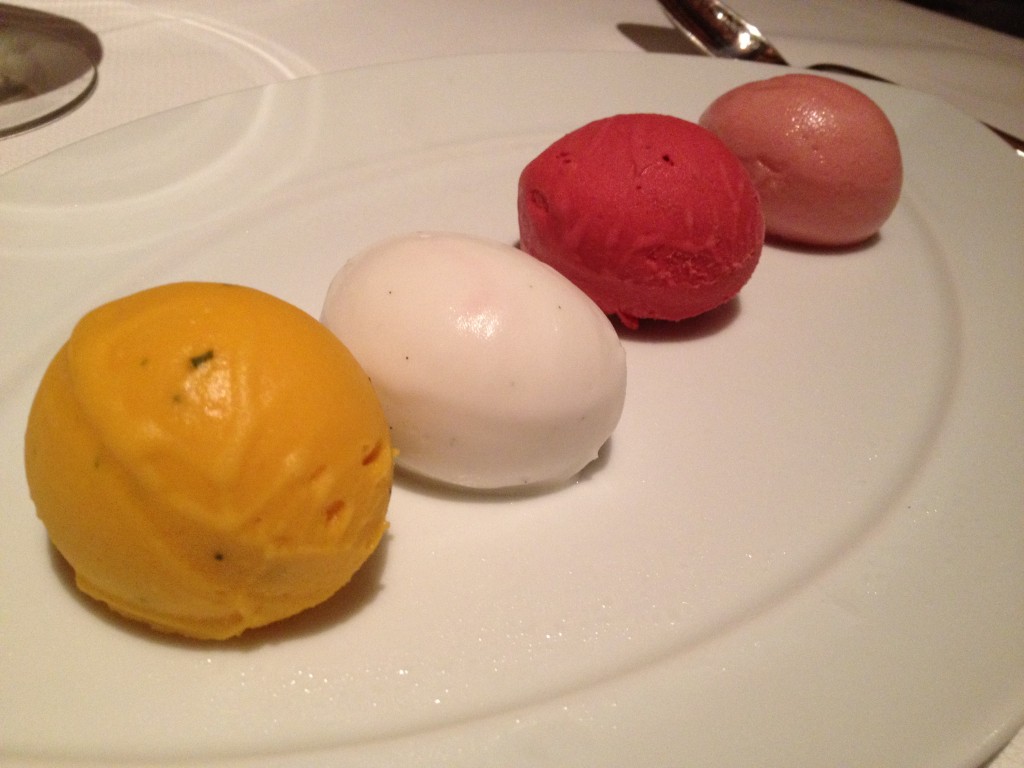 These portions were too large. For a top notch restaurant like Le Bernardin, these portions were a bit too "American."
While I was in the bathroom, our server asked Nate if this was a special occasion, and he told him it was our anniversary, birthday, and green card, etc. etc.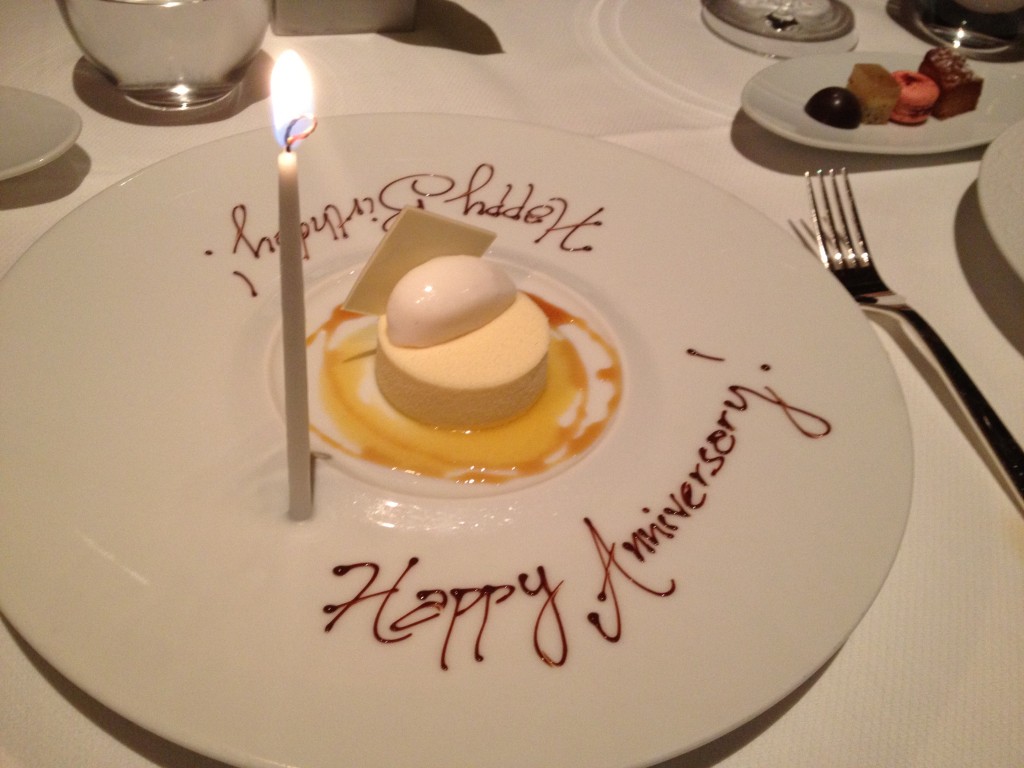 I get two occasions in one dinner?
Petit four.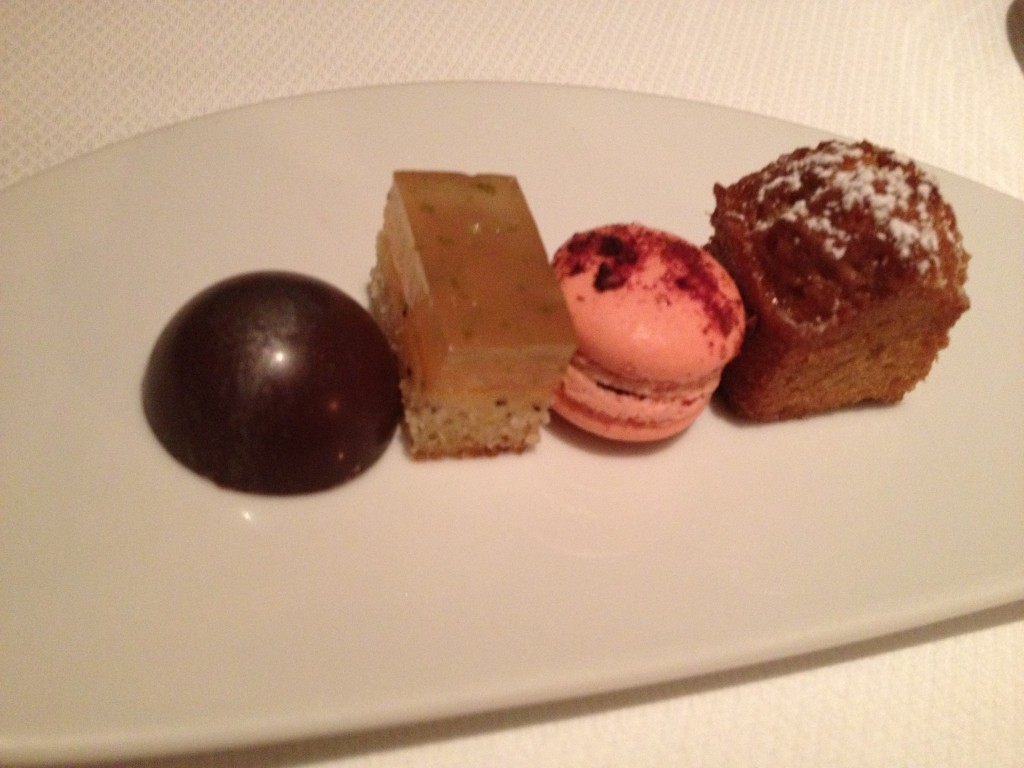 This is one of the best seafood restaurants, I agree. The techniques, flavors, and presentation were all so meticulous and well-thought out.
Here comes my disagreement with Le Bernardin's 4 stars.
A. Decor: I felt like I was at a big law firm's executive dining room from the 80s. I think I saw
Patrick Bateman in the corner table
.
B. The tables: I don't think they want just two people to come. Almost all the tables were for at least four people. We were seated at large four-person table, next to each other, facing the serving area. It was weird. I know some people like to sit next to each other, but I much prefer facing each other.
C. Service: Too many staff.  I had at least three different waiters come to ask if we had questions about the menu, two sommeliers to ask about what wine we want, and an additional two people who took our order. I like a waiter, not multiple waiters hovering around my table. I also like the entire table to be served simultaneously, not one by one. One of my favorite restaurant is
Gramercy Tavern
, and even if you go with eight people, they magically bring 8 waiters to pur your food at the same time.  I like that.
D. Timing: too fast. When you are spending that kind of money, you want to indulge in every minute, and slowly enjoy your food. Some places are way too slow, but this place was way too fast. Basically from placing the order to the first course to arrive, it was about five minutes. Also once we are done eating, they came to take plates. Then the next course comes within five minutes. Our four-course meal took only about 1.5 hours. We sat at 8:30pm, and left a little after 10:00pm. We were done with main course by 9:25pm. That is too fast. I know this restaurant has three seatings a night, but it wasn't that crowded, and the bar area was basically empty. I felt rushed. $250 for 90 minutes. We spent $2.77 a minute being there.
E. Charger plates: not necessary. Sure, the silver edge was cute and everything, but as soon as customers sit down, they took them away anyway, so what's the point? It felt like an executive dining hall.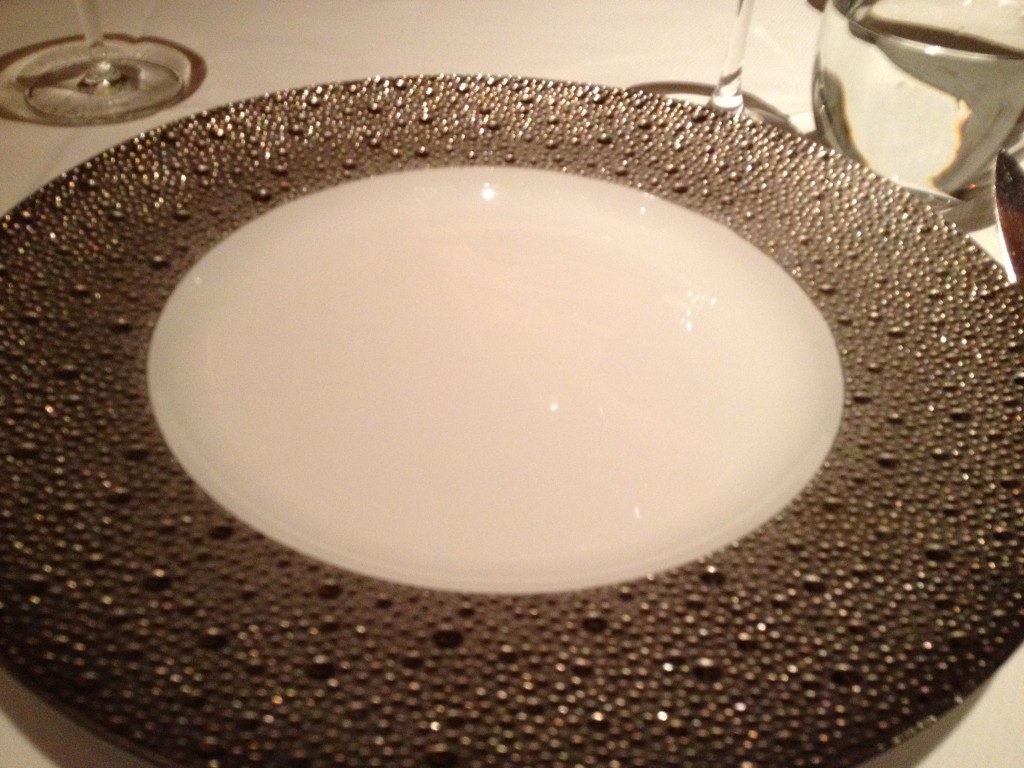 I also can't help wondering about fish culture in America. I've seen a lot of people at sushi restaurants, sticking to boring rolls with spicy tuna and avocado, instead of nigiri or sashimi. I feel many Americans are still afraid of raw fish, and they often choose "safe" dishes at Japanese restaurants. Yet, Le Bernardin serves almost everything raw, or nearly raw, and people keep coming and boasting about all the dishes.
Why? Is it because it's Eric Ripert? Celebrity chef? The reputation of the restaurant? Exclusivity? This level of seafood can be found at many Japanese restaurants in the city, but many reviews are still, "it was too raw for me." What's the difference between super fresh seafood at Japanese restaurants and super fresh seafood at Le Bernardin? Absolutely nothing. Plus, if you are willing to spend $250 a person, you can swim in uni, or eat fatty tuna until your nose starts to bleed at any decent Japanese restaurant.
MOTO Review: ★★ and half