When it comes to waiting for food, New York is turning into Japan. The Cronut for example, a pastry mashup of croissant + donut created at the
Dominique Ansel Bakery
, is apparently so good that people line up at 6am to score the precious two pieces per person. There is even a Craigslist black market where you can buy a Cronut for $25 a piece, and there are already many counterfeit Cronuts out there already. Insanity. I am not a big fan of donuts so I don't think I will be trekking down to Spring Street at 6am anytime soon.
The other "most talked about" food item around here is the Ramen Burger. It's at
Smorgasburg
on Saturdays, and people wait for a couple of hours to taste this hamburger version of ramen which apparently sells out in 15 minutes. Ramen in NYC is out of control right now, from traditional Japanese styles, to outrageous, soup-pasta ramen, and new shops are popping up weekly.
This burger, however, is pretty clever. It uses noodles for buns, and the patty is flavored as something similar to chashu (this is what I heard, since I will never line up for 3 hours to get a burger). I've made rice buns for my
MOTOburger
many times, and the process of the Ramen Burger intrigued me and decided to make my own version.
Sure, you can use cheap Maruchan noodles if you want, but if you have access to raw noodles like this, do get them.
This is the same brand of noodles as the original Ramen Burger, and are definitely far better than any other ramen noodles. They are also made in USA, so even better!
Sun Noodle
provides noodles for many ramen joints throughout the country.
I chose
shoyu
(soy sauce) flavor.
The package includes two servings of raw (not fried) noodle, and liquid soup packets.
1. Boil water, and dump in the noodles, just like when you cook pasta. The instructions say to cook for 2.5 minutes, but I took them out after 2 minutes.
2. Drain and wash lightly with cold water. Crack an egg into a bowl and mix well. Dump the noodles in it. After a couple of trials, I found it very good to add 1 tsp of soup packet into the noodle, to flavor the bun with the shoyu ramen flavor.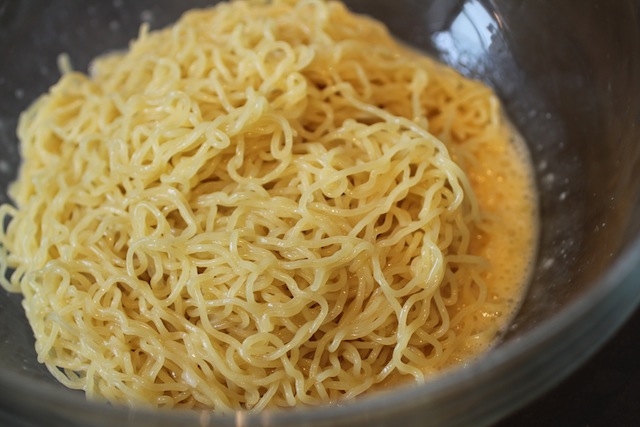 3. Mix together well.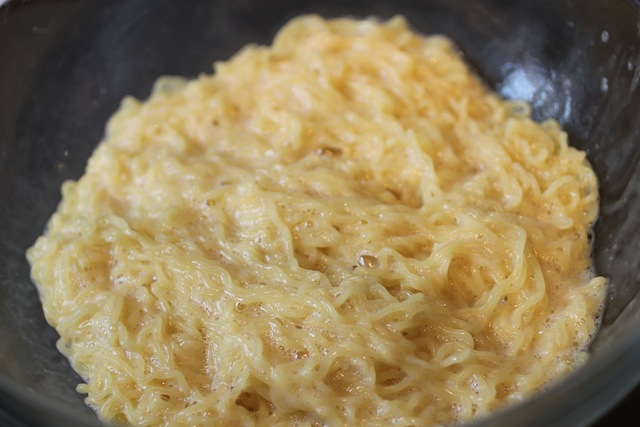 4. Each serving of noodles can be divided into two, but I prefer thinner buns, so I divide them into three (yes, one burger would be open face, but oh well).
5. Place noodles in ramekin, or any flat bottomed container, lined with plastic wrap.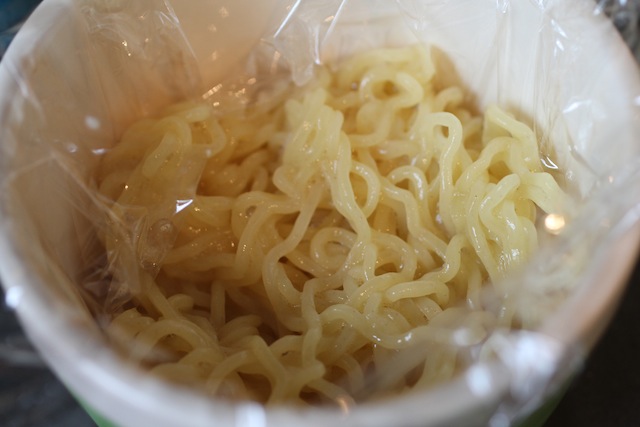 6. Close the plastic wrap, and place a smaller ramekin on top to weigh it down. Put this in fridge for at least 15 minutes. It'll be pretty gooey at first, but the noodles will absorb all the liquid from the egg, which will act as a binder, and will make a bun-like firmness at the end.
This looks like a burger bun, right?
7. Heat a pan with a drizzle a bit of sesame oil. Fry buns, about 3 minutes per side until golden brown.
8. Meanwhile, make the patties. I used 7:3 ground beef:pork ratio. Also, as you can see, this ground meat is pretty fatty.
9. Sprinkle a bit of white pepper, and add an egg yolk. Mix together well, and form patties.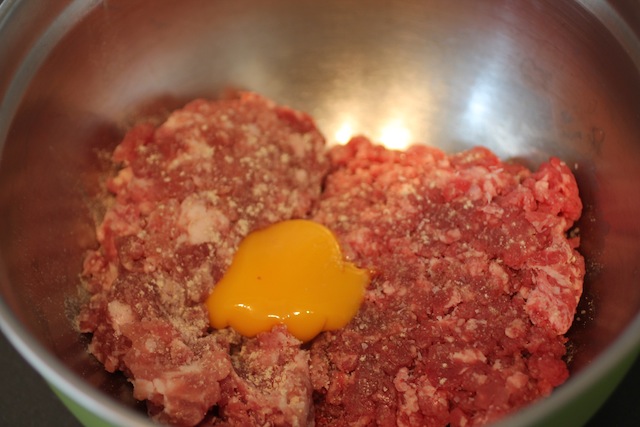 10. Pour the soup packet (sans 1 tsp used to mix with noodle) into a bowl, and mix with 1/2 cup of water.  Set aside.
11. Cook patties, and when they are cooked through, add the above liquid, and cook them down. Glaze patties with the sauce, which will flavor them with shoyu ramen flavor. It's better to make flatter, larger patties since it shrinks when cooked.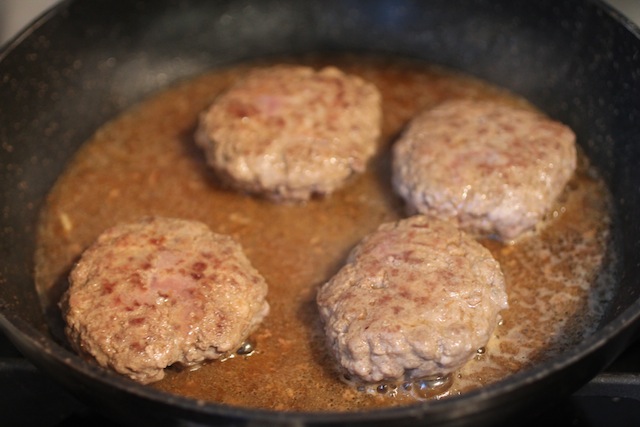 Here is how to assemble the burger:
Lay a noodle bun on a plate.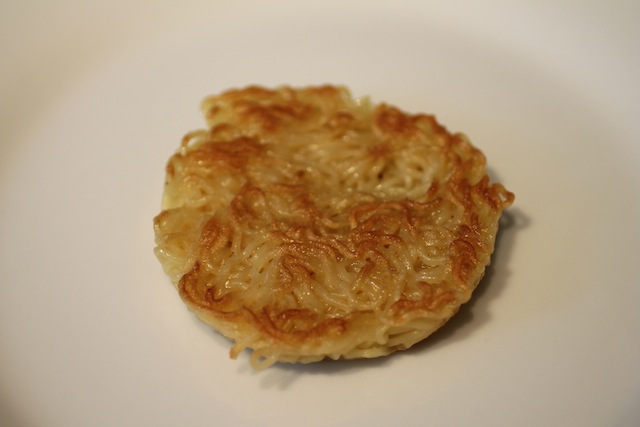 The original burger uses arugula, but I didn't have any. I am growing shitload of shiso on my balcony, so I chopped up a few leaves.
Put patty on top of shiso, then top with chopped scallions.
Top with noodle bun.
It's portable ramen! Well, thanks to the liquid soup packet, it added shoyu ramen flavor to both the buns and patty. It truly tastes like you are eating dry ramen. This is clever, and it's not hard to make it at home, instead of waiting a couple of hours.
It seems every food-hype only stays alive for about a couple of months (which is also very much like Japan). What's next?? Soba-ger, anyone?