Sake Gumi News: Tohoku Springs Back! (March 2016)
March sakes ship today for Sake Gumi, our monthly sake subscription club. If you like what's on deck here, you should join!

On March 11, 2011, the Tohoku region was hit by a 9.0 magnitude earthquake. As if that wasn't enough, a tsunami that hit a maximum height of 133 ft, traveling 6 miles inland, caused level 7 meltdowns at 3 reactors at the Fukushima Daiichi Nuclear Power Plant. Essentially, Japan's Tohoku region experienced three major natural disasters simultaneously.
What followed in the years, months and to this day -- five years later -- has been massive rebuilding amidst deep grief. One of the most inspiring trips that Kayoko and I have taken recently was to Fukushima City, where we met with farmers, shop owners, non-profit organizers and volunteers. Many fled the area, but the people who stayed have planted new seeds. Today, new businesses and educational programs are growing gloriously.
Umami Mart just commemorated the disaster with a fundraiser in Berkeley on Saturday. Proceeds went to the TOMODACHI program, which brings high school kids from Tohoku to UC Berkeley for two weeks to study Community Rebuilding; and to Safecast, a non-profit based in Tokyo that builds geiger counters throughout Tohoku as an alternative source to data collected by the government.
This month, as a member of Sake Gumi, you are also supporting the future of this hard-hit region by discovering sakes from Tohoku.
Although there have been concerns about food from the region being radioactive, according to a March 2014 report by the FDA, there is "no evidence that radionuclides from the Fukushima incident are present in the U.S. food supply at levels that would pose a public health concern. This is true for both FDA-regulated food products imported from Japan and U.S. domestic food products." For more on how the FDA conducts tests on food coming in from the Tohoku region please visit
www.fda.gov
.
LEVEL 1: Introductory Membership (Two 300ml bottles)
Murai Family Tokubetsu Honjozo
Momokawa Japan (Aomori, Japan)
Seimaibuai: 60%
SMV: +2
Greeted by a fruity aroma of raisins, this is a slightly sweet but clean brew. This tokubetsu (toke-oo-bet-soo), or special sake uses two types of rice that are polished down to 60% of its original size, imparting a clean, yet ripe flavor. Characteristics of grapes are present in its aroma and flavor, reminding me of a medium bodied white wine. Try at room temperature with mussels or a seafood pasta.
Naraman Junmai Muroka
Yumegokoro Brewery (Fukushima, Japan)
Seimaibuai: 55%
SMV: +4
Approximately 90% of all sakes go through charcoal filtration to strip down the color and smells. Muroka means that the sake has not gone through charcoal filtration. This results in a sake that may be slightly yellow, with a strong aroma. Case in point, this Naraman is slightly yellow and smells like milk. No fear, this sake has not gone bad! In fact, it has a very recent brew date of January 2016. Enjoy this structurally sturdy sake, that has a long finish and high ABV of 16% chilled with tasty morsels like olives, beef jerky and dried squid.
LEVEL 2: Premium Membership (Two 720ml bottles)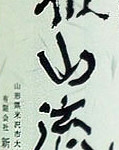 Gasanryu Gogetsu
"Extreme Moon" Junmai Daiginjo
Shindo Sake Brewery (Yamagata, Japan)
Seimaibuai: 40%
SMV: +1
We are thrilled to offer another daiginjo to our Level 2 members. This one come from the western side of the Tohoku region and is made using 100% native Dewa San San rice which is known to yield sakes with complexity in aroma and flavors. "Extreme Moon" has hints of lime and quince for a crisp brew that pairs well with oysters, eggs and uni. Drink chilled!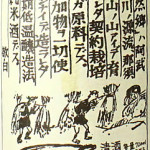 Shizengou Junmai
Ooki Daikichi Honten (Fukushima, Japan)
Seimaibuai: 60%
SMV: +7
Hailing from Fukushima, Shizengou is just as earthy and hand-made as the packaging suggests. Using the yamahai method (a labor intensive way to cultivate yeast), this robust, gamey sake has hints of roasted nuts, shiitake and fresh ground pepper. A good amount of acid make this sake an ideal candidate to pair with rich foods like beef tataki, duck and tonkotsu ramen. Try this sake warm or at room temperature.