UM Recession: Ikaho Onsen
I woke up on January 1, 2013 ready to
shred
on the tatami mats at my husband's parent's house in western Tokyo. After a great workout I took a walk and saw Mt. Fuji in clear view. It was a memorable Jan 1 already. At 12 o'clock, my in-laws and I all piled into a rented minivan and made our way to
Ikaho
in
Gunma
 prefecture. It took about 2.5 hours to get there from Tokyo, which was pretty painless, since we were traveling on a day that most were spending in one place.
Ikaho is a little town famous for its
onsen
(hot springs) full of iron. People believe that the hot springs were discovered in the 7th century. During the Meiji era, artists and writers visited Ikaho to borrow inspiration from the mountainous landscapes and charming side streets.
I am categorizing this under the column "
UM Recession
" because Ikaho has clearly felt the effects of the 20+ year old recession in Japan. Half of the onsen resorts were shuttered and the streets were not bustling as they should have been for this time of year. The glory days of the samurai centuries past are obviously long gone, but so are the busloads of college kids and salaryman of the 80s with dolled-up companions on their arms. Like the
dead malls
of the US, these onsen wonderlands are turning into relics that are barely hanging on by a thread.
Approaching Ikaho.
We arrived at
Kimura Onsen
and were humored to find that their slogan was, "Experience a bit of history," AKA "We haven't remodeled for a while." Don't get me wrong, I love me a bit of history, but I immediately noticed the unmistakable and potentially headache-inducing smell of kerosene heaters. The great thing about Japan however, is that even though something happens to be really old, it is usually quite clean.
Before soaking up iron in the onsen, we took a walk around the neighborhood.
Kiraku in Ikaho!
The famous Ishidan steps. 365 steps that lead up to the Ikaho Shrine.
The view from half way up the stairs:
Washi's family:
A lone wolf, open for business:
Desolation:
After the 365th step, Ikaho Shrine:
The first few days of the year in Japan are dominated by eating
osechi
and going to various Shinto shrines and Buddhist temples. It is still perplexing to me how symbiotically they exist in Japan.
Approaching the Mizusawa Temple: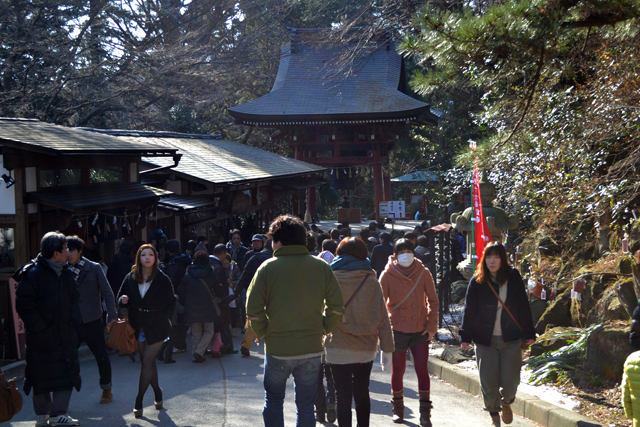 Little boys enjoying a refreshment:
There is superstition...
1. Push this wheel thingy three time around and around for a lucky year.
2. Buy an
omikuji
 to read your fortune (The 400 yen ones will miraculously give you a better fortune than the 200 yen ones)
3. For 100 yen you can ring the big bell! We are suckers!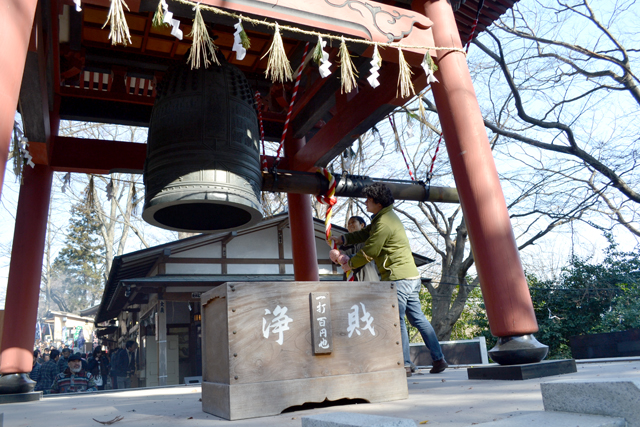 The new year has begun.
A trip is not a trip in Japan if you aren't going to your destination for a specific food. For the Ikaho region, people go for Mizusawa Udon. After Sanuki and Inaba, Mizusawa is the third most popular udon style in Japan. Made from local wheat and from the waters that trickle off  Mt. Mizusawa, these noodles are known to be shiny, white and highly slurpable.
So after doing all of that religious stuff, we came to our senses and headed on over to Anko-doh, the giftshop/udon stop a few kilometers down the road.
Another sign that the new year has begun: free
amazake
 (hot sweet sake) everywhere!
Along with marrow, another thing checked off my "things to eat list":
inago
(grasshopper).
As soon as we entered Anko-doh, we were bombarded with samples,
amazake
and local delicacies. They were shoving down these
manju
down every passerby's throat.
Onsen manju is a steamed sweet bun filled with red bean paste. The dumplings are steamed with the hot spring water. This was pretty intense, the anko inside was very potent and the outer bun portion seemed to taste a little bit like molasses. It was kind of odd because they were having us eat these while we were waiting to have lunch at the udon shop. It felt like we were having dessert before the meal. I didn't want to get full on these especially after eating all those grasshoppers but I also didn't want to offend the lady handing them out, so I had no choice but to eat the whole thing.
Little did I know that more complimentary manjus would be coming our way.
As soon as we were seated, these cuties appeared. We all thought they were shiitake tempura.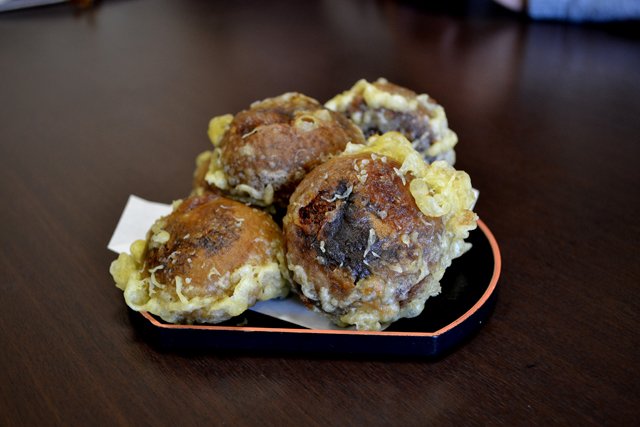 Fooled! They were onsen manju tempura.
The verdict: everything tastes better deep fried. Even though we were complaining just 10 minutes prior about all these plain mediocre onsen manjus, everyone at the table was claiming dibs on their portion of the fried manju.
Mizusawa udon is often served on a
zaru
 (bamboo mat) to showcase the glistening curves and elegant flat shape of the noodles. The udon was firm but slippery and the noodles had a bright, white, attractive sheen.
Going to Ikaho was a perfect way to get away from Tokyo for a night. It was close and cozy. But I have to admit, it was a little depressing to see the town literally dying. For that reason, I was happy to be there with a large group. We discussed the past and future of Japan, how things are changing and what lies ahead while peering into abandoned
ryokan
(traditional Japanese hotels) and storefronts.
We drove back to Tokyo before the "
U-turn rush
" and managed to avoid traffic most of the way. There is nothing like an onsen vacation in Japan. I can't wait to go back to Japan again during the new year season.