Casa de Kei: Spring Pea Salad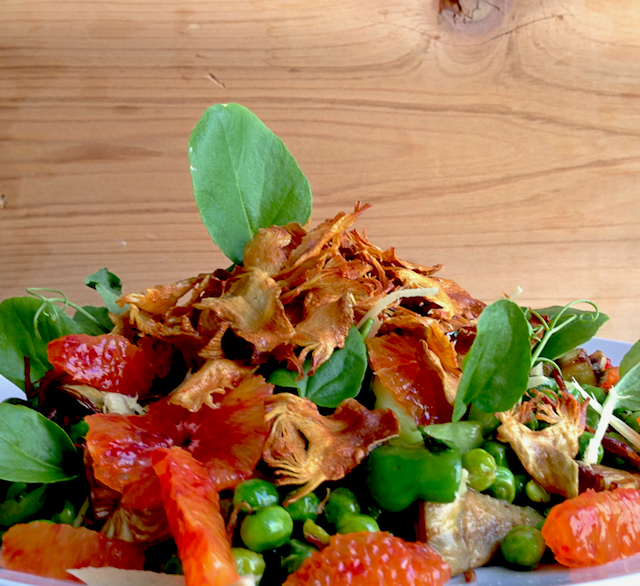 Lightly sautéed green salad with
upland cress
, sweet english peas, pea tendrils, ginger, purple artichokes, green scallions, baby bell peppers, blood orange and artichoke chips. Perfect for spring!
INGREDIENTS

Serves 2 

1 small bunch upland cress (watercress is a nice alternative)
10 pea tendrils (keep a few raw pea tendrils and raw upland cress for garnish)
1 cup shucked and blanched sweet english peas
8 artichoke hearts peeled and cleaned (cut 4 into quartered; and 4 sliced thin on a mandolin for chips)
1 coin ginger, julienned
1 blood orange segmented
2 green scallions sliced on a bias
2 baby bells peppers, quartered
DIRECTIONS
1.  Heat up two sauté pans -- one for frying and one for sautéing. Add a 1/2 cup of grapes seed oil in a pan and add 2 tablespoons of olive oil in the other.
2. While the grape seed oil is getting hot, dust the thinly sliced artichokes with all-purpose flour. When hot add chips and fry slowly (turn heat down if too hot). Take chips out when they have a slight blond color and put them on a paper towel, then season with salt.
3. When the other pan gets hot add your ginger and quartered artichokes face down. Once the artichokes get color, stir and add sweet peas, scallions and baby bell peppers. Add a nub of butter; season with salt and pepper.
4. When the peas are fully cooked, deglaze with white wine, then add the pea tendrils and upland cress.
5. Toss until the greens are just wilted. Turn off heat.
6. Put sautéed greens on the middle of the plate, add blood orange segments around, sprinkle artichoke chips on top of greens and garnish with raw pea tendrils and raw upland cress.
7. Et voila! Your super healthy meal is ready.
Enjoy!
*Kid Skwid is a sous chef at Spago restaurant in Beverly Hills. On his rare days off, he enjoys riding his bike around LA and going to the beach. Follow him on Instagram (@kidskwid5) to see his latest gourmet breakfasts at Casa de Kei.