Slightly Peckish in NYC: Momofuku Noodle Bar + Misoya (East Village)
My first-ever visit to New York was with my sister and it flew by. It's been four years since we travelled together and she's always so much fun -- we do a lot of laughing, shopping and, of course, eating. This time was no exception as we raced through the city to meet our friends for brunch, lunch and dinner. As a family of mixed-Japanese origin, I'm rather proud to say we started and ended our short holiday with ramen (we had no choice, it's in our blood.)
MOMOFUKU NOODLE BAR
Ramen is booming in London at the moment but it took root in the States way sooner in a more tighter, deeper way -- from instant ramen so beloved of college students to the more artisan kitchens for the truly addicted. I've been reading so much about it and was determined to go and have a taste of the Momofuku Noodle Bar which has captured the hearts of so many American and British ramen lovers.
After a quick visit to the legendary Strand Book Store, we made our way to the Momofuku Noodle Bar anticipating a long queue since they don't take reservations for lunch. It was a Friday and we got there around 1pm but we were quickly assigned three seats at the long counter. WIN.
I was dying to try the pork belly bun with cucumber, scallion and hoisin sauce.
Two generous sized pieces of melt-in-your-mouth pork belly were cradled in buns so soft, they were like white pillows to snuggle into. Total win.
We all ordered the Momofuku ramen, the basic shoyu-based ramen with pork belly and pork shoulder. But there was nothing basic about this ramen. To be perfectly honest, I was more interested in the pork bun than the ramen.
But I was astounded by the complexity of the dark soup and the flavours which we all agreed reminded us of the bowls of ramen we used to slurp in Japan, with which we judge all others. It was old school and delicious, way more than the bowls I've had in London. The two slivers of 
naruto
 were a welcome bonus as were the pickled greens which provided a nice crunchy contrast.
However I would've preferred an 
aji-tamago
 (seasoned soft-boiled egg) rather than the poached egg and the pork belly was mostly fat which I eschewed. But this bowl was all about the soup and noodles, nothing else mattered. The noodles were thin and on the hard side which I thought was perfect.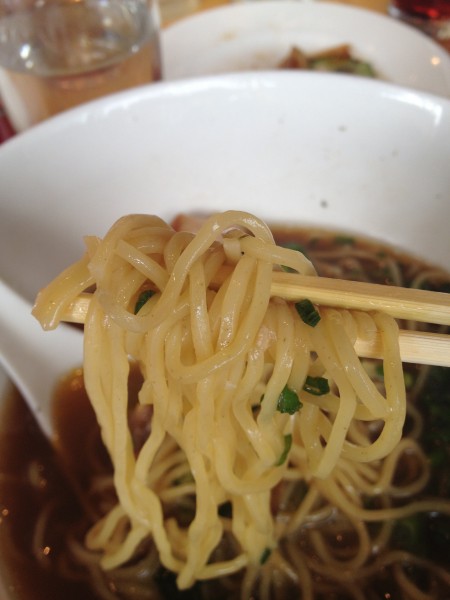 We saw some other diners sharing dessert so we wanted some too.
Unfortunately we didn't check the menu before ordering the two desserts and the cream cheese sage soft serve and the pancake cake truffles were a bit of a miss. But you know what, we didn't care because the ramen hit the spot.
MISOYA
We spent four days eating our way through New York and guess what, by the last day, we were craving some comfort food. We were staying in the East Village near Little Tokyo so we decided to go for some gyoza and kara-age, as you do, and our friend took us to to Misoya which specialises in miso ramen. They served three types:
kome
miso (rice miso) which they called Hokkaido,
mame
miso (bean miso which is darker) called Nagoya and
shiro
miso (white miso) which they called Kyoto, all with different toppings.
My sister and friend had the kome miso chashu ramen.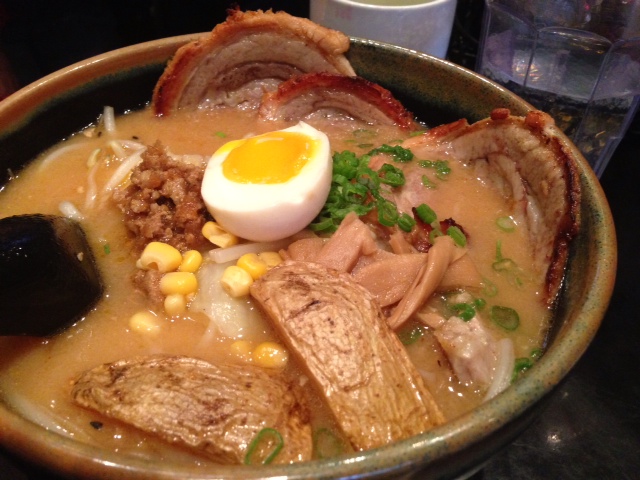 The portions were huge but the soup wasn't too heavy. The aburi chashu was tender and full of flavour.
Although I did want to try the mame miso, for its association to Nagoya, I ordered the kome miso spicy ramen since I was hankering for something spicy.
This was a really nice bowl of ramen although I have to say I've never encountered potato wedges in ramen before. Is that normal?
The noodles were much thicker than at Momofuku but were well matched with the thicker miso-based soup and the spicy minced pork was full of flavour which punctuated the soup with flashes of chilli.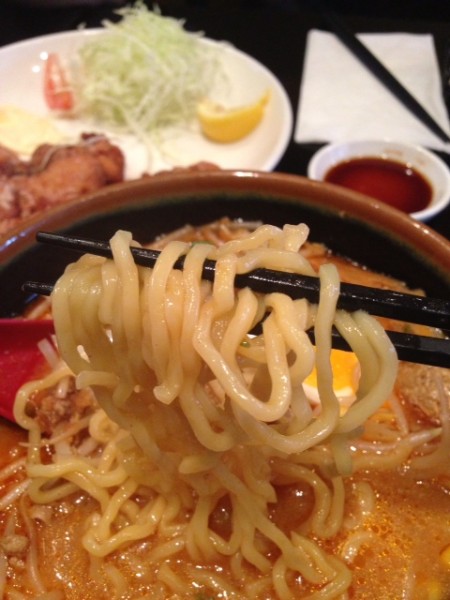 We also ordered sides. The gyoza was yummers.
The kara-age was decent.
And the mini-chahan reminded me of Japan.
The restaurant was tiny but buzzing and we saw lots of Japanese people there. I don't think I've been to a noodle bar that served only miso ramen so it was a nice surprise. Kayoko wrote about her visit to Misoya in Santa Clara
here
.
There were two things about New York that really impressed me: the amazing customer service and the delicious filtered tap water that tasted like Volvic which they offered without a fuss unlike in some places in London. Kind of reminded me of Japan.
MOMOFUKU NOODLE BAR
171 1st Avenue
(between 10th + 11th Street)
New York NY 10003
T: 212.777.7773
MISOYA
129 2nd Avenue
(between St. Mark's Place + 7th Street)
New York NY 10003
T: 212.677.4825