Chinatown, Bangkok Pt. 2: T & K Seafood
In the first post of this series Chinatown, Bangkok, I covered a little family run
cockle and mussel stand
. I mentioned, "Two stalls hawking some of the finest seafood around," and promised to follow up with an additional post. While it's been nearly a year, I'd like to post my experiences now of the neighboring stall: T & K Seafood.
While bouncing around South Thailand, I never forgot about the crowds surrounding those Chinatown stalls. So a few weeks later when I returned to Bangkok, I took special consideration upon my return. In an effort to beat the crowds, I decided to work up an appetite for an early dinner and arrive when they opened. So I jumped on the orange line
Chao Phraya 
ferry and got off at
Rachawong
 (N5).
Upon reaching my destination, I realized that T & K is not a stall, but really a restaurant that spilled into the street. At 5pm, it wasn't too busy. It was just starting to get dark and the food crowds were just beginning to appear. On my initial visit I noticed football-sized prawns, so obviously that would be a selection. But I started off conservatively -- a Chang beer, babylonia areolatas and oysters. The areolatas came out, shells steaming. They were accompanied with a peppery fish sauce.
Areolatas look like snails of the sea, and you need to pry its flesh out with a fork. They were rubbery in a good way, like a long neck clams. And having never tried areolatas, I made the mistake of trying to eat their charcoal-seared bottoms.
My colorful plate of oysters came with an array of condiments that I did not touch...
... since the oyster itself is enough!
Around this time I noticed my neighbor (clearly a fellow traveller) and tried to strike up a chat. Our talk came to an immediate full-stop when I realized he didn't speak a lick of English. What I gathered was that he was from China and that he enjoyed seafood as much as I do. So while the conversation was brief, we resorted to grunts, "cheers!", and sharing our food (he ordered grilled squid).
We even took photos of ourselves.
So while minding international relations and being a good steward of the U.S., I decided to order more food and beer to share and enjoy. Next up, grilled prawns. They weren't the football-sized prawns that I originally wanted but they were satisfying.
Not a bad way to end a meal! Within the hour of my meal, the place was slam-packed. There wasn't a seat available and already a lengthy line had formed sharing a busy street with impatient cars. But my curiosity was satisfied and I was full.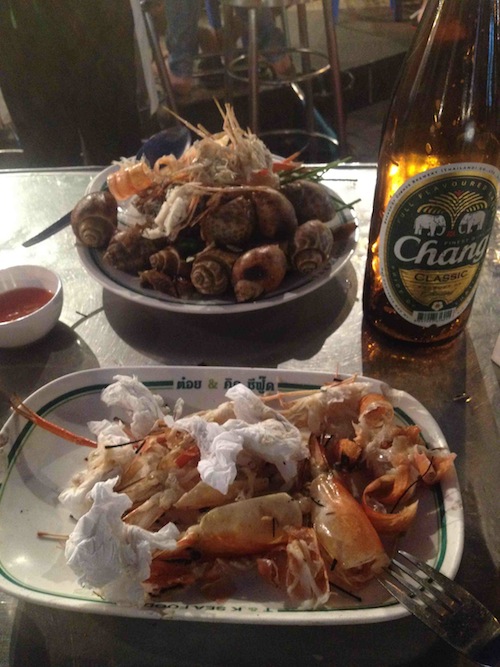 I hopped on the back of a scooter and made my way back to the hostel, finishing up with a G & T.
T & K SEAFOOD
49-51 Soi Phadung Dao
Chinatown, Bangkok, Thailand (Sathorn)
T: 02-2234519
*Johnny Lopes enjoys his couch in Oakland, CA.