Event Recap: Ramen Shop in Brooklyn!
By Anna de Castro
Just when I thought February in NY could not get any dreamier (and by dreamy, I mean cold, slushy, and awaiting 6-8 more inches of snow), word came that a Bay Area favorite was making its way east, to shed a bit of light on our blustery season.
Ramen Shop
Oakland teamed up with
Reynard
, the restaurant inside the Wythe hotel in Williamsburg a couple weeks ago for their
Dinner with Friends
series. Essentially an opportunity for a brilliant bi-coastal collaboration, and I was somehow lucky enough to sneak out of work in time to be one of the first in line for the 2-night event!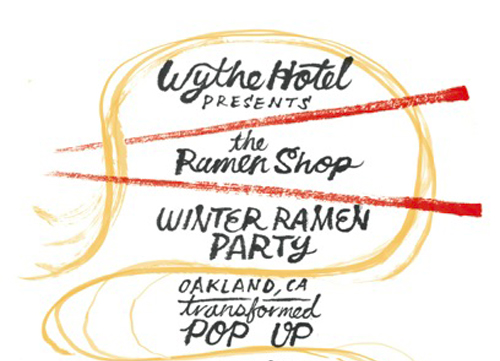 Aside from the obvious fact that Oakland x Brooklyn = Magic (especially for those of us who can call both coasts 'home' at this point,) or the fact that that I'm a Diner/Marlow/Reynard groupie (or junkie? Lover?) -- Meyer Lemon ramen was really all that had to be said to lure me to this event!
Arriving just after six, I met up with two other California transplants (aka "homies") to stake our spots and make sure we secured one (or three!) of the 200 bowls of ramen being served that night. Within minutes, we were escorted into a large private dining room, completely transformed into a gorgeous blend of the two restaurants.
On one end, a pristine bar a la
Andrew Tarlow
at his finest, grounded the room. Carrara marble top, exposed red brick and floor to ceiling industrial windows were complimented by long rustic wooden tables set up specifically for drinking and mingling.
A special shout out to Chris Lane at the bar, who quickly became our new best friend as we bonded over our love for Umami Mart! Their amazing Hard Strong
highball glass
and barware made its debut in BK that night -- queue up most beautiful cocktail ever: The Hakushu Highball.
On the opposite end of the room, three long tables formed a horseshoe shaped dining area surrounding the chefs at work and accommodating at most, 40 heads per sitting. Nothing but a row of repurposed wooden crates between us and those beautiful, noodles freshly shipped in from Cali.
And seamlessly marrying it all together were large turquoise lanterns hanging overhead and hints of cherry blossoms peppered around the room.
All there was left to do was wait -- and thankfully, not too long. About 15 minutes later we were served our dishes and the food was wonderful! A bit rustic and earthy, my Meyer Lemon shoyu ramen was perfectly primed and filled with local mushrooms, nettles and squash -- it was all a girl could ask for in a bowl of soup. Fusion at its finest.
Although NYC is extremely populated with amazing food and new restaurants -- it's actually pretty easy to fall into a routine, only ever returning to the places you love and adore. This Dinner with Friends series really changes the game though. We will always love our favorite neighborhood spots, yes. But rather than perpetuate the routine, why not inject a little fire into the equation by coming together with another wine bar or restaurant that's equally as favored and romantic in its own part of the world?
The Ramen Shop x Reynard collaboration was really a perfect pairing to do just that. Old and new. East and west. It brought some warmth to this cold winter and most importantly, it featured our very own Umami Mart!
*Anna is a VFX producer based in NYC. Originally from LA, she's spent the last 5 years developing TV campaigns at various boutique production companies, exploring the streets of NY with her Nikon D80, and visiting her nephew in LA whenever humanly possible!