Ask a Bartender: The Chrysanthemum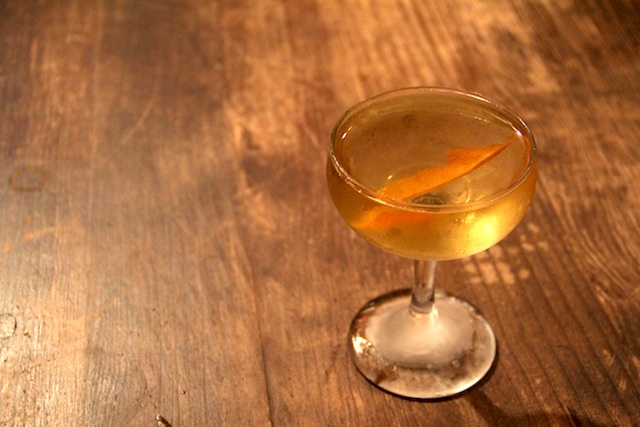 My alcohol tolerance is not what it used to be, sadly. The morning after a night of drinking just gets tougher and tougher. Hideko says, "You are no longer young." WHAT?!?!?
To curb this issue, I often order low-alcohol cocktails these days, like Vermouth or Sherry variations. They're all the rage -- the book
Art of the Shim
by Dinah Sanders is a big hit at Umami Mart! Martha, my friend and
Camino
bartender, made this drink for me a few weeks ago, well aware of my predilection for shimmy drinks. It is called a Chrysanthemum and it is a nicely-spiced, floral bouquet in a cocktail.
Original recipe from the
Savoy Cocktail Book
is:
1/3 Benedictine
2/3 French vermouth
3 dashes of Absinthe
"Squeeze orange peel on top"
Noted in the book: "Well known and very popular in the American bar of the SS Europa."
Martha's recipe:
2.5 oz Dolin dry vermouth
0.5 Benedictine
0.5 barspoon of absinthe
Orange twist
Method: Stir and serve up, or on the rocks.
Actually, I was a bit tipsy even after just one Chrysanthemum. So beware! Keep munchin on those nuts.