Upcoming Event: Hakkaisan Brewery Sake Tasting @ Alchemy Bottle Shop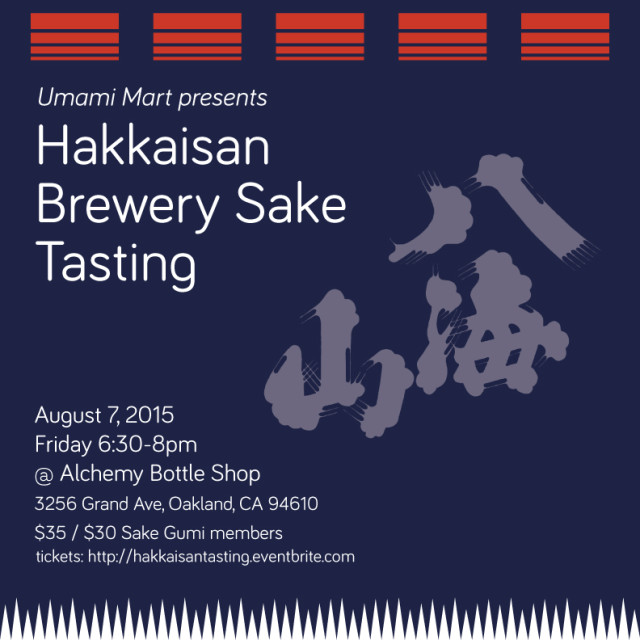 It's been a crazy sake week here at Umami Mart -- first we launched the
Sake Gumi
, and now, we're happy to announce a special tasting event with renowned Hakkaisan Brewery!
We will be hosting an evening with Timothy Sullivan, founder of Urban Sake and Brand Ambassador of
Hakkaisan Brewery
. I have known Timothy since my NYC days -- he was focusing a lot of his personal time on his website
Urban Sake
, while I had just started Umami Mart (the blog). Read about the awesome sake class he taught
at Astor Center
 that I attended in 2008! His passion and knowledge for sake always stood out to me and we're so happy that he is spreading the gospel of sake in his own spirited, unpretentious way.
Anyhow, join us on August 7 as Timothy takes us through Hakkaisan's sake-making process; learn about how sake is produced; and taste through Hakkaisan's benchmark sakes that put the brewery onto the international stage.
Located deep in the majestic mountain range of Niigata prefecture, an area famous for its rice and snow, Hakkaisan has been producing award-winning sakes since 1922. Hakkaisan prides itself on its pristine water source, directly from the snow-capped Mount Hakkai. Yoko and I have been to Hakkaisan Brewery twice now and we are always impressed by their sakes and . It's beautiful there!
WHAT
: Hakkaisan Brewery Sake Tasting with Timothy Sullivan


Sake 101: What is sake and how is it produced?


History of Hakkaisan Brewery and its production process today


Tasting of five Hakkaisan sakes (plus a special limited edition bottle from Tim's personal collection!)


Side-by-side comparison of a sake served cold and warm


Food pairing suggestions and small bites


WHEN
: Friday August 7, 2015, 6:30-8pm
WHERE
: Alchemy Bottle Shop! We're excited to partner with them again!
3256 Grand Ave
Oakland, CA 94610
Google 
Map
TICKETS
: $35 / $30 for Sake Gumi members (
sign up now!
)
Get your tix here --> hakkaisantasting.eventbrite.com
We look forward to seeing you on the 7th! It will be a blast!