Itani Ramen's Gyoza Machine (and Recipe!)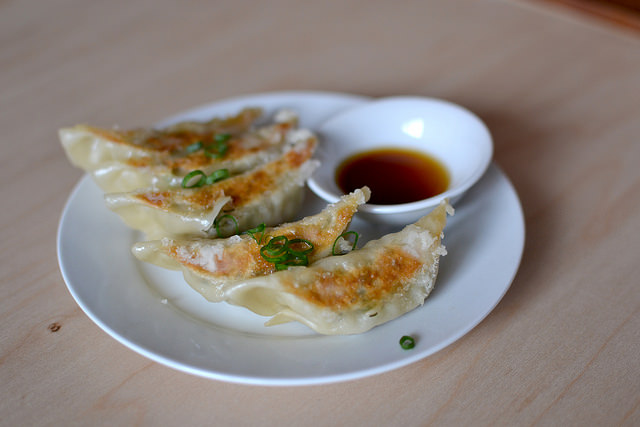 Kyle Itani used to have midnight ramen pop-ups at his Oakland restaurant,
Hopscotch
, a few years ago and Yoko and I would sneak in and snag a table. It was way past our bedtime but it was such a rare occasion for a restaurant in Oakland to be open past midnight, and, serve ramen! Now, his dreams of owning and running his own ramen house has come to life with Itani Ramen – now open everyday from 11 a.m. to midnight!
Itani is a casual ramen-ya, like any that you would find in Japan. It is counter service, and has an excellent sake and shochu list.
When we visited Itani Ramen a couple months ago, right before it opened for weekend service, we instantly gravitated towards the gyoza machine, imported from Japan. This solid steel uni-tasker has one purpose on Planet Earth: to produce at least 10 gyozas per minute – Kyle says he's up to 750 pieces per hour!!!
But before we get to the gyoza machine, let's talk gyoza. These are Japanese dumplings that are smaller than potstickers and are usually pan-fried. They are pretty labor-intensive (check out Yoko's recipe
here
) and many moms in Japan have their own tweaks to the basic recipe which is pork, leeks/scallions, cabbage.
Here's Kyle's recipe, which is broken down into ratios since he works in large batches. Sorry, I couldn't do the math to break this down into more precise measurements:
40% cabbage
Whatever weight that is, 3% of it in salt. So if 100g, then 3g salt.
Shred the cabbage and mix in the salt. Let sit for 1 hour and then squeeze out as much of the liquid as possible. Don't rinse.
Add to the cabbage:
5% Nira chives, minced
40% ground pork shoulder
10% ground pork back fat
5% seasonings: shoyu, salt, white pepper, garlic
Kyle showed us how he makes the filling of his gyoza. He grinds the meat:
Adds the rest of the ingredients and folds it all in:
Then, the mixture gets put into the cone on top of the gyoza machine:
A person then has to stand there and feed the gyoza wrapper piece by piece. But even then, this process takes way less time than individually wrapping them, which is a total time-suck.
Here they come out...
... marching on like soldiers!
You have to take off the gyozas manually, but hey, look at all the time you've saved with this machine!
See this machine in action in our video
here
.
Now, for griddling. It's pretty basic:
Get the griddle really hot and make sure you have plenty of oil on the pan so the gyoza wrappers don't stick to the pan:
Squirt more oil over the top, then cover for a few minutes:
Aaaaaand, they're ready when they have a nicely crisped, browned underside:
Kyle makes his own rayu (spicy sesame oil) in house!
Gorgeous gyoza!
Congrats Kyle and Brian on the opening of Itani Ramen. It's going to be such a huge success!
And don't leave without getting an icy Samanco from the vending machine.
ITANI RAMEN
1736 Telegraph Ave
Oakland, CA 94612