Read This Before You Go to Uji Time
If you love Japanese sweets and desserts, and live anywhere close to Berkeley, you should have
Uji Time
on your radar. Uji Time is a new Japanese dessert shop that opened in June in South Berkeley on Telegraph Avenue. Earlier this week, I decided to check it out. Unfortunately, I didn't quite understand what I was getting myself into. Don't get me wrong, the desserts were good, but the experience could have been better had I known a few things before going. So to help you enjoy your Uji Time experience, here are some things to know before you go:
1. Uji Time and Vampire Penguin are in the same building
You can easily pass by Uji Time without even realizing it because it's located in the same space as another dessert shop,
Vampire Penguin
. Vampire Penguin opened last June and serves elaborate Taiwanese-style shaved snow desserts. There's a huge Vampire Penguin sign out front, but the Uji Time sign is way less obvious. And once you make it inside the building, you have to pay attention to which side is which. Although there's a shared counter for both shops, you line up and order Vampire Penguin on the right and Uji Time on the left.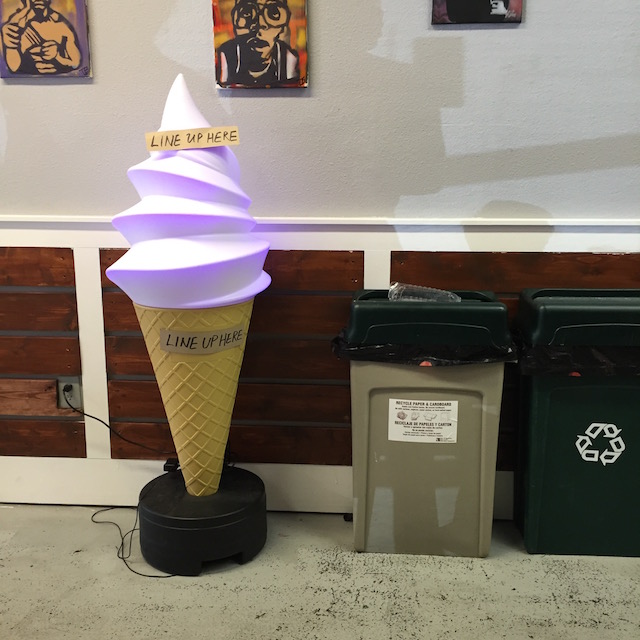 2. Uji Time has different hours than Vampire Penguin. Use the time difference to your advantage.
I made plans to check out Uji Time with a friend a week before my actual visit. The plan was to get lunch in Berkeley on Monday at 1 p.m., then head over to Uji Time around 2 p.m. for dessert. Unfortunately, I didn't check Uji Time's hours before leaving the house – I just assumed it would be open by 2 p.m. Alas, on Mondays through Fridays, it opens at 3 p.m.; Saturdays at 1 p.m.; Sunday at 2 p.m. To make matters more confusing, Vampire Penguin opens at noon everyday, so even if the neon sign is aglow and says, "Open," Uji Time might still be closed. When I visited, I had to kill about 30 minutes by window shopping in the area, but I came back and went inside about a minute or two before Uji Time actually opened. And I'm glad I did, because there were already two other groups ahead of me in line, and as soon as I got in queue and turned around, there were suddenly 10-15 people behind me!
3. Call to make a reservation for a fish-shaped soft serve cone.
OK this tip sounds a little ridiculous, even to me, but bear with me here. I had briefly perused
Uji Time's Facebook page
, where I had seen their popular fish-shaped soft serve cones. These cones are hollow 
taiyaki
(Japanese fish-shaped pancakes stuffed with sweet
adzuki
, or red bean paste)
that are then filled through the fish's mouth with soft serve. Uji Time clearly advertises these as limited items – they only make 15 cones a day. But being third in line, I thought, "Hey no problem, I'll get a fish cone." So I ordered a soft serve in a fish cone and the person taking my order asked, "Do you have a reservation?" Apparently, she already had a list of several people who had a called ahead to call dibs on one of those 15 fish cones. Fortunately, there were still some unclaimed fish cones, so I was in luck. But don't take the risk if you have your heart set on a taiyaki cone, especially if you come later – call ahead (by noon) and save yourself a fish! Also, note that the fish cones are made with taiyaki batter, so they're more like soft pancakes than crispy cones.
4. Do your homework.  
Even when I was close to the front of the line, I couldn't actually see the full menu until I was standing right in front of the counter. 
Check out the menu online
before you go. The online menu will also forewarn you of limited edition flavors, which are sometimes only available on one day (e.g., they had a one-day-only lavender soft serve on my visit), and give you access to the
"Not So Secret Menu."
5. Bring friends, try more.
Because the time gaffe, my friend who joined me for lunch couldn't stay for dessert. It was just me, myself, and I at Uji Time. I wanted to try everything on the menu – all the soft serve flavors (matcha, tofu, black sesame, and "flavor of the day"), perhaps a parfait, and a few of the mochi ice cream. But being alone, and being full from lunch, I had to limit myself. I decided to order one fish cone filled with 2 soft serve flavors (black sesame and tofu) and a order of taiyaki (filled with adzuki; you can also choose nutella) to go.
Moments later, when my order was called, I realized that the woman at the counter misunderstood me. I found myself holding two separate soft serve cones – one tofu, one black sesame – with an order of taiyaki to come. I thought about giving one of the cones to a random person in line, but I also wanted to try both flavors and I didn't think it would be very polite to give away an ice cream with a bite taken out of it. In the end, I took one for the team and ate both. First, I ate the dripping exposed crown of tofu soft serve so that I could then lay the cone on its side onto a napkin set on the table, while I decimated the entire black sesame cone. Then, I picked up the tofu cone again and scooped out its innards with the small wooden paddle spoon. Between the two flavors, I personally liked black sesame better, but for those who like less sweet desserts, tofu might be the way to go. Both flavors went well with the adzuki beans and taiyaki cone. Next time, I'd like to try matcha.
Soon afterwards, my order of six mini taiyaki were ready. I had secretly been hoping they'd forgotten about the order because I was already stuffed to the gills (pun intended). Luckily, I had a couple friends who live nearby who gladly took them off my hands and dusted them. 
I suggest bringing a crew of three or more people who will order different things, so you can taste a little of everything.

Or, you can be a big pig like me and eat everything yourself.
6. There will be lots of Cal students there. LOTS of them.
I usually avoid Berkeley within a few block of the Cal campus. So brace yourself if you, like me, aren't a huge fan of being amongst crowds of 18-21 year olds. And Uji Time/Vampire Penguin has board games and lots of big tables, so gaggles of Cal students while away the hours here. If you're cranky about the kids, plan on taking your order to go.
UJI TIME
2575 Telegraph Ave
Berkeley, CA 94704
T: 510.398.3624