Yuzu citrus is one of the most important ingredients in Japanese cooking. The juice of the yuzu is prized both for its citrusy flavor and elegant. The skin is often used as a garnish for
chawanmushi
 (steamed egg custard) or
osuimono
(clear dashi soup). Lately, upscale restaurants in the States love to finish off their dishes with a touch of yuzu juice. The skin is also used as one of the ingredients in
shichimi-togarashi
(seven spice) and is the key ingredient in
yuzukosho
, or yuzu pepper, a luxurious condiment usually used for 
nabe
 (hot pot) as a little garnish in the served bowl.
One day, I needed to see if I could find some yuzu to garnish my osuimono, so I paid a visit to my favorite Japanese market. I found a good specimen grown locally by a Japanese farmer. Great. I checked the price and it was over $20 for just one yuzu -- unreal. Too expensive, so we decided to try and grow yuzu ourselves. What a great idea! There could be real money in yuzu farming. Our ranch is in the heart of citrus country -- what a perfect place to grow yuzu!
We got a tiny yuzu tree -- about three feet tall. The woman at the nursery assured us that this tree would produce fruit. I wanted to believe her, because I had heard that yuzu is a slow-growing tree -- it usually takes three to six years for the plant to bear its first fruit, but she was right! Our yuzu made a fruit! Yes, only ONE, but wow, how exciting is this?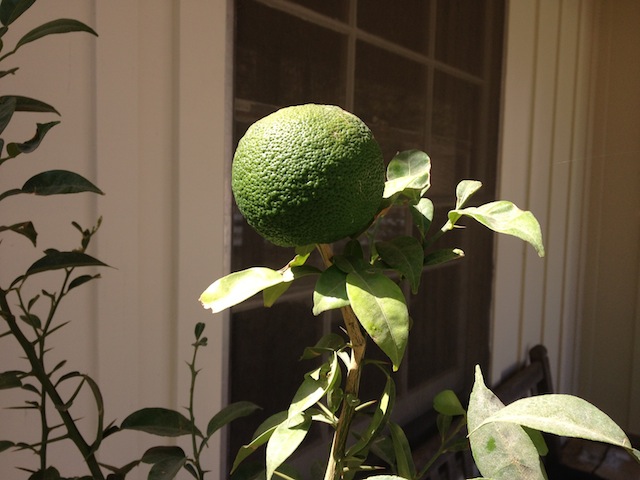 My next question was, what can I do with this? When will it be harvest time? Then I got some interesting information from a sushi chef in town: he said the yuzu that grows in the US usually has less juice, so it's better to harvest while it's still green and enjoy the fragrant skin for cooking. I took his advice. It was time to harvest our yuzu! I wanted to enjoy it for long time, so I decided to make
yuzukosho
. I love to use for yakitori, grilled chicken, white fish, shrimp, squid, and also for dressing as a little kick.
For this recipe, just one yuzu peel was not even enough for one small batch, so I added a little extra from a smaller, locally grown green yuzu.
INGREDIENTS
3 oz green yuzu peel
3 oz chopped green chili, seeded. You can use any kind of chili, I used Serrano.
3.5 tsp salt
METHOD
1. Peel yuzu with peeler.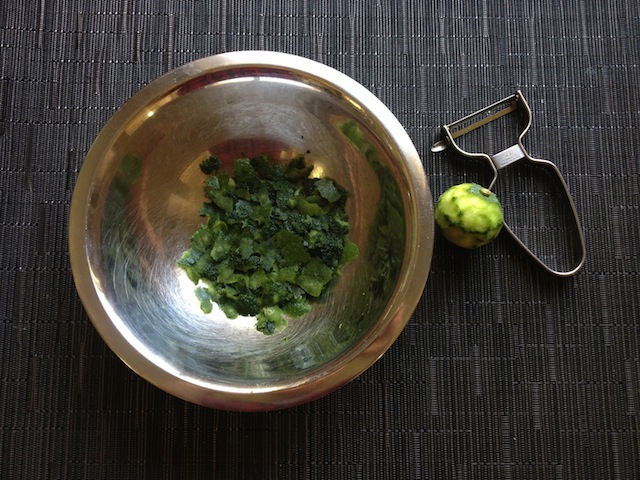 2. Mortar all ingredients in suribachi or food processor until it becomes a paste.
Beware, the chili is strong!
What an aroma! Completely different from the store-bought version!! Potent yet elegant! You can freeze it to preserve its color and aroma. It will keep for a year.
I made matsutake mushroom carpaccio the other day and added the yuzukosho for an extra flavor boost.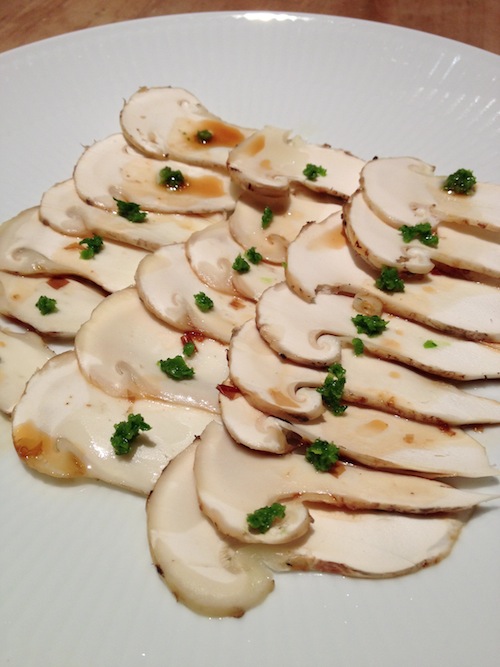 What did I do with the leftover fruit? I used its juice for homemade
ponzu
.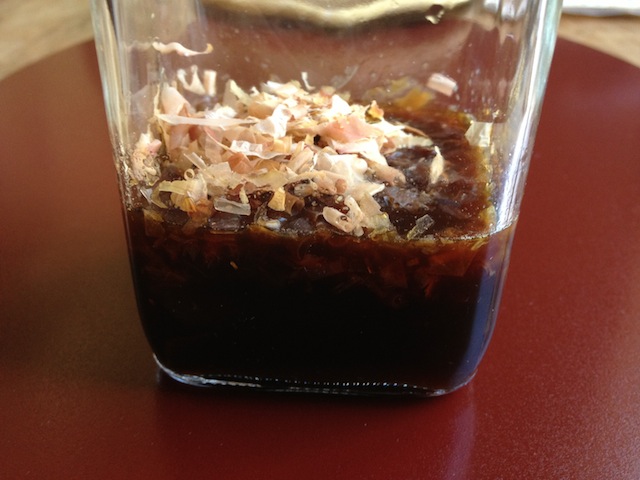 You can even use the leftover rind for your next hot bath.