Event Recap: MUJI x Umami Mart
When
MUJI
came to us last year to put on a collaborative event together, Yoko and I did not not hesitate to say YES. A leading retailer in Japan, MUJI has been around for decades, outfitting people's homes, kitchens, wardrobes and backpacks full of understated, minimal, yet high-quality goods. We respect them greatly, and were honored they asked to work with us.
MUJI had been presenting seminars for non-alcoholic beverages throughout their shops in California, and wanted us to come up with two original recipes for their event. This would be a free event for their customers, and I came up with two original recipes and presented them -- using our bar tools of course!
Eric Kobuchi, manager of all California stores
A nice turn-out with some familiar faces too!
Printed hand-outs, designed by the MUJI team:
I created two recipes for this event: The Strawberry Mint Fizz and the Ginger Arnold Palmer. Since this event was called "A Summertime Drinks Seminar," I wanted to serve something you could serve at a picnic on a hot day, non-intimidating to make, and that it could be batched beforehand (since we were expecting 100 guests).
I started off the presentation with the Strawberry Mint Fizz.
Strawberry Mint Fizz
3-4 Small strawberries (a bar spoon of strawberry jam works just as well!)
2-3 Sprigs of mint
0.75oz Yuzu or lemon juice
0.5oz Gum syrup or simple syrup
1 barspoon Apple cider vinegar
Club soda
Method
: Muddle strawberry and mint in a shaker. Add yuzu juice, gum syrup, and barspoon of apple cider vinegar. Shake and strain into a coupe. Add club soda. Garnish with mint.
I find that for non-alcoholic drinks, vinegar is a nice, refreshing way that also adds zing.
Yoko getting the Ginger Arnold Palmer ready to serve.
Shrubs are all the rage these days, and Shrub & Co.'s ginger shrub never disappoints. Here's my take on the Arnold Palmer, using sudachi juice, which is a spicier, more cumin-y lime:
Ginger Arnold Palmer

0.75oz Sudachi or lime juice
0.75oz Ginger shrub
2oz Oolong or black tea
1oz Water
Method
: Add ginger shrub, sudachi juice, oolong and water. Shake a strain into a highball glass filled with ice. Garnish with a piece of candied ginger.
The guests seemed to enjoy both drinks and had great questions about shrubs, technique and where to source ingredients.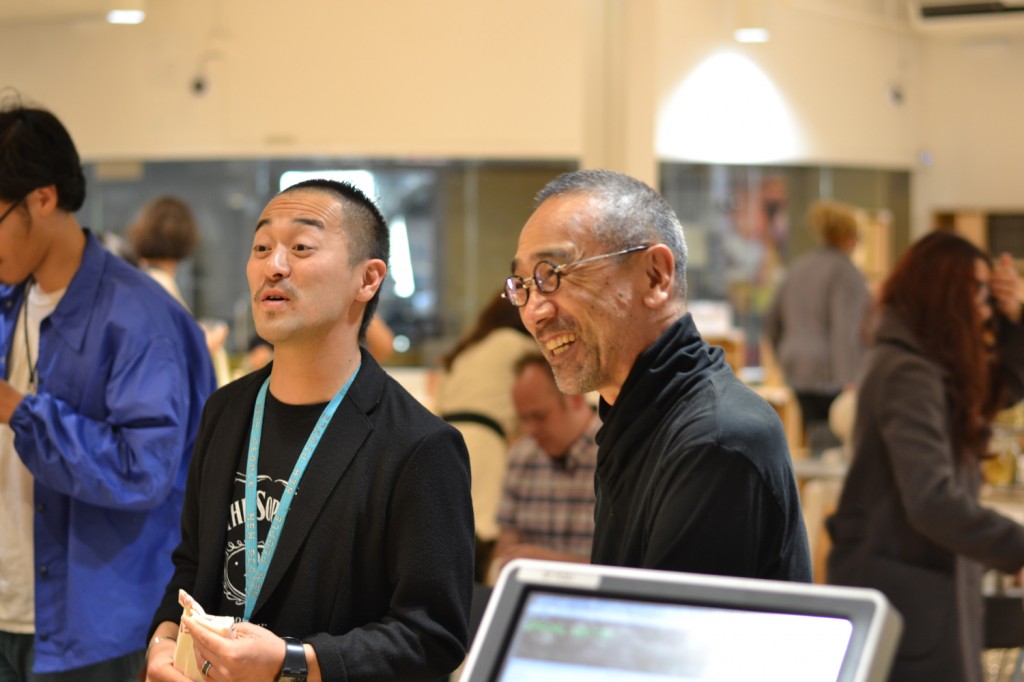 Special appearance by the good folks of New People.
The aftermath, with tools from Umami Mart and MUJI.
Me, Hanako Fujimura (manager, SF store), Eric, Yoko.
THANK YOU MUJI for hosting a fantastic event, and allowing Umami Mart to present these fun drinks to your customers. We had a lot of fun and hope we can collaborate again soon!
*Photos by CABS