Richmen: Ramen Shop's Noodle-Making Machine from Japan
It all started with a vision. Three guys, slaving away at
Chez Panisse
for years, decided to open a ramen shop in Oakland. Hot damn! The East Bay needs nothing more than a GREAT ramen shop, and the Food Gods know it. They have left the responsibility up to Jerry (JJ) Jackish, Rayneil De Guzmun and Sam White. And they are naming their shop RAMEN SHOP. Cause it is what it is.
But this in no small feat, to open a ramen shop -- and these guys are taking it all very seriously. From finding the right space (the former Tachibana restaurant in Rockridge), to creating the most mouth-watering broth, Ramen Shop will be the real deal. But perfection takes time. It be months before the shop opens, and East Bay noodle-heads eagerly await.
And the wait will be worth it. The Ramen Shop guys are so dedicated to making excellent ramen that they actually shipped a noodle-making machine from Hokkaido, Japan. It took six loooong months to get it here and clear customs. Its name is Richmen.
It took a few meetings with the Ramen Shop guys, and some convincing, but we somehow managed to get Richmen over to Umami Mart for a noodle-making demonstration! It was not easy however, and JJ's fears of breaking the machine en route was totally justified. But thanks to the help of many burly man-hands and biceps, we delivered the machine safe and sound.
Richmen is long and lean. Only about 4ft tall, but a strong 500lbs. No joke!
What makes the machine so heavy are these solid steel rollers that roll out the dough. Your little fingers beware!
JJ showed up early on the morning of the event, to prep the dough for the noodles.
There is dough mixer attached to the machine
Noodle dough
The noodle-making event was really to test out the machine for all intents and purposes. For this event, they would test the noodles using different flours -- one from California, another from Italy.  After the dough was ready, they let it rest for a few hours before the event started.
Fast forward to 6pm and he revved up Richmen and the dough began to roll out!
I was very impressed with this machine. Although it is nearly 20 years old, and having traveled the wide Pacific, the machine works really consistantly. I was especially impressed with the little part that evenly disperses flour onto the rolled out dough, so each layer would not stick together. It is quite brilliant.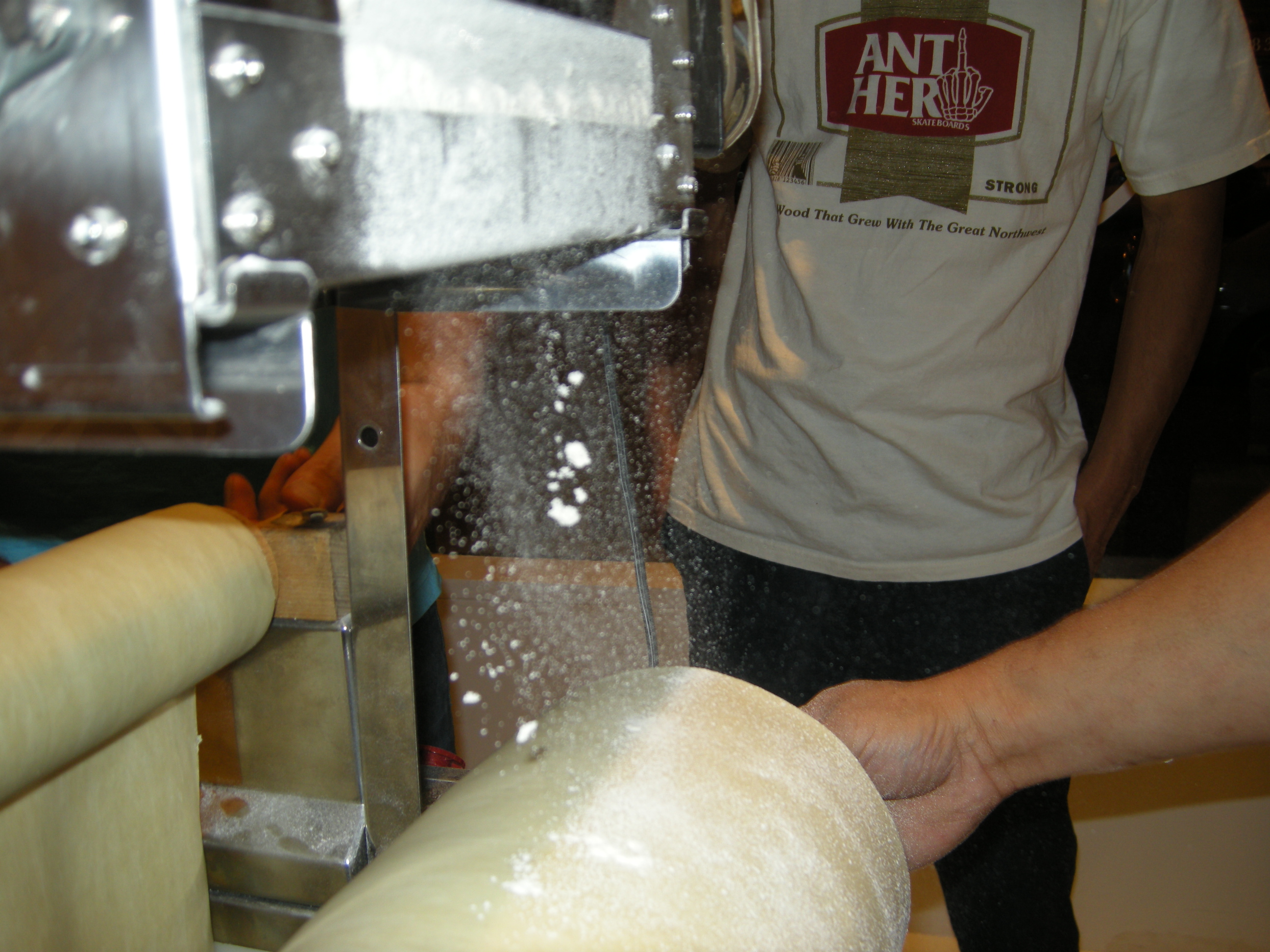 Unfortunately I did not get any photos of the process of the dough being cut into thin noodles. But here's the finished product!
Noodles for sale
The event was a fun-filled evening full of ramen-enthusiasts and old friends of Umami Mart.
Travis!
Koichi of YATAIYA deep in conversation with Sam about the noodles
Richard + darling little fellow
Washi served oolong-his courtesy of Takara and YATAIYA made a kick-ass tonjiru (miso stew with pork and potatoes)
Jay + Rie!
Yoko + Kayoko   
Widget!
James!
Rie + Masako
JJ + Richmen (his baby)
Sam
Rayneil
A huge thank you to JJ, Sam and Rayneil for coming out and sharing Richmen with us. We can't wait for Ramen Shop to open!

Photos by Johnny Lopes, Yoko Kumano and Kayoko Akabori.