Slightly Peckish: Tim's Kitchen (HK)
On my last night in Hong Kong, my friend S asked one of her Chinese gourmet friends for recommendations to a good place. We met up with her at Tim's Kitchen, a Michelin-starred modern Chinese restaurant on Hong Kong Island. We spent most of the day traipsing through quite local areas so it was a bit of an eye-opener to see so many foreigners drinking and behaving like they were in Ibiza, but in Hong Kong. But I guess Friday nights all over the world are the same.
We left most of the ordering to her and she came up with some interesting choices, the first being marinated goose roll which was like a terrine without the jelly bits wrapped in bean curd skin.
This was served cold and was tasty with lots of different textures. They were quite large pieces and after one, it felt slightly greasy but I'd never had anything like it before in a Chinese restaurant.
One of the reasons why she chose Tim's Kitchen was because of this.
This means that snake is served.
Our "Supreme Snake Bisque" came accompanied with pieces of flat, deep fried dough, coriander leaf and thin slivers of another aromatic herb and beautiful white petals which we added to our bowls.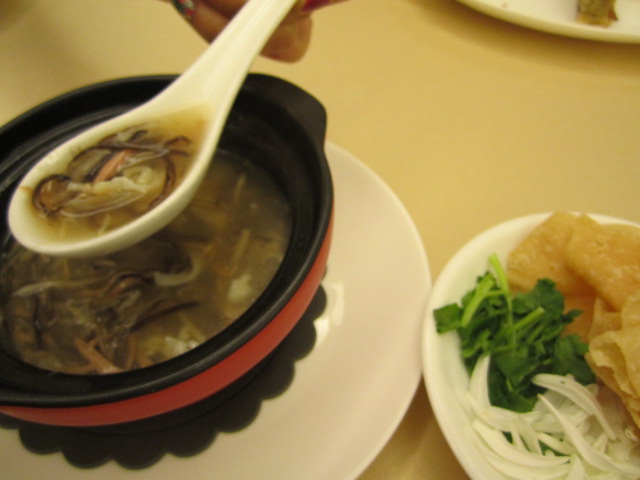 I've never had snake before so I wasn't sure what to expect but this was delicious. Probably the best dish of the night. The bisque was strongly flavoured and you could hardly tell whether the small slivers of snake was in fact snake as it tasted similar to chicken -- although the colour of meat was slightly darker. There was also lots of thinly sliced wood ear mushrooms and bamboo shoots.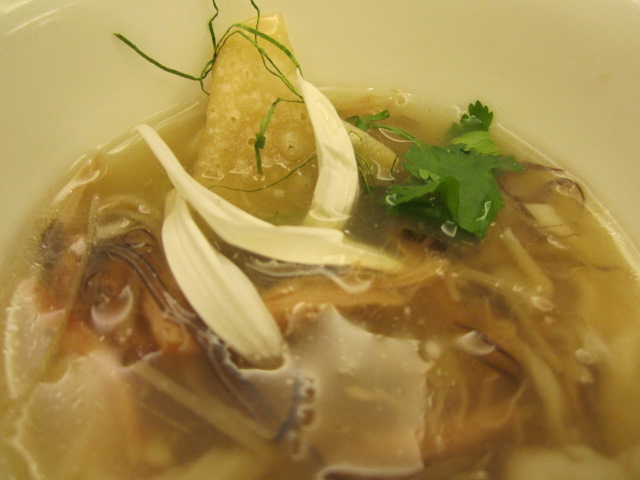 We also had silky bean curd in a light and sweet soy sauce. It may have been lightly smoked.
Half a crispy chicken with skin that was light and crackly with moist meat underneath. We ate this with a touch of salt.
And to finish off, a simple dish of poached seasonal vegetables topped with pork.
I was unable to get the name of this vegetable which tasted familiar but is apparently not all that common and is seasonal. They cooked this dish in a clear broth which got rid of the usual bitterness of the greens. I really loved this dish and could have eaten buckets.
Overall, we were impressed with the food, especially the delicate preparation and taste of the dishes. We also saw many tables pairing their food with wine. It's an upscal joint and expensive for Hong Kong but it felt pretty reasonable for the amount of food and quality you get.
TIM'S KITCHEN
Shop A & 1/F
84-90 Bonham Strand
Sheung Wan
Hong Kong
T: +852 2543 5919