The Forest Feast: The Farmers Markets of the Silicon Valley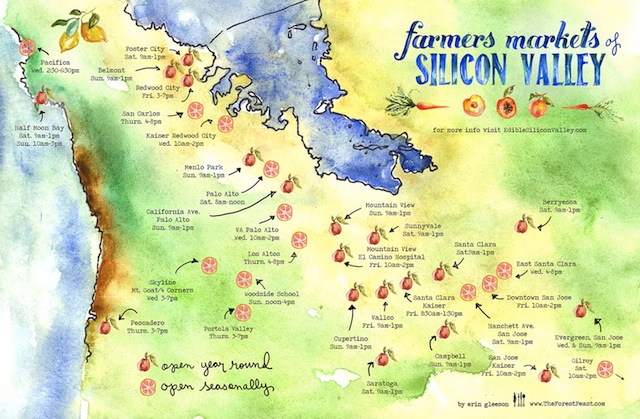 I had so much fun illustrating this map of all the farmers markets in Silicon Valley for the current issue of
Edible Silicon Valley
 magazine. My local market is the
Mountain Goat/4 corners
(see it? Click
here
for a bigger image of the map). There is also an
article about Maggie
, the woman who spearheaded that market, and I photographed her along with one of the farmers, Guillermo (whose flowers I am obsessed with and buy every week!).
Summertime at the market is bustling and warm and there's live music every Wednesday evening. So fun!
*This article and illustration by Erin Gleeson first appeared in Edible Silicon Valley magazine.

**Please note this map is an illustration so it is not geographically exact or to scale, and we were unfortunately not able to fit all the markets in the area. We chose some favorites, including some of the smaller markets that are mentioned elsewhere in the magazine.