The PDT Project: Bee's Sip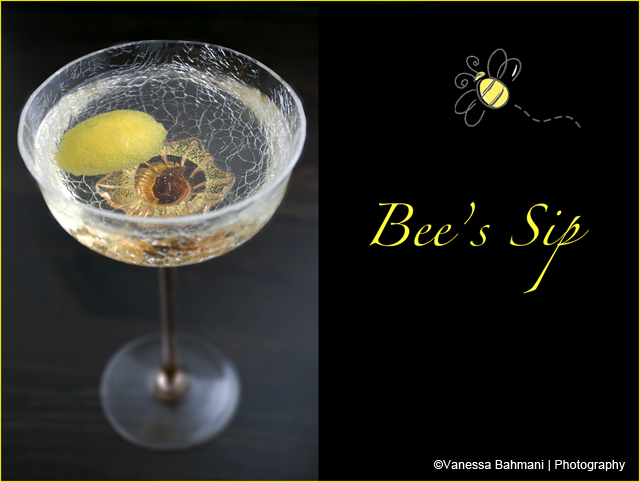 Infusions are pretty common at PDT, since they're a great way to add a particular flavor to a cocktail without having to add more volume to a drink, which is what would happen if you added the flavor by way of say, a flavored syrup. This is because the particular flavor that you're trying to impart is added to the spirit, and because alcohol functions as an extractant, it pulls out the flavor of whatever herb or spice you've added, and retains that flavor after you've strained out the solids.
That said, infusions are not always easy, nor are they always the best way of imparting a certain flavor to a drink. Different herbs or spices require different infusions times, and if you leave something in for too long or use too much, you're left with a very nasty and bitterly flavored product resembling nothing what you imagined or intended.
The Bee's Sip is the first recipe in the book that uses the technique of infusion. It features pisco (Chilean or Peruvian unaged brandy, in this case Peruvian) that's infused with chamomile flowers.
Bee's Sip
2.5 oz. Chamomile-infused Barsol Quebranta Pisco (recipe below)
1 oz. Masumi "Okuden" Junmai Sake
0.5 oz. Barenjager Honey Liqueur
St. Germain Elderflower Liqueur, to rinse glass
Lemon twist, as garnish
Tools
: barspoon, mixing glass, strainer
Glass
: cocktail glass
Method
: Add the pisco, sake, and honey liqueur to a mixing glass with ice and stir until well chilled. Pour out a bit of the elderflower liqueur into your cocktail glass, swirl it around to coat the glass, and toss out the excess. Strain the cocktail into your glass and garnish with the lemon twist.
Chamomile-infused Pisco
(yields approx. 24 oz.)
1 750 ml bottle Barsol Quebranta Pisco
0.5 oz. In Pursuit of Tea chamomile flowers
Method
: Combine the tea and Pisco in a non-reactive container (glass or stainless steel, NOT plastic). Infuse for 15 minutes at room temperature, then fine strain and bottle.
As you can see, infusions aren't always a lengthy affair. Most dried herbs, spices, teas, or flowers don't need very much time, usually less than an hour.
As you can probably gather from the ingredients, the Bee's Sip is a rather floral tasting drink, and not just because of the chamomile. Pisco smells pretty floral on its own, and the addition of sake along with a touch of the elderflower liqueur add more layers of floral depth to this drink. The honey liqueur balances things by providing necessary sweetness, and also works well conceptually, invoking the image of a bee sipping on a flower and creating honey.
*This post is part of a series in which Payman takes on the task of making and writing about every cocktail featured in the PDT Cocktail Book, as well as providing an awesome photo of each drink taken by Vanessa Bahmani Photography.
**Got a question? He can be found on twitter
@paystyle
, you can email him at payman@pdtproject.com, or simply drop him a comment below.