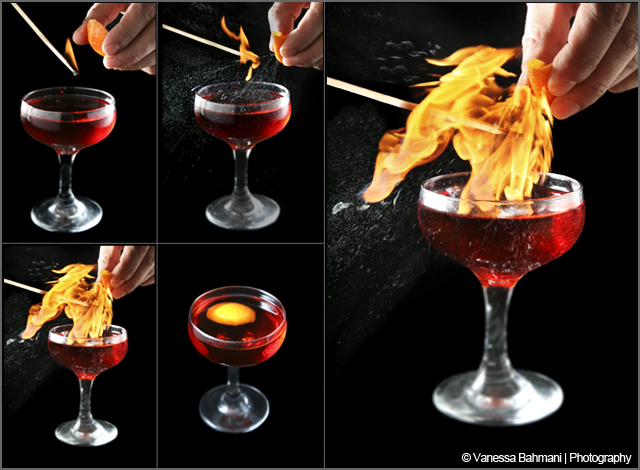 The Bizet cocktail was created by David Slape, a former PDT bartender. The drink is a Champagne-based riff on the classic Americano, and is named after 19th century composer Georges Bizet, who is most famous for his final operatic composition,
Carmen
.
Bizet
1.5 oz Shinn Estate Rose
0.5 oz Luxardo Bitter
0.5 oz Amaro Ciociaro
1 oz Moet Imperial Champagne, to top
Flamed orange twist, as garnish
Tools:
barspoon, mixing glass, strainer, match
Glass:
chilled coupe
Method:
Stir the first three ingredients with ice and strain into a chilled coupe. Top with the Champagne and add the flamed orange twist.
To flame an orange twist:
take a fresh piece of orange peel and hold it between your fingers; hold a lit match in your other hand and position it between the peel and the drink; squeeze the orange peel to release its oils onto the lit match, making sure to aim the oils into the drink.
Like the Americano, the Bizet is a light, refreshing, and bitter cocktail best enjoyed as an aperitivo. It's not something I'd yearn for in the snappy colder months, but something I'd definitely reach for on a Spring afternoon.
*This post is part of a series in which Payman takes on the task of making and writing about every cocktail featured in the PDT Cocktail Book, as well as providing an awesome photo of each drink taken by Vanessa Bahmani Photography.
**Got a question? He can be found on twitter
@paystyle
, you can email him at payman [at] pdtproject.com, or simply drop him a comment below.