Umami Map: Oakland Chinatown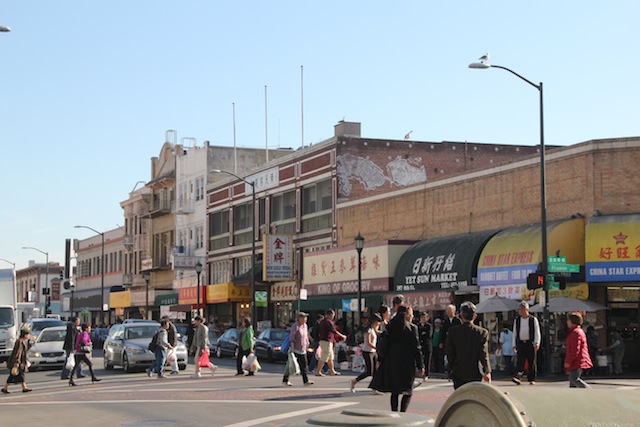 One of the joys of working in Old Oakland is Chinatown. We're only steps away to a wonderland of dirt-cheap eats and one-stop grocery shopping. It has taken us over a year to mine through its dense 4x3 block radius, consisting of restaurants, noodle shops, meat shops, pastry shops, trinket shops, electronic shops, meat shops, you-name-it shops. And all the people! Like any other Chinatown around the world, it's an overpopulated maze -- and you're lucky if you find a spot to saunter on the sidewalk (no sauntering allowed in Chinatown!).
Here is a list of our favorite places to eat in Oakland Chinatown, where we eat about once a week. This is by no means a definitive list: I plan to update this often -- there's always something new to explore in Chinatown!
NEW GOLD MEDAL
389 8th Street
Between Webster + Franklin Streets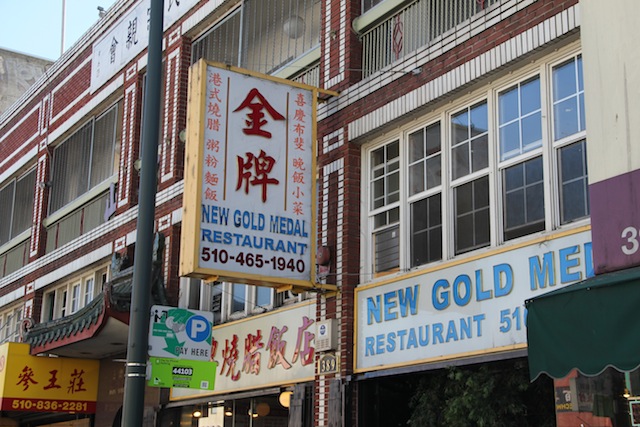 Rule of thumb: you can't go wrong with a place with ducks hanging in the windows and a lady with a huge cleaver in the entryway. You can't.
New Gold Medal is my go-to for Cantonese comfort food dishes, like wonton noodle soup (with roast duck if you desire), and steamed chicken over rice.
I am especially a sucker for their congee breakfast special.
And I always get the pork and preserved vegetable version.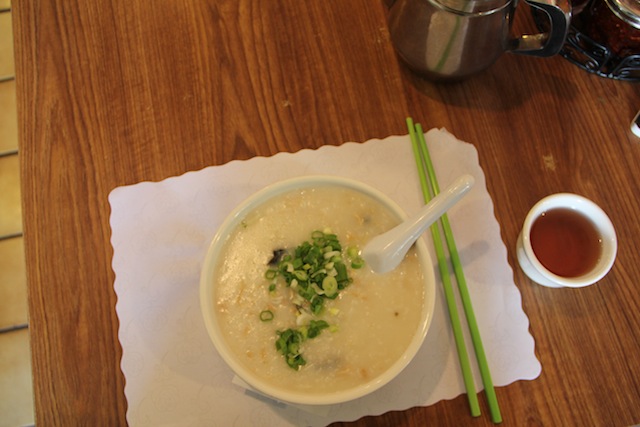 We go to dinner here often after our events or late-night hours at the shop. Get the lobster lo-mein and the fresh steamed prawns if you're feeling splurge-y.
SHANGHAI RESTAURANT
930 Webster Street
Between 9th + 10th Streets
When we're craving flavors from north eastern China, we'll head around the corner to Shanghai Restaurant. Of course, we get the XLB!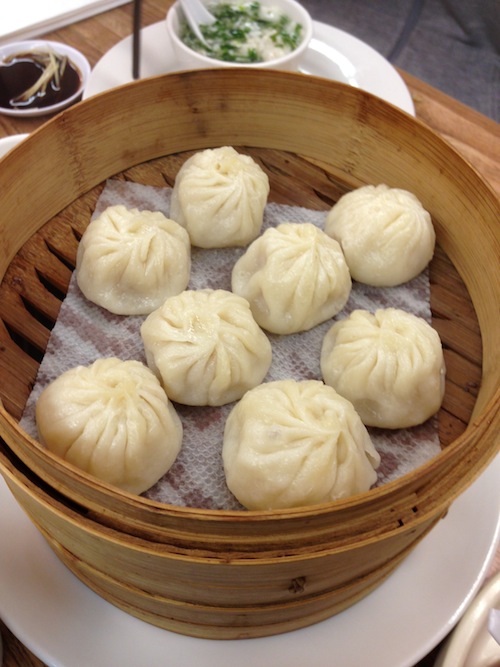 I have probably tried all of the soup dumpling spots in the East Bay, and Shanghai's is the best I have found.
We also get the
malantou
, a cold dish prepared with tofu and parsley (or some sort of peppery green herb).
Recently, we ordered the dan dan noodles, which was a tangy, savory delight.
Other dishes we recommend: green onion pancakes, noodle soup with shrimp and pork, fish soup with chinese greens. Yoko also recommends the frozen dumplings from here to take home.
CAM HUONG
920 Webster Street
Between 9th + 10th Streets
Located right next to Shanghai Restaurant (as you can see from the awning shot above), I think Cam Huong serves the best banh mi in OAK Chinatown. They also have a great array of combo dish options if you're in the mood for noodles or vegetables.
I hear that their pho dishes are also good but I have not tried them yet. This is Cam Huong's second location.
BA LE
812 Franklin Street
Between 8th + 9th Streets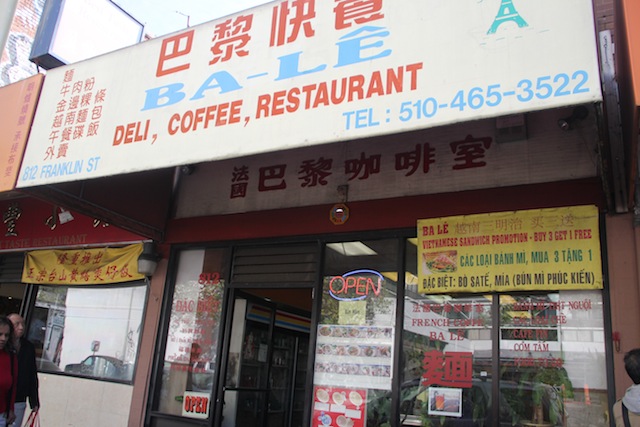 We were drawn in by Ba Le's banh mi deal (buy 3, get one free!) but Cam Huong's sandwiches are better. That said, they serve excellent noodle soups, for fast and cheap!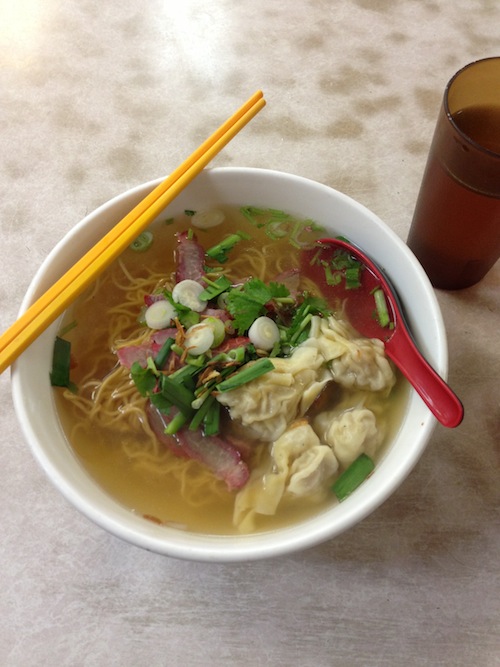 I usually get the noodle soup with wontons and bbq pork. Their
bun rieu
is also good. Also, when I feel like something to take out, I'll grab some spring rolls here for $4.
VIEN HUONG
712 Franklin Street
Between 7th + 8th Streets
This place is always packed for lunch, so we try to go there on the later side, after 1:30pm. I usually get the chow jew wonton noodle:
The wontons here are excellent and the broth is nice and light. It's not the cheapest noodle spot around, but it is a satisfying bowl. I have found that their noodle dishes outshine their rice dishes (I would not recommend the shrimp and eggs over rice -- go to Ben's in Jack London Square for that).
TIAN JIN

989 Franklin Street, Ste B
Between 10th + 11th Streets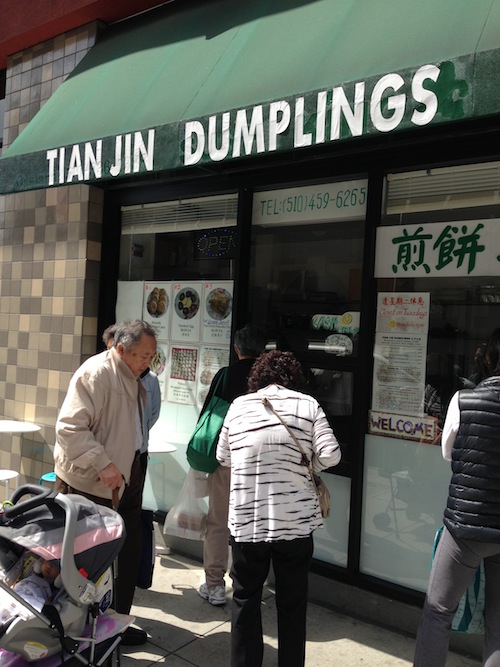 Tian Jin is pretty new in town, not even a year old. They serve dumplings out of a window!!! As if that weren't awesome enough, their dumplings are damn good too.
The pork and chive dumplings are excellent. You get 15 of them for $7! Prepare yourself for a dumpling overload. But worth it!
I have yet to try the savory crepe, which is Tian Jin's specialty. It usually runs out by 11am, so you have to be quick. I also recommend getting the frozen dumplings here to take home.
BANH CUON TAY HO
344 12th Street, Ste B
Between Harrison + Webster Streets
We're so lucky to have a great banh cuon specialty spot, right in Oakland. Ground pork and woodear mushrooms wrapped in rice paper, banh cuon is a northern specialty which I grew fond of during my trip to Vietnam last year. At Tay Ho, they add crispy fried carrots and a square of cured beef. And Vietnamese pork sausage slices of course! Douse with fish sauce to your desire.
Added 6/21/14: Also excellent here:
bun oc
, noodle soup with snails and crab in a tomato-based broth.
YUEN HOP NOODLE COMPANY

824 Webster Street
Between 7th + 8th Streets
I go to Yuen Hop for their fresh made noodles and dumpling wrappers for cooking at home.
That's my list for now. Comment below if you have a suggestion to add!
Umami Mart Map: Oakland Chinatown on
Google Maps
!