Great UM Noodletown: Edo Soba by Tsujita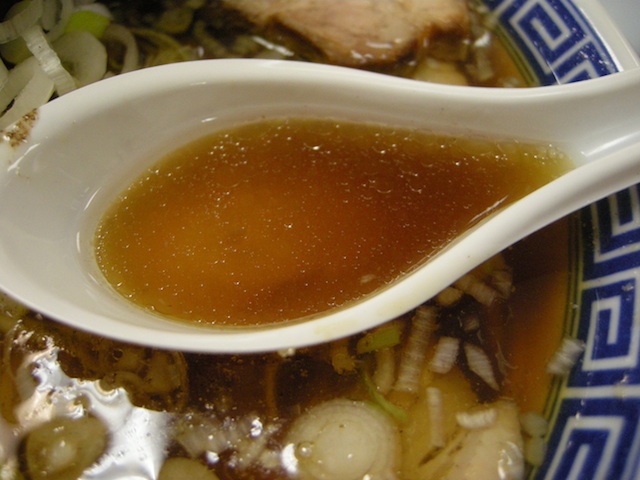 We finally made it into
Tsujita
for lunch during our trip down to LA over the summer. You know, when they actually serve ramen... Yoko and I had ignorantly gone there for dinner once, all excited to try their
tsukemen
(dipping ramen). But they don't serve noodles at night! BAH! How silly, to call yourself an "Artisan Noodle" shop and not serve noodles all day!
Ok, ok, enough banter. So all six of us -- my entire family, Johnny and Yosuke -- waited close to an hour to get seated, and the tsukemen was ours!
You know the drill: take noodles...
...into the broth...
...and DIP!
Savor the soft boiled wonderland (and the
end of the world
).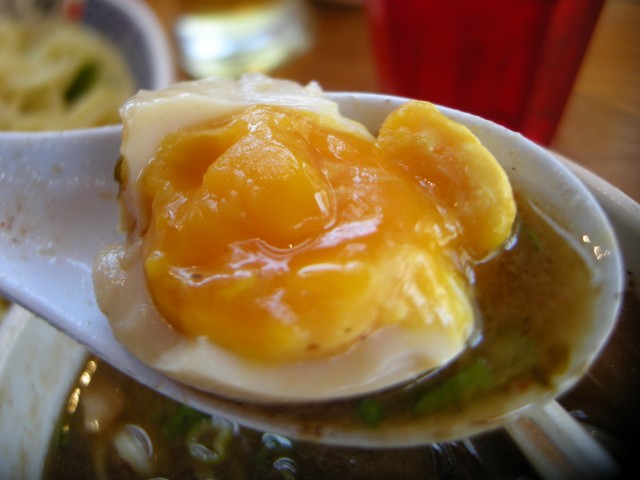 Well, the wait was well worth it I suppose. The noodles were probably my favorite part, bouncy, eggy and firm. Honestly, I'm actually not loving
tsukemen
 in general lately -- I find that the temperatures are all inconsistant (ramen tepid, broth lukewarm) and once it all starts getting cold, the broth gets really intense. It really just becomes a puddle of pig fat and vinegar. That said, Tsujita's
tsukemen
was quite good, and everyone at the table enjoyed it (especially Kuni and Johnny). It was a great LA day. We went to Spago right after that!
But anyway, this post is not about Tsujita's
tsukemen
. You can read all about that elsewhere. This is about their
Edo-soba
.
A few weeks after our first meal at LA's Tsujita, my mom called. She said that Tsujita was having a promotional pop-up inside Mitsuwa in San Jose. I could not resist, and met my parents there. No questions asked.
At some point between my childhood years and now, Mitsuwa built a large, beautiful "demonstration kitchen" right at the entrance. According to Hideko, they often have promotional events and demos here.
This is where Tsujita set up shop for the weekend. Hiroshi Tsujita, younger brother of Takeshi Tsujita (who started the namesake ramen-ya in Tokyo to great acclaim) welcomed passersby dressed in the sort of outfit that cooks and fish mongers wore back in the day in Japan. I'm sure some hardcore professionals still do.
Kuni and Hiroshi were fast pals, since Kuni had already been to the pop-up the day before (of course).
There was no sight of
tsukemen
at this joint. They only offered one thing:
Edo-soba
! AKA Tokyo-style shoyu ramen. Not to be confused with soba AKA buckwheat noodles. I'm guessing that back in the day, 'soba' was a colloquial term for 'noodles' in general. Or maybe just in Tokyo. That would make sense -- there's a grittiness to the term
Edo-soba
. Yup, Tokyo is gritty!
There was really nothing fancy about this bowl of ramen. Just chashu, negi, and some nori.
But ohhhhh how delicious! The broth was so savory and really truly shoyu-flavored. It was nothing I have had in the States. Kuni kept talking about how
natsukashii
(nostalgic) it was, and that it was like the ramen of his childhood. He kept saying between bites, "Now
this
is edo-soba!" He would not shut up.
The noodles of course were perfectly al dente and curly, just the way I like.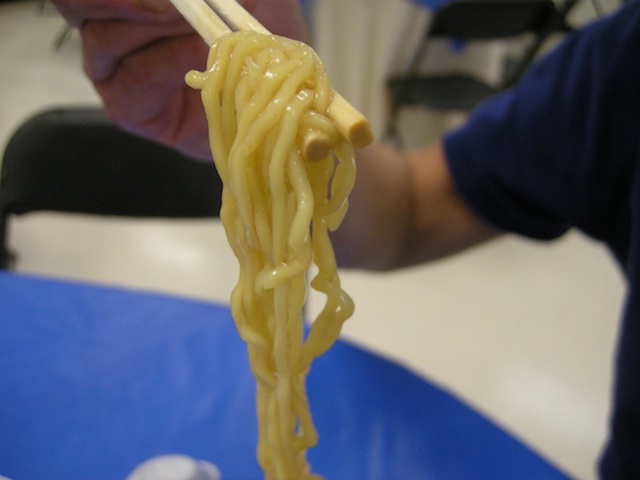 I really didn't want this to end.
The broth is so clear. It was full of dashi, and I'm guessing chicken bones. It was not overwhelmingly fatty or heavy the way so much of the ramen broth is nowadays. In fact, it was the exact opposite -- it was light yet deep and danced on my tongue.
When it was all over, Kuni and I could not resist splitting another bowl. The Akaboris just can't get enough of a good thing!
And it was certainly a good thing we did cause I haven't had anything like it since! They sadly don't serve this style of soup at the Tsujita in LA, and seriously, there is no ramen shop on this side of the Pacific that is making such a bangin shoyu broth. I kid you not!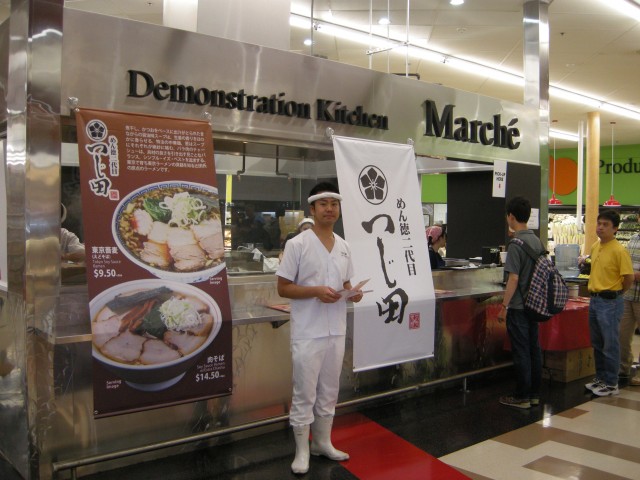 Looking back on the past year, this was definitely the best bowl of ramen that I had in 2012. Thank you Hiroshi-san and the Tsujita empire in Tokyo! This pop-up was genius, and I think it would be a huge hit at Umami Mart. Don't you think???
TSUJITA
2057 Sawtelle Blvd.
Los Angeles, CA
T: 310.231.7373