Every time I go to Japan, I am exposed to new foods, new regions and new friends. Even though I lived there for five years and visit every year, there is still so much to discover. Sometimes I think about how I want to travel to other countries and discover new cultures and lands, but like a sheep and his shepherd, I somehow always find myself back in Japan.
Our last trip in February brought us to Fukushima Prefecture, where our good friend Tori-chan is from. When we arrived at Fukushima station, she picked up a pack of shisomaki before we headed to our onsen.
Something about the sweet, nutty filling and the slightly crispy outer shiso roll is so satisfying, especially with sake. The sweetness is sinful and the way the nuts and seeds pop in your mouth is really unique, not to mention the fresh taste of the shiso. How could something this good have escaped me for this long?
When we came home to California, we
had
to try to recreate these. Although the grinding takes a while, this recipe is easy and really long-lasting since you eat each one little by little.
INGREDIENTS
48 shiso leaves
0.25 cup sugar
0.25 cup sesame seeds
0.25 cup red miso
0.25 walnuts
1 togarashi (dried hot pepper) chopped into very small pieces
vegetable oil
1. Gather your ingredients together.
2. Grind the sesame seeds.
3. Grind the walnuts.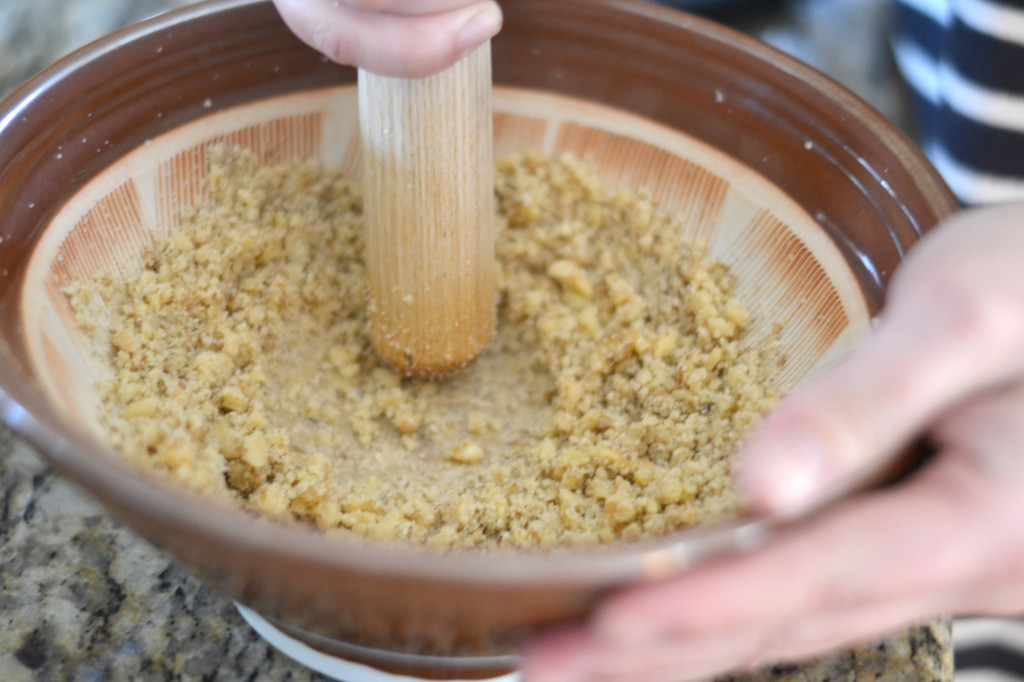 4. Combine the sugar, ground sesame seeds, ground walnuts, togarashi and red miso.
5. Mix...
6. Mix until you get a pasty consistency.
7. Take about a tablespoonful in your hand and roll it into a Tootsie Roll size.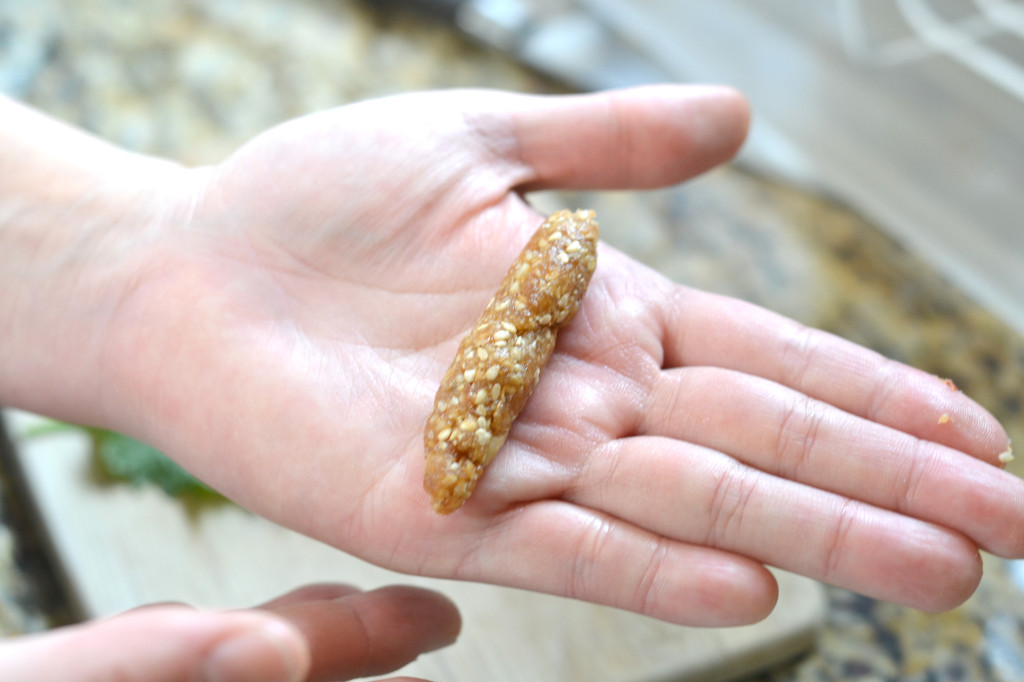 Yes, looks like squirrel poop.
8. Place the Tootsie Roll on the lower third of the shiso leave.
9. Roll.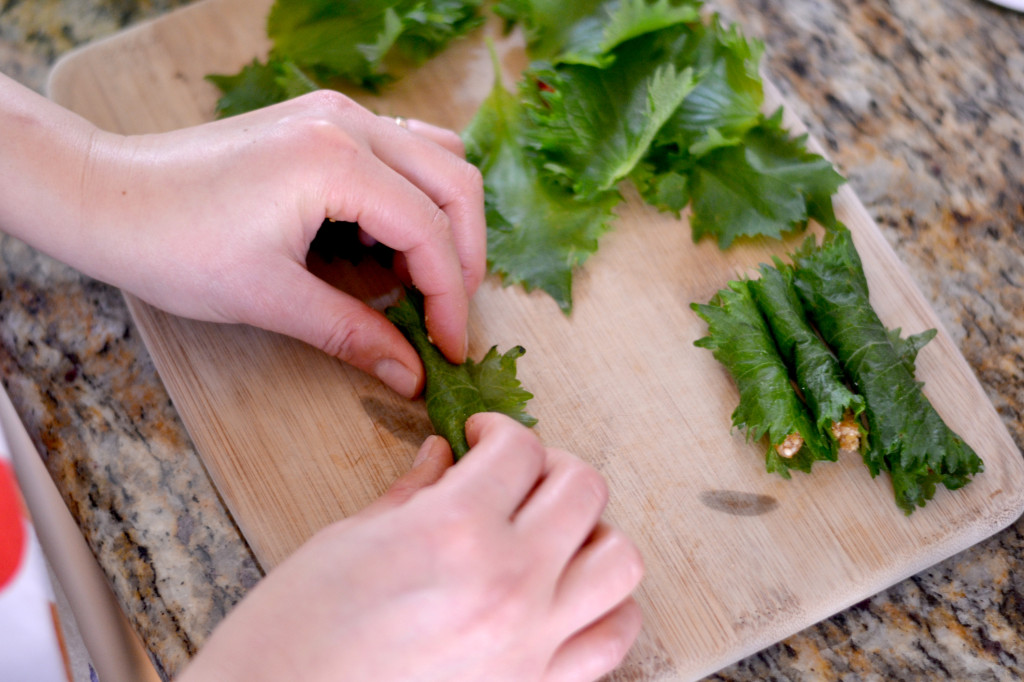 10. Once you have four shisomakis lined up, pierce through them with a skewer.
11. In a large frying pan, add 3 tablespoons of vegetable oil. Heat until very hot on high heat.
12. Carefully place the skewers into the pan and fry each side for about 2 minutes. Make sure the shiso leaves do not burn.
Watch this sizzling
video
.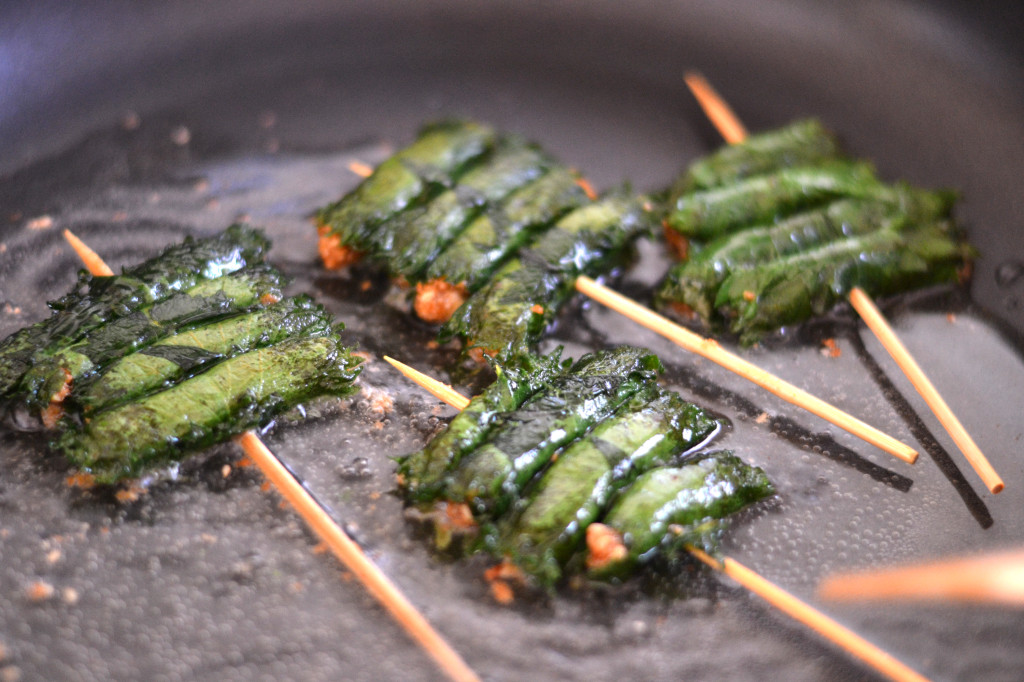 13. Place on paper towels to dry.
14. Serve with sake. These are also good with a steaming bowl of white rice.
It's discoveries like these that keep me coming back to Japan year after year.