A Visit to Niigata Beer Co.
Our Japan trip last month was a jam-packed, 5-city tour with barware factory tours, sake brewery pit-stops and a visit to a craft brewery! Niigata Beer has been around for 17 years now, brewing beers for the local market, and also making beers for other companies looking to outsource production. They do this quite often in Japan, for sakes as well. We drove out of Tsubame City in Niigata prefecture about 40 minutes, eventually through a narrow, windy road on a hill to get to the brewery. We got a little lost, but were pleasantly greeted by these fellows:
You could imagine we were all quite confused. Was this the brewery? There were no signs anywhere except for this "entrance" sign.
We were indeed at the correct address and we were greeted by the master brewer Eiji Yoshida. We were asked to wear slippers and inside we went. After inquiring with a few breweries if we could get a tour, Niigata Beer was the only brewery who was willing to show us around. I gathered that they don't get inquiries that often, but they were very kind to let us take a peek inside their operations. And even let us stay for a beer tasting!
Niigata Beer's "Sakura":
Niigata Beer's "Wasabi":
Yet to be labeled:
Niigata Beer's signature brew:
Niigata Beer brews this line for Miyajima Brewery, the "Caramel Blend":
Niigata's own "Blueberry":
In the walk-in:
They must have had hundreds of varieties of beer in the walk in. Many were yet to be labeled, and some were for other breweries, like Miyajima. They are quite prolific for such a small facility. Keeping track of their beers:
Banana, watermelon, tea, strawberry, tangerine, "Kaeda", sakura, "Unagi", wasabi, chocolate, and three kinds of apple beers. Crazy! Getting ready to ship out:
I was able to find this Niigata Beer in a can at liquor shops around town. Also the Blueberry. Fermentation tanks:
Our tour guide and master brewer, Mr. Eiji Yoshida: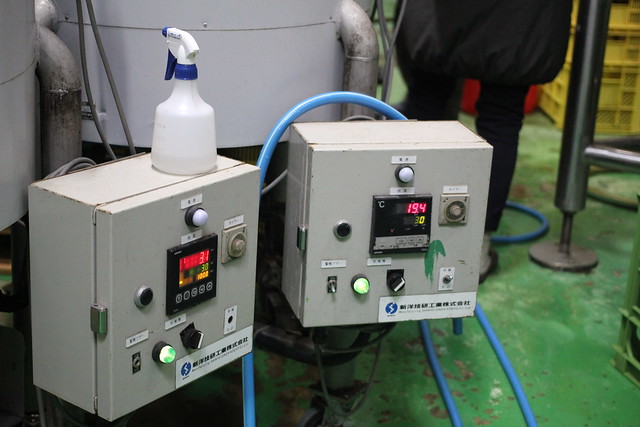 Wall of bottle labels:
We are trying to get the Wasabi, stay tuned! Label machine!
This is a cider that is also outsourced to Niigata Beer by Aoki Sake Brewery.
This cider is made from the water source at Aoki Brewery. They bring over their water and Niigata brews this cider for them. A great service! We actually visited Aoki Brewery as well. Stay tuned for that report. Here are cases of the cider headed out for Aoki, which is also in Niigata prefecture:
Once we saw the daily operations of the brewery, Mr. Yoshida was kind enough to lead us upstairs for a beer tasting.
This is Sakura, Niigata Beer Co.'s owner's Shiba dog:
She was so mellow!
We tasted eight of the company's beers. Here are my tasting notes: Sakura, 4.5% ABV: Flora, light, fruit, bitter finish, like a sparkling wine Wasabi: Mild, scent of wasabi, slightly spicy, fruity Wasabi Green: Bitter finish, peach, lighter than the regular Wasabi Wasabi Black: Shoyu, bitter White Truffle: Strong scent of truffle, refreshing, they grow the truffle on their farm! Golden Kirsh, 7.7% ABV: Fruity, coming soon to Umami Mart! Niigata Beer: Floral, tart Espresso, 7% ABV: Shoyu, chocolate
We unfortunately did not get to meet the owner, who started Niigata Beer in 1998. These days he is raising cattle and trying to get into farming. He's the guy in the top right hand corner of this poster:
Thanks to Mr. Yoshida and Ms. Junko Kamegai for hosting us!
We'd love to start carrying as many Niigata Beers as they become available in California. Stay tuned!